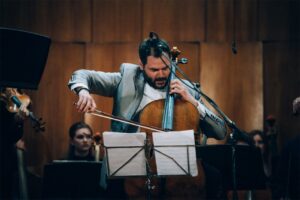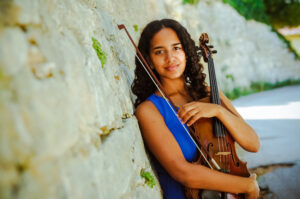 Kostadin Bogdanoski-first violin, Frosina Bogdanovska-second violin, Hiwote Tadese-viola, Nikola Jovanović-cello, Aleksandar Tasic-clarinet, Viktor Kirchenko-horn, Zarko Perisic-bassoon, Ilin Dime Dimovski-double bass
The mixed chamber ensemble "Ignjac Fuks" was established in June 2016 at the initiative of the Macedonian-Croatian double bass player Ilin Dime Dimovski and Serbian clarinetist Aleksandar Tasic during their tour in Macao with the theatre/opera troupe "Third World Bunfight" when there was an opportunity for them to perform an additional concert with the Hong Kong based pianist Jacqueline Leung.  This gave them the idea to form a flexible ensemble comprising of some of the best classical musicians from the former Yugoslavian countries, similar to the original concept of No Borders Orchestra where both Dimovski and Tasic are permanent members. A flexible ensemble also gives the liberty to the artists to create a very versatile programme that explores various forms of chamber music which is the the top of the western-classical musical expression.  The name of the ensemble is actually the original name of the renowned Croatian composer Vatroslav Lisinski, after whom the concert hall in Zagreb is named and is the place where a number of the Zagreb ensemble members work on a day to day basis. Kostadin Bogdanoski is violin leader of the ensemble and is the concert master of the Liceu Opera in Barcelona. Frosina Bogdanoski is a member of the Philharmonic orchestra in Klagenfurt, Austria and leader of the second violin section of the No Borders Orchestra. Hiwote Tadese is a sub principal viola at the Zagreb Philharmonic and a solo viola of the Croatian Baroque Orchestra. Nikola Jovanovic is a sub principle of the cello section of the Bamberg Symphony in Germany and a leader of the No Borders Orchestra. Aleksandar Tasic holds a permanent professor post teaching clarinet at the Academy of Music in Novi Sad and is a tutor and member of the Verbier Festival Chamber Orchestra in Switzerland. Viktor Kirchenko is a solo horn player at the Zagreb Philharmonic while Zharko Perishic is a professor of bassoon at the Zagreb Academy of music and solo bassoon of the Croatian Radio and TV orchestra.
Ilin Dime Dimovski is a member of the Zagreb Philharmonic, principal double bass of the No Border Orchestra and artistic leader of the Fuks Ensemble.