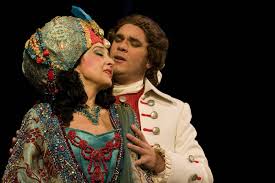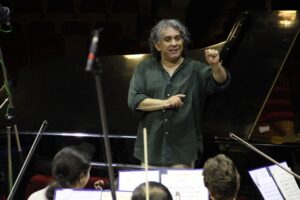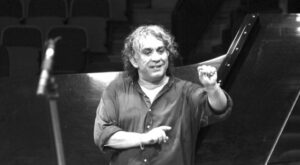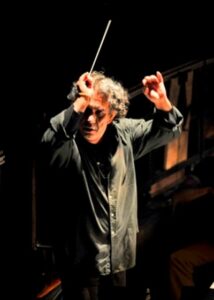 Elena Mosuc has established her reputation as one of the world's most versatile and expressive sopranos. The Romanian-Swiss soprano was educated at the George Enescu Conservatory and, before completing her studies, won several international competitions. Since the beginning of her career, Elena Mosuc has been closely connected with the Zürich Opera House, where she has appeared in various roles and débuted as the Queen of the Night (a part she has sung over 250 times). Guest appearances take her to all the important opera houses and festivals in Europe, USA, Japan, China, Taiwan and South Korea. Elena Mosuc frequently gives concerts and appears in opera houses in her native country. In addition to her operatic performances, she also lends her talent to musicals and Fado concerts. Elena Mosuc's discography includes solo albums, numerous DVD opera productions and she also appeared in the BBC film The Genius of Mozart and in two FIFA live Galas.
Romanian tenor Calin Bratescu has one incredibly active concert carrier. Among his major achievements in previous seasons are his début at Opéra National du Rhin, Strasbourg, where he appeared as Julien (Louise) under the baton of Patrick Fournillier, at Opéra Royal de Wallonie in Liège, as Don José, with the Greek National Opera at Herod Atticus Theatre, Greece, in the role of Pollione (Norma), also Opera Bastille Paris, Covent Garden London and many other successful performances in Romania and abroad. He collaborates regularly with major orchestras and leading conductors in some of the greatest vocal-symphonic works of all times. In 2004, he won Grand Prize at the Città di Alcamo International Competition, and in 2006 he was a finalist in the Francesco Viňas Competition in Barcelona.
Nicolae Moldoveanu was born in Romania and emigrated to Switzerland in 1986 where he now lives. He studied conducting and attended master classes with some of the most eminent conductors in the world. His recent and forthcoming engagements include conducting the Malaysian Philharmonic Orchestra, Orchestra of the Royal Opera House, City of Birmingham Symphony Orchestra, Hallé Orchestra, BBC National Orchestra of Wales, Scottish Chamber Orchestra at the Edinburgh Festival, Royal Scottish National Orchestra, Melbourne Symphony Orchestra, National Philharmonic Warsaw, Nordic Chamber Orchestra, Prague Radio Symphony, Tokyo Symphony Orchestra Iceland Symphony Orchestra etc. Moldoveanu has also conducted a number of ballets and operas, produced the DVD of Coppélia for The Royal Ballet at Covent Garden, A Midsummer Night's Dream for Fondazione Arena di Verona, Eugene Onegin and Il Pipistrello for Teatro San Carlo Napoli and recorded Swan Lake with the Royal Philharmonic Orchestra.
Program:
Giacomo Puccini (1858-1924): Musetta's aria "Quando m'en vo" from La Bohème
                                    soloist: Elena Mosuc
Giacomo Puccini (1858-1924): "E lucevan le stelle" from Tosca
soloist: Calin Bratescu
Charles Gounod (1818-1893): "Je veux vivre" from Roméo et Juliette
soloist: Elena Mosuc
Giacomo Puccini (1858-1924): "Adio, fiorito asil" from Madama Butterfly
soloist: Calin Bratescu
Giacomo Puccini (1858-1924): Duet "O, soave fanciulla" from La Bohème
soloists: Elena Mosuc, Calin Bratescu
Pietro Mascagni (1863-1945): Intermezzo from Cavalleria rusticana
Vincenzo Bellini (1801-1835): "Casta Diva/Ah, bello a me ritorna" from Norma
soloist: Elena Mosuc
Giacomo Puccini (1858-1924): "Nessun dorma" from Turandot
soloist: Calin Bratescu
Giuseppe Verdi (1813-1901): "È strano/Sempre libera" from La Traviata
soloist: Elena Mosuc
Giuseppe Verdi (1813-1901): Duet "Signor, ne principe/Addio, addio speranza ed anima" from Rigoletto
soloists: Elena Mosuc, Calin Bratescu