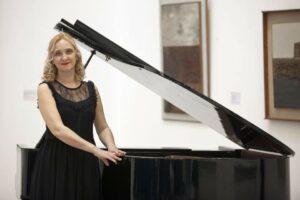 Goran Nacevski graduated and mastered composition with prof. Milan Slavicki, and in 2001 he also gained his master degree for solo singing with prof. Rene Tucek at the Faculty of Music Arts in Prague. In 2006 he finishes his doctoral studies at the same Faculty on the field of Music Theory with a specialization in composition theory. He has experienced his debut in 2006, and since then, Nachevski began his vocal career as a soloist baritone in the Macedonian Opera and Ballet, and for a short period he debuted in 15 other roles on the same stage. He is constantly present at the stage of festivals and music events in Macedonia and other countries. Currently, Nachevski works as an associate professor at the Faculty of Music Arts in Skopje.
Pianist Jasna Avramovska graduated from the Faculty of Music in Skopje in the class of prof. Todor Svetiev, and finished her master studies at the National Academy "Pancho Vladigerov" in Bulgaria in the class of the eminent pianist and proffesor Zheni Zaharieva. During her career she collaborated with prominent domestic and foreign artists, and as a soloist, she cooperated with significant domestic and foreign orchestras. Avramovska is also a frequent participant in significant festivals in the country and abroad. She received an impressive number of certificates and awards. Jasna Avramovska has realized audio recordings, CDs and TV shows. Since 1993, works at DMBUC, as a piano accompaniment in the brass and string class, and as a piano professor.
Oboist Vasil Atanasov is a famous Macedonian artist who with his performances constantly represents the high artistic values ​​of Macedonian culture and art in the world. He has received numerous awards and recognitions. He is constantly active on the Macedonian music scene, with numerous festivals in the country, as well as in many other countries in Europe, Asia and America. Atanasov is often a member of jury commissions at domestic and international competitions. His performances are permanently recorded on multiple sound tracks. In 2016 he receives the high-prize "Golden lira" from the Union of Music Artists of Macedonia, and in 2017 he was awarded the prestigious 13th November award.
Todor Svetiev graduated piano at the Academy of Music in Zagreb, and aftet that studied at the conservatories in St. Petersburg and Antwerp. As a soloist and chamber musician he develops a rich concert activity and performs successfully on the podiums both in Macedonia and in other countries. His repertoire includes works of various eras, as well as a number of premiere performances of works by Macedonian authors. He has won many awards and recognitions. Svetiev has been successfully working as a piano professor at the Faculty of Music in Skopje for many years and is often a member of the jury commissions of the international pianist competitions.
The Skopje wind quintet has existed for almost forty years and is part of a tradition of chamber friendship among the Macedonian wind instrument artists. The quintet's repertoire includes works from the most famous world composers, as well as works by Macedonian authors, some specially written for this ensemble. Skopje wind quintet often performes in the country and abroad, and has recorded numerous CD and TV recordings. Due to its success, this chamber ensemble has been many times rewarded, and so far has been present at famous events and festivals in the country and abroad. Since 2002, the Skopje Wind Quintet has continued its artistic activity under the Artistic leadership of Vasil Atanasov. The present ensemble consists of well-known Macedonian artists of the Chamber Soloists, the Macedonian Philharmonic Orchestra and the Macedonian Opera: Vasil Atanasov – oboe, Marija Jakimovska – flute, Risto Gjorevski – clarinet, Daniel Apostolov – bassoon, Alexander Goshev – horn.