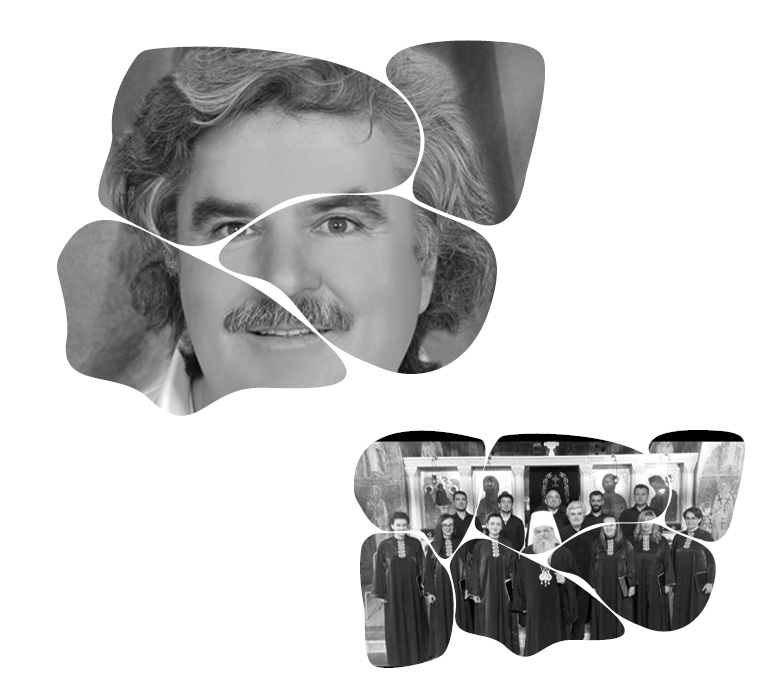 Chamber mixed choir "St. Kliment Ohridski"
Mixed chamber choir "St. Clement of Ohrid"
Conductor: Panche Josifov
Soloists:
Biljana Josifov-soprano
Lidija Pshenko-alto
Dejan Stoev-tenor
Neven Siljanovski- bass baritone
The mixed chamber choir "St. Clement of Ohrid" was established in 1992 under the auspices of the Cathedral of the Archbishopric Church of St. Clement of Ohrid in Skopje. The choir regularly performs the first Macedonian orthodox liturgy " Liturgy of St. John Chrystosom" by Atanas Badev.
The primary goal of the choir is to work in line with the liturgical needs of the Macedonian orthodox church, and to this day they have served over 1500 Sunday liturgies, 500 special celebration liturgies as well as 18 evening concerts. The choir regularly performs in Macedonia as well as internationally.  In 1998 and 2001 the choir took part in the International festival of sacred music in Hajnowka, Poland where it won the laurate prize in the category of professional choirs. In 1999 they take part in the International sacred music festival in Sofia, Bulgaria and in the years 2000, 2002, 2007, 2013 and 2019 they take part in the celebrations of St. Cyril and Methodius in Rome, and in 2008 in Neive in Alba they perform the Easter liturgy.
Their rich repertoire of orthodox chant and composition is blended with composition of the old masters, romantic composers as well as traditional Macedonian folklore songs and music from the roman catholic church tradition.  The choir comprises of professional musicians and pedagogues and vocal soloists.
Since its founding the artistic director and conductor of the choir is Panche Josifov.
Panche Josifov- conductor
Panche Josifov was born in a family of theatre professionals, and he earns his graduate diploma from the pedagogy department of the Faculty of Music in Skopje, following to earn his Masters degree in choir conducting in the class of Prof. Dragan Shuplevski.
He begins his career as assistant choir master at the choir of the Macedonian Radio television in the period 1975-1998, during which time he is also employed as a choir member at the Macedonian National Opera.  Since 1998 he is also assistant choir master at the opera and leads the rehearsals with the young opera artists and conducts the off-stage music for the opera performances. From 1995-1998 he is the artistic leader and conductor of the Academic choir "Mirche Acev" in Skopje. Since 1990 until his retirement, Panche Josifov teaches choir singing, solfeggio and theory of music at the state music centre "Ilija Nikolovski- Luj".
He is the founder, artistic director and conductor of the mixed choir "St. Clement of Ohrid" since its founding in 1994.
Programme:
Makedonski: Hymn of St. Clement of Ohrid
Mokranjac: Tebe pojem
Arkhangelsky: God, hear my prayer
Badev: Izhe Cheruvim-That we may receive
Lvov: Kto bez ridania
Zografski: Siyaniem
Rachmaninoff: Rejoice, virgin mother of God
Mokranjac: No one is as holy as thee
Archangelsky: With my voice
Bortniansky: Sei den
Rachmaninoff: We praise Thee
Archangelsky: K Bogorodice prilezhno
Sviridov: Strannoye rozhdedstvo
Rachmaninoff: V Molitvakh Neusypayushchuyu
Unknown composer: Mnogaia leta