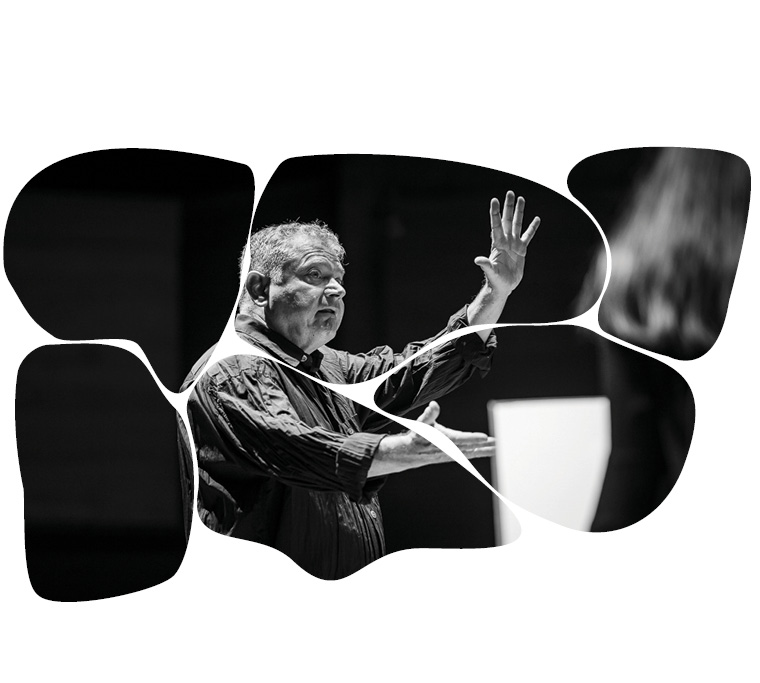 Chamber orchestra of the Macedonian Philharmonic "NEW BREATH"
Conductor: Pascal Gallois
Bojan Ilkoski-violin
Marija Trajkovska- violin
Ilza Baftijari – viola
Aleksandar  Laovski – viola
Paskal Krapovski-cello
Dragan Gonevski – cello
Gonca Bogoromova-Krapovski soprano
Igor Bakrevski – clarinet
Marijana Nikolovska – piano
Atanas Aleksov – percussion instruments
R. North Macedonia
The Philharmonic orchestra of R. of North Macedonia is the longest standing and only symphonic orchestra in the country, thus being a pillar of the Macedonian music scene for nearly eight decades. The orchestra takes pride in its continuous qualitative growth, the broadening of the classical music repertoire while premiering works by contemporary composers and nourishing and supporting the work of the Macedonian authors. In the last decade the orchestra has been significantly rejuvenated with the employment of new, young and talented musicians that has resulted in a fresh new élan and enthusiasm, as well as giving birth to new chamber ensembles and formations that are part of the institution.  The idea behind this chamber concert of the ensemble "New breath" is the challenging strive to perform new music and present it on the Macedonian music stage which is supported by the fact that very few chamber orchestras are dedicated to performing contemporary works. Led by conductor Pascal Galois, the "New breath" ensemble has carefully selected pieces by both Macedonian and foreign composers: A. Schoenberg, Valentina Velkovska-Trajanovska and A. Webern.
Most of the works on the programme are rarely performed and some of them will be premiered in RN Macedonia. The concert at the Ohrid Summer Festival is this ensemble premiere in front of the Macedonian audiences.
Pascal Gallois–conductor
The career of Gallois includes several activities: in addition to the extraordinarily fruitful output as an enigmatic and passionate virtuoso on the bassoon and renowned pedagogue, he recently established himself as a successful conductor and an innovative artistic director.
As one of the most renowned masters of the bassoon, Gallois inspired the Italian composer Luciano Berio to compose Sequenza XII (1995), one of the legendary series which significantly expanded the horizons of the technical and expressive capabilities of the instruments. The list of composers who wrote for Gallois include Pierre Boulez, who dedicated his Dialogue de l'ombre double (2007) to Gallois, and Wolfgang Rihm, whose Psalmus for bassoon and orchestra was premiered by Gallois the same year, with the Bavarian State Opera Orchestra conducted by Kent Nagano.
The significant "musical moments" initiated and directed by Gallois include the homage to Boulez on his 85th аs well as the concert for the occasion of Henri Dutilleux's 95th birthday.
He has recorded numerous works by many contemporary composers, from Boulez to Kurtag; from Berio to Neuwirth…
Already established within the music scene in Paris, in 2015 he creates the festival Les Musicales de Quiberon in Brittany, where he combines an exciting mix of traditional and contemporary repertoire. He is active as a conductor, regularly performing with orchestras and ensembles, including Orchestre de Bretagne, International Contemporary Ensemble New York, Ensemble Prague Modern and Meitar Ensemble in Israel.
Programme:
Schoenberg: "Verklärte Nacht" op. 4 for string sextet
Velkovska-Trajanovska: "Omen" for solo soprano, clarinet, violin, cello and percussions
Webern: Piano quintet