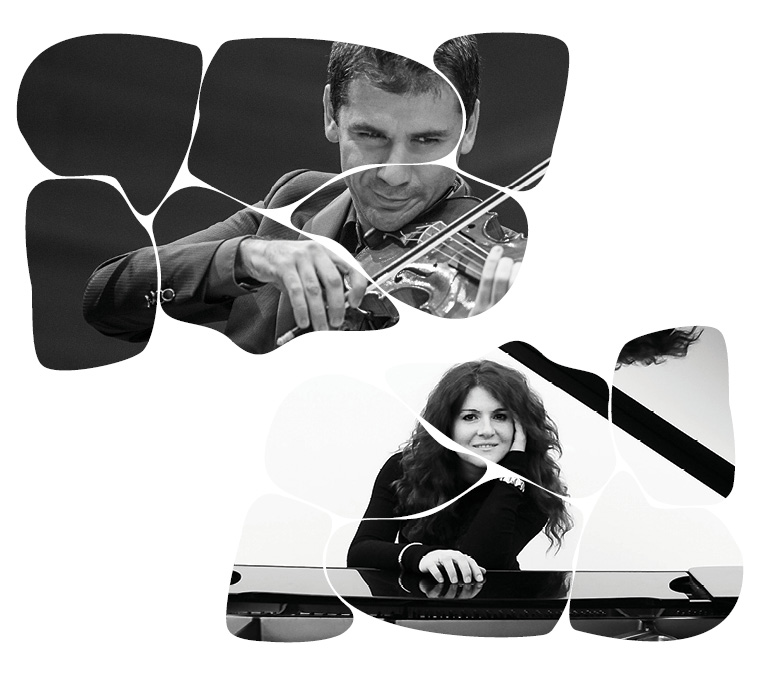 Concert of the participants of the international music masterclass
Concert of the participants of the international music masterclass led by
Tamila Guliyeva-piano and
Emilio Percan-violin
The International master classes for violin, viola and chamber music under the leadership of violinist Emilio Percan has been taking place since 2009. The first three years the master classes took place in Istria, Croatia and from 2014 with the support of the Ministry of culture of R. North Macedonia,  they are taking place in Ohrid. During the years over 150 talented young musicians from Russia, Germany, Austria, Croatia, Greece, Serbia, Slovenia, Bosnia and Herzegovina and Macedonia have participated in the classes and they are also joined by established performers and pedagogues that come and work with Emilio Percan on specific performing practices. Traditionally the most successful participants are selected for the final concert which is part of the Ohrid Summer festival.
Macedonain violinist Emilio Percan is an active performer and pedagogue who regularly collaborates with such artists as Viktoria Mullova, Daniel Hope, Kent Nagano, Chen Reiss, Julia Lezhneva, Rafaella Milanesi, Xavier de Mestre etc, and has performed in such prestigious venues as the Hall of the Baden Baden festival, Tokyo opera hall, the Sao Paolo Concert hall etc. He has recorded for Deutsche Gramophone, Sony, Decca, Harmonia Mundi, Pan Classics and Onyx Classics. Since March 2015 he is teaching violin at the University for Arts in Graz, and more recently in 2020 he joined the string faculty at the "Kalaidos" University in Zurich. He has led master classes for violin, chamber music, historical performance and methodology in Germany, Austria, Italy, Ukraine etc.. His students are winners of over 150 international prizes.
Born in Baku (Azerbaijan), Tamila Guliyeva graduated and earned her master's degree with distinction from the Baku Music Academy. She continued her education at the Folkwang University of Arts in Essen where since 2007 she works as a lecturer.
Guliyeva has received prizes in numerous competitions, such as National Festival of Young Pianists in 1994 (1st prize), National competition of chamber ensembles in 1996 (1st prize), "The best accompanist of year" in 1999 (1st prize) etc.
She has participated in many concerts as a soloist, with symphonic and chamber orchestras. She was the official pianist at the master classes held by Mstislav Rostropovich, Tabea Zimmermann, and Faure Quartet etc.