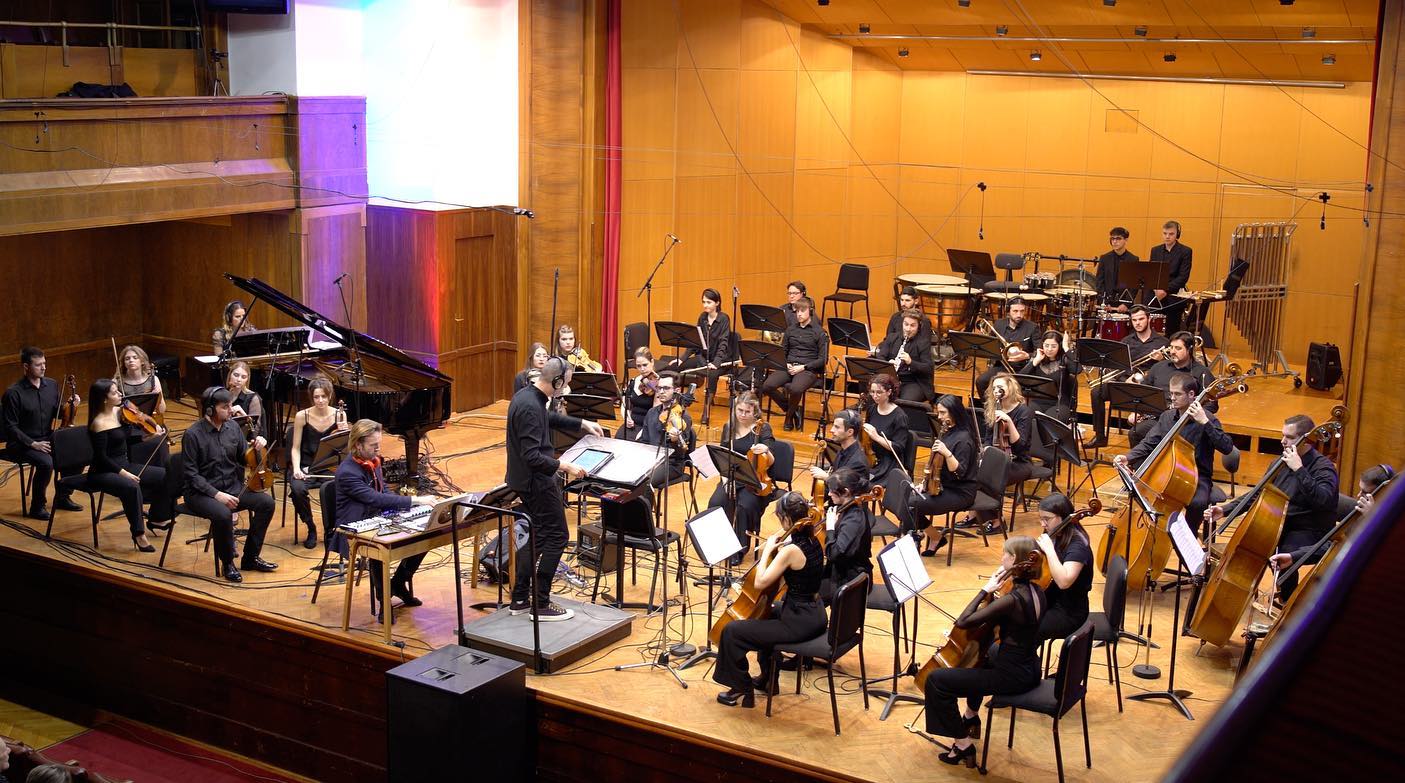 Romanian evening FAME'S European Orchestral Performing Institute; Irina Murezanu – violin soloist
"Fames" Orchestra
Irina Murezanu – violin soloist
FAME'S European Orchestral Performing Institute
FAME'S European Orchestral Performing Institute is a music educational center that was established within the FAME'S music recording company. Organized in one place, the center is a unique platform for professional music training, exchange, and creativity for young European instrumentalists.
FAME'S European Orchestral Performing Institute opens a European Creative orchestral program for skilled young musicians in the field of Orchestral music. As part of Pan-European cultural entities (CREA-CULT-2021-PECE), the program focuses on giving an opportunity for young talented musicians to participate into various orchestral practices, exploring new repertoires and performance styles within the Fames Project and recording studio. The program is offering a high professional level of training, practicing, mentoring, and performing, through new methodologies and technologies based on all involved partner's experience.
Building a professional and original orchestral music content, the project aims at reaching new audiences in the era of digital transformation, while ensuring the development and promotion of cultural diversity and European musical heritage.
The program that organizes two seminars per year includes various genres of music that mark every masterclass. Seminars consist in courses of Classical music, Film/Media, Hybrid music, music recording and Carte Blanche masterclass. All the masterclasses are recorded in our professional recording studio and the final concerts are live streamed or held in different venues.
FAME'S European Orchestral Performing Institute during every seminar is welcoming participants from different countries – members of Creative Europe Program, as well as famous artists like Timothy Redmond, Colsimcha Band, Olivier Truan, Luis Ivars, Alistair King, Francesco Tristano, Benjamin Shwartz, Rob Mazurek, Cuareim Quartet and Natasha Rogers, Olivier Dejours, Etienne Abelen, Gabriel Prokofiev, Igor Coretti, Luka Faulisi etc…
Irina Muresanu-violin, artistic leader
Romanian-born violinist Irina Muresanu is a laureate and winner of top prizes in several prestigious international violin competitions including the Montreal International, Queen Elisabeth International, UNISA International String, Washington International, and the Schadt String Competition…Muresanu achieved international acclaim early on as an outstanding young soloist, recitalist and chamber musician. Muresanu has recently been awarded the prestigious Fulbright U.S. Scholar award, the Independent Scholarship, Research and Creativity Award from the University of Maryland and the "Enescu grant" by the Romanian Cultural Institute, a three-month residence at the Cité International des Arts in Paris, where she will be working on "Infinite Strings" – a platform designed to promote Romanian music written for violin in the past 150 years.
Equally in demand on both sides of the Atlantic, as she has appeared throughout the United States, Canada, Europe, Asia and South Africa. Ms. Muresanu has firmly established herself as a successful recording artist, and her adventurous programming and thematic concepts define her as a sought-after soloist and chamber musician.
An active chamber musician and recitalist, Ms. Muresanu has been a member of the Boston Trio since 2001 and has appeared as guest artist at numerous festivals and venues in the USA, Netherlands, Belgium, France etc.
Ms. Muresanu is an avid performer of new music, having had many works written and dedicated to her and has recorded for various labels to high critical acclaim.
Programme:
Desenne: Pajaro-Guaracha for cello/bass ensamble
De Falla: Spanish Dance, arr. for viola ensemble (Spain)
Flynn: The Longest Reel for violin ensemble (Ireland)
Dinicu: Hora Martisorului (Romania)
Rutter: Suite for Strings based on British Folk (England)
S. Bach/Sarcich: Chaconne arr. For violin and string quintet (Germany)
Vali: Four Movements for string quartet and string orchestra – Funebre (Iran)
Roustom: Dabke (Syria)
Fung: Pizzicato for string orchestra (China)
Piazzolla: Four Seasons of Buenos Aires – Winter (Argentina)
O'Connor: The American Seasons – Spring (United States)