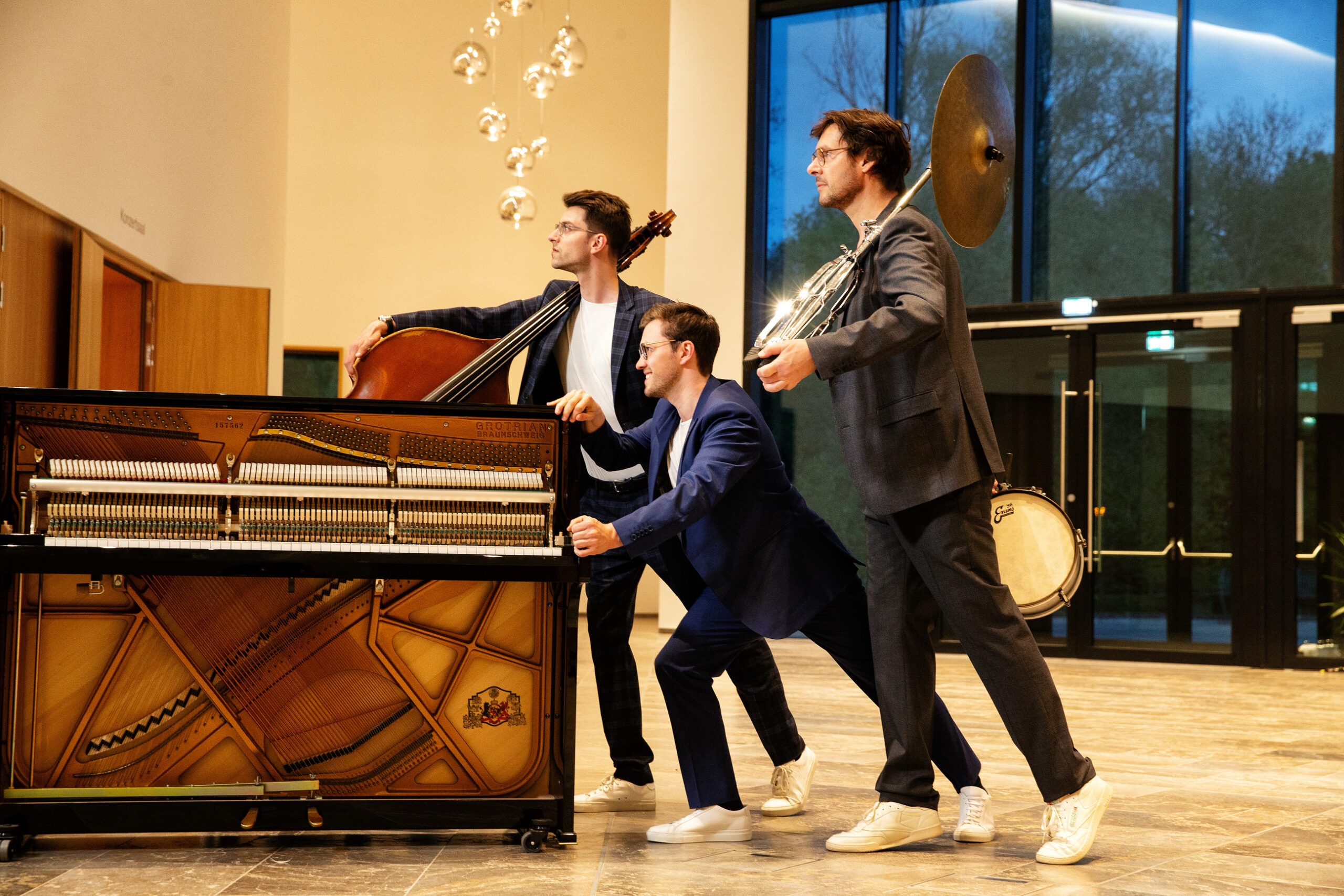 Frank Dupree Trio, Germany
FRANK DUPREE TRIO
Frank Dupree-piano
Jacob Krupp-double bass
Obi Jenne-drums
The musical curiosity and virtuosity of the three renowned musicians of the Frank Dupree Trio helps them to erase the limitations of genre and easily transform and enjoy the freedom of joint music making.
Frank Dupre is a musician with endless horizons, an artist that has successfully managed to bridge the differences of jazz and classical music, thus becoming one of the most talented and exceptional musicians of his generation. Frank Dupree was interested in all kinds of music from a very early age- experimenting and studying jazz drums, classical piano and last but not least conducting. He has built a career as a classical pianist, winning the German national competition in 2014 and following to receive the Opus Klassik award in 2018 in the category for Best concert performance of a work from the 20/21 century. In 2022 Dupree is awarded an ICMA award (International Classical Music Award) for his recording of Nikolai Kapustin's Fourth piano concerto.
Frank Dupree and drummer Meinhard "Obi" Jenne have been collaborating on joint projects since 2009. In 2020 the talented double bass player Jacob Krupp completes the trio and they attract international attention in January 2022 with their debut album "Blueprint" (Capriccio) dedicated to works by the composer Nikolai Kapustin. The album is voted album of the week at RBB Kultur and is listed as 5 recommended albums of the month by New York Times. Their following album- Salted caramel (Berlin Classics) is released later in 2022 and the trio is joined by trumpet player Simon Höfele and the Goldmund Quartet in their interpretations of classicals works and jazz standards.
The Trio has been invited to perform at the Elbphilharmonie, the Bonn Jazz Festival, the "Kurt Weil" festival in Dessau, as well as on concert tours in Switzerland and Lichtenstein and in concert with the Stuttgart Philharmonic, and all of this is a verification of the international interest in their projects. The Trio's repertoire spans from anything from Bach and Beethoven to Debussy and Ravel, as well as songs by Kurt Weil and Leonard Bernstein. The jazz standards of musical icons such as Duke Ellington find their way in their concert performances as well as the virtuoso multi-layered works of Nikolai Kapustin.
Programme:
Nikolai Kapustin (1937-2020): Big Band Sounds, Op. 46
"Prelude" from Eight Concert Etudes, Op. 40 No. 1
Maurice Ravel: (1875-1937): Prélude in A minor (original & in jazz version)
Nikolai Kapustin (1937-2020):    Selection of Jazz Preludes, Op. 53
Variations, Op. 41
-Intermission-
Leonard Bernstein (1918-1990): Songs from "West Side Story"
Jet Song
Somewhere
III. Cool
I Feel Pretty
Mambo