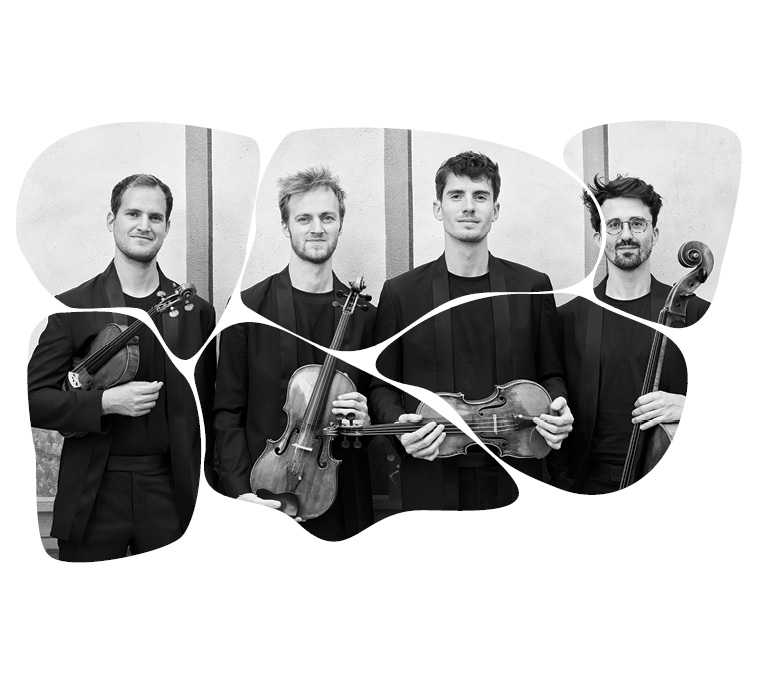 French evening Quartet "Agate"
Quartet "Agate
Adrien Jurkovic violin
Thomas Descamps violin
Raphaël Pagnon viola
Simon Iachemet cello
Formed in 2016, the Quatuor Agate studied at the Hochschule für Musik "Hanns Eisler" in Berlin with Eberhard Feltz, and in Paris under the guidance of Mathieu Herzog and Luc-Marie Aguera at the Conservatoire de Paris. In 2021 they were prize-winners at the YCAT  International Auditions.
This season they make their debut at Wigmore Hall and give recitals at the Verbier Festival, Tauber Philharmonie Weikersheim, Mecklenburg-Vorpommern's Rugen Island Quartet Festival, Les Chaises Musicales (with Quatuor Ébène), Nuit du Quatuor (Philharmonie de Paris) and the Brucknerhaus Linz (Austria).
The Quartet is currently artist in residence at the Fondation Singer Polignac, resident at Pro-Quartet in Paris, and Associate Artist at the Festival la Brėche in Savoie.
They have given recitals at major venues and festivals across Europe including the Hamburg Chamber Music, Mecklenburg-Vorpommern, Festival d'Aix-en-Provence, Les Rencontres Musicales d'Evian, Konzertverein Schwerin and collaborated with Frank Braley, the Modigliani and Jerusalem Quartets, among many others.
Programme:
 
V. Beethoven: String quartet nr. 13 B flat major op. 130 with "Grande fugue" op. 133
Adagio, ma non troppo
Presto
Andante con moto, ma non troppo. Poco scherzoso
Alla danza tedesca. Allegro assai
Cavatina. Adagio molto espressivo
Große Fuge: Ouverture. Allegro – Meno mosso e moderato – Allegretto – Fuga– Meno Mosso e moderato – Allegro molto e con brio – Allegro
 
-Intermission-
 
Ј. Haydn: String quartet C major nr. 2 op. 20 Hob III: 32 (no. 2 "The Sun quartet")
Moderato
Capriccio. Adagio – Cantabile
Menuetto. Allegretto – Trio
Fuga a 4 soggetti. Allegro