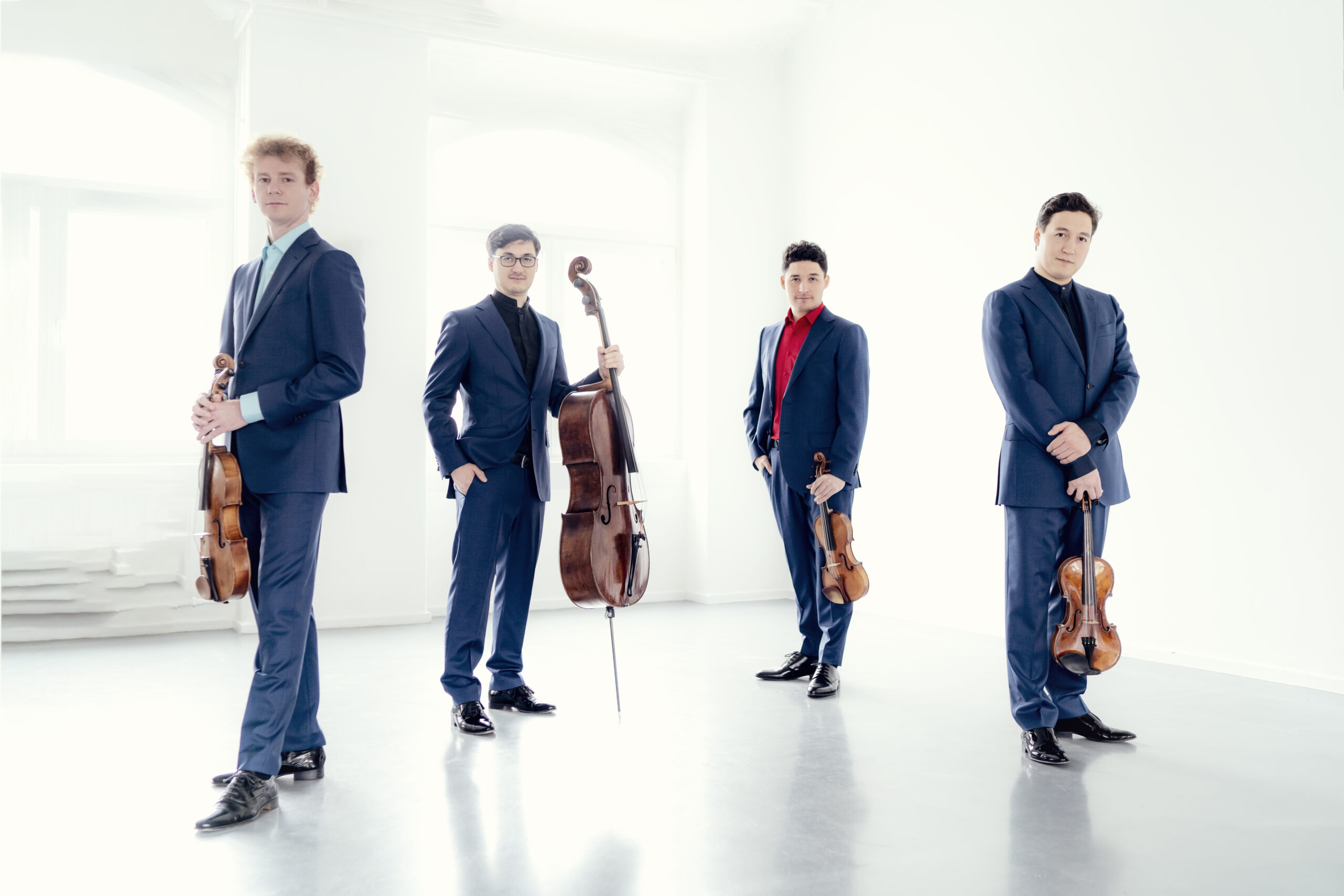 "Schumann Quartett"
"Schumann Quartett"
Erik Schumann -violin
Ken Schumann -violin
Veit Hertenstein -Viola
Mark Schumann – Cello
The three brothers Mark, Erik and Ken Schumann have been playing together since their earliest childhood – meanwhile violist Veit Hertenstein completes the quartet. The four musicians enjoy the way they communicate without words. Although the individual personalities clearly manifest themselves, a common space arises in every musical work in a process of spiritual metamorphosis. The quartet's openness and curiosity may be partly the result of the formative influence exerted on it by teachers such as Eberhard Feltz, the Alban Berg Quartet, or partners such as Menahem Pressler.
The Schumann Quartet has reached a stage where anything is possible, and for them "A work really develops only in a live performance," so they join forces to gain added energy with: Sharon Kam, Fabian Müller, Anna Lucia Richter, Anna Vinnitskaya and Jörg Widmann all of whom are among the quartet's current partners.
A special highlight of the 22/23 season will be a concert tour to Singapore, followed by concerts in Adelaide, Australia. The quartet will also perform twice at the Concertgebouw Amsterdam and three times at the Wigmore Hall in London. In April 2023, the quartet embarked on a major tour with Anna Vinnitskaya, performing Robert Schumann's Piano Quintet in Brussels, Hamburg, Berlin, Geneva and elsewhere.
The Quartet's album "Intermezzo" with Anna-Lucia Richter has been hailed enthusiastically both at home and abroad and received the award "Opus Klassik" in the category quintet. It is celebrated as a worthy successor to its award-winning "Landscapes" album, in which in which the quartet traces its own roots by combining works of Haydn, Bartók, Takemitsu and Pärt. Among other prizes, the latter received the "Jahrespreis der deutschen Schallplattenkritik", five Diapasons and was selected as Editor's Choice by the BBC Music Magazine. For its previous CD "Mozart Ives Verdi", the Schumann Quartet was accorded the 2016 Newcomer Award at the BBC Music Magazine Awards in London. In 2020 the quartet has expanded its discography with "Fragment" and his examination of one of the masters of the string quartet: Franz Schubert.
And the critics approve: "Fire and energy. The Schumann Quartet plays staggeringly well […]
without doubt one of the very best formations among today's abundance of quartets, […] with sparkling virtuosity and a willingness to astonish" (Harald Eggebrecht in Süddeutsche Zeitung).
Programme:
V. Beethoven: String quartet Nr. 4 c-moll op. 18
                                Allegro ma non tanto
                                Andante scherzoso quasi allegretto
                                Menuetto: Allegretto
                                Allegro
Janacek: String quartet Nr. 1 "Kreutzersonate"
Adagio
Con moto
Con moto – Vivo – Andante
Con moto – (Adagio) – Più mosso
-intermission-
Mendelssohn: String quartet op. 44 Nr. 2 e-moll
                                Allegro assai appassionato
                                Scherzo. Allegro di molto
                                Andante
                                Presto agitato