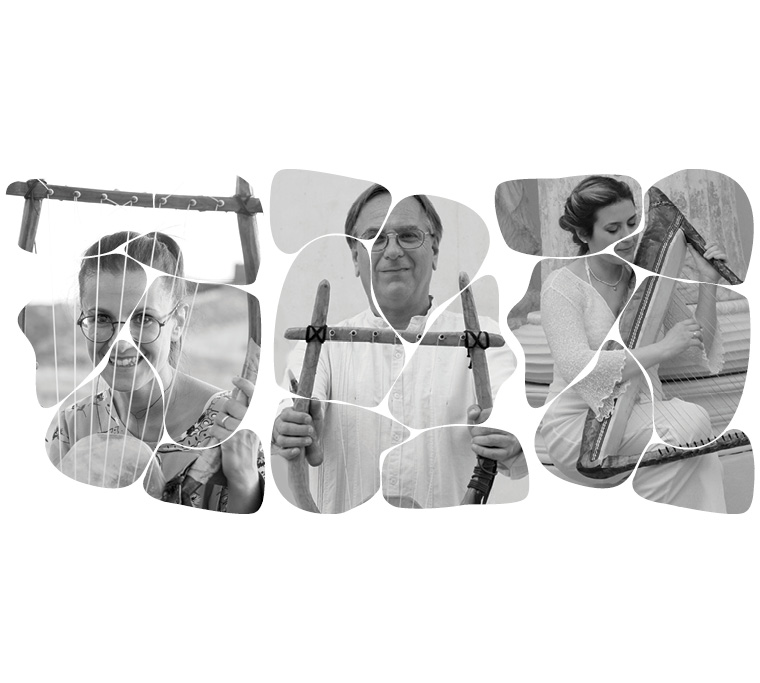 Greek evening "LEΣ LYRISTEΣ" (The Lyrists)
Sophia Karakouta, Voice and Trigonon
Rosa Fragorapti, ancient lyre
Nikos Xanthoulis, lyre and barbiton
The trio's "LEΣ LYRISTEΣ" constituent element and what spurred its formation, is the ancient Greek seven-stringed lyre, the symbol of Music in the Western European tradition. The beautiful sound of the lyre, that enchanted the ancient philosophers, is being revived and in combination with the ultimate instrument of music, the voice, seeks its role in the modern world. Since its inception in 2020, the trio has been presented in numerous and varied performances both in Greece and abroad: in festivals, workshops, conferences, educational programs, university projects and recordings for the radio. Their first album with Sappho's poetry set to music by Dr. Xanthoulis is expected to be released soon.
Rosa Fragorapti is a musician and musicologist with a master's degree in ancient Greek music, has dedicated herself to the study of the seven-string lyre with Professor Nikos Xanthoulis. She has given concerts in Greece and Italy and took part in seminars and conferences of musicology and archaeo-musicology. In June of 2021 she received the first worldwide Diploma of Ancient Greek Lyre from the Municipal Conservatory of Nikea.
Sophia Karakouta studied classical singing with a scholarship at the New England Conservatory in Boston. She has held numerous recitals in Boston and Seattle in the USA and in Greece and has participated in many opera productions and chamber music concerts. Sophia worked as a vocal teacher and choir conductor in Greece and the U.S.A. as well as in primary and secondary education. For the last ten years he has been studying the ancient Greek trigonon (a type of harp).
Nikos Xanthoulis is a composer, Artistic Consultant of the Greek National Opera, Scientific Associate with the Academy of Athens, and corresponding member of the Archaeological Institute of America. He was the principal trumpet player of the Greek National Opera Orchestra (1984-2009). As a soloist and as a composer he has presented his work in over 30 countries. He has published fourteen personal CDs and participated in four collaborative albums. He is a faculty member of the Municipal Conservatory of Nikea, Greece. The Archaeological Institute of America has awarded him the Kress Lectureship prize for his research on Ancient Greek Music twice: in 2012-13 and 2017-18.
Programme:
The Lyre by Nikos Xanthoulis
"Rosa Ritrovata" for solo lyre
"The Storm" for two lyres
Ancient times
Pindar, A 'Pythionikos circa 500 BC
Euripides, Katolofyromai, 408 BC
Atheneus, 1st Delphic Hymn, 128-127 BC.
Mesomedes the Cretan, Hymn to Calliope – Hymn to the Muse
A.D.
Seikilos's Epitaph 3rd or 4th c. A.D.
Traditional music
Thalassaki mou
Thalassa leventopnichtra
Modern Greece
Lyrics: Sappho / Settings in Music: Nikos Xanthoulis
Vocalise
Dedyke men A Selana
Asteres Men Amfi Kalan Selannan
Iros Anghelos
Kelomai se Gogyla
Euripides Furens (a modern tragedy by Christoforos Christofis
Settings in Music: Nikos Xanthoulis
To krassi mou pire to mialo
Nichta
Various Greek Composers
Mikis Theodorakis: Marina
Takis Morakis: Ti Ine afto Pou to Lene Agapi
Manos Hadjidakis: Athanasia
Nikos Xanthoulis: Oh Bacchus