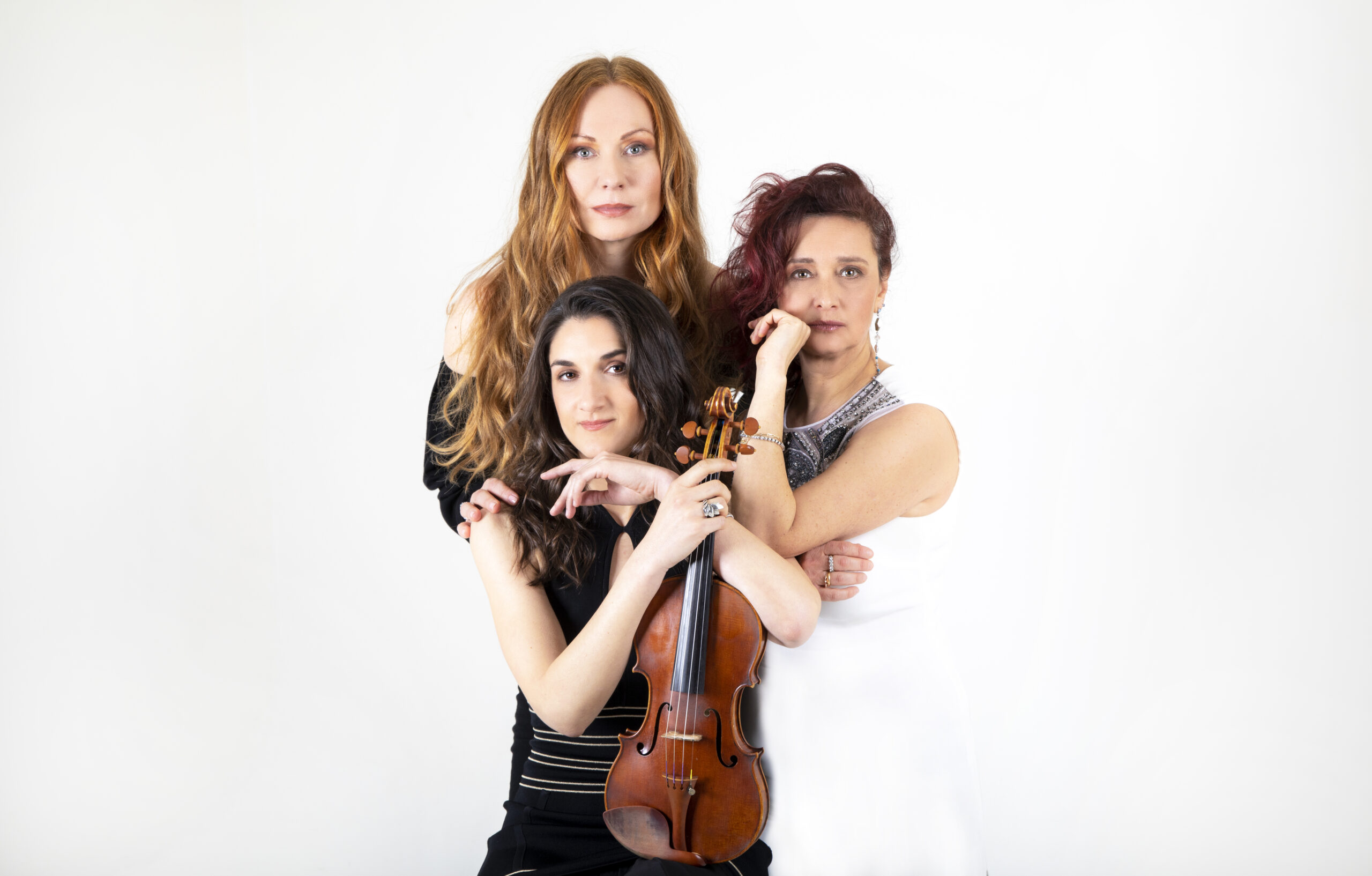 Inventio trio
Trio "Inventio"
Yulia Berinskaya – violin I
Valentina Danelon – violin II
Ana Serova – viola
Yulia Berinskaya – violin
Yulia Berinskaya was born into an artistic and musical environment; her precocious talent was discovered at an early age by her father Sergey Berinsky, among the greatest composers of the 20th century in Moscow, and he encouraged her to study violin. Her training and her extraordinary musical potential were encouraged and cultivated by internationally renowned artists such as E. Tchugaeva and V. Tretiakov, the Borodin Quartet, the Moscow Trio, who guided Yulia to graduate with honors from the Moscow Tchaikovsky Conservatory. She then continued her studies at the Hochschule für Musik in Vienna under the tuition of D. Schwarzberg.
Yulia began a brilliant career as a soloist, chamber musician, and teacher, acclaimed in Italy and abroad: Netherlands, Switzerland, France, Germany, the former Yugoslavia, USA, Israel, Russia with such orchestras as the Verdi Orchestra in Milan, The Milan Conservatory Orchestra, Moscow Amadeus Orchestra, Sverdlovsk Philharmonic Orchestra, and I Musici di Parma ensemble.
Being a passionate chamber musician, she has been invited to some of the major Italian and European festivals, performing alongside artists including S. Krilov, Y Bashmet, D. Cohen, V. Mendelssohn, F. Lips.
Yulia regularly gives masterclasses in Mendrisio (Switzerland), Timisoara (Romania), Rhodes (Greece), Mulin de Andee (France), Portogruaro (Italy), Venice (Italy); she has also founded her own violin course at the Milano Music Master school academy and is regularly a jury member of the international violin competition.
Shas performed as a guest leader with the following orchestras: Teatro San Carlo in Naples, Orchestra of Trento and Bolzano, Orchestra Earl (Austria), Teatro La Fenice in Venice, The Philharmonic Orchestra of Ljubljana.
She has recorded several CD's for record labels in Germany, Russia and Itay. Berinskaya is a docent at the music school "Claudio Abado" in Milan and also teaches at the Milano Music Master Schools.
Valentina Danelon – violin
Valentina Danelon was born in 1985 and graduated in Violin with honors at the Conservatory of Music of Castelfranco Veneto with Michele Lot, she continued her studies at the University of Music of Lugano graduating brilliantly in Music Pedagogy – Violin and has continued to study with Yulia Berinskaya and Renato Zanettovich.
She studied chamber music at the International Chamber Music School of Trio di Trieste in duo with the pianist Beatrice Orlandi, under the guidance of Renato Zanettovich, Dario De Rosa, Maureen Jones and Trio di Parma.
She has played as soloist with I Solisti Veneti, conducted by Claudio Scimone, Nuova Orchestra da Camera Busoni di Trieste, Naonis Symphonic Orchestra and others. She has won several prizes, such as the first prize in XVIII Rospigliosi International Chamber Music Competition, XXVI Caraian Chamber Music Award and XI Canetti International Music Festival (France), in addition to other awards and scholarships.
As a chamber musician she has performed at many festivals and she has given concerts in Europe, Russia, the United States, South America, China and Japan.
After auditioning she started collaborating with renowned orchestras including Gran Teatro La Fenice (Venice), Italian National Symphonic Orchestra RAI, I Solisti Veneti, and others, collaborating with conductors such as Chung, Gardiner, Temirkanov, Valčuha.
Since 2020 she shares the artistic direction of International Music Festival Nei suoni dei luoghi with Stefan Milenkovich
An avid chamber musician, Valentina Danelon is currently participating in several ensemble projects.
Anna Serova – viola
A unique figure on the international scene both as soloist and chamber musician, the violist Anna Serova has several compositions dedicated to her in recent years by some of the most important contemporary composers. In fact, by writing for her they have created a new genre in composition uniting the form of the concert piece with the action of the theatre.
After studying with Vladimir Stopicev , Bruno Giuranna and Juri Bashmet, she began a brilliant career as a concert musician which saw her starring in some of the most important concert seasons and festivals in Italy and abroad.
She has performed as a soloist with many Russian, European and South American orchestras, and as a chamber musician she has collaborated with artists like Ivry Gitils, Bruno Giuranna, Salvatore Accardo, Rocco Filippini, Remus Azoitei and others.
A few of her recordings released by Decca naxos, Brilliant Classics, Velut Luna, and Red Dress have been praised by critics and earned awards and recognition.
In June 2006 the Administration of the City of Krasnoyarsk (Russia) conferred on Anna Serova the title of Attaché for Cultural and Trade Relations.
Anna Serova is Professor of Viola and Chamber Music at the Perosi International Academy in Bella (Italy) moreover, she frequently holds viola and chamber music masterclasses in Italy, Russia and South America.
Programme:
S. Bach: Selection from the Two – Parts inventions
Valentina Danelon-violin I
Yulia Berinskaya -violin II
S. Bach: Selections from the Three-parts Sinfonias
A. De Beriot: Duo Concertante op. 57 no. 3 for two violins
Moderato
Adagio
Allegretto
Yulia Berinskaya -violin I
Valentina Danelon-violin II
Taneyev: Trio in D major op. 21
Allegro giocoso e semplice
Menuetto. Allegro ma non troppo
Andante
Vivace
Dvorak: Terzetto op. 74 C major
Introduzione. Allegro ma non troppo
Larghetto
Scherzo. Vivace — Trio. Poco meno mosso
Tema con variazioni. Poco Adagio—Molto