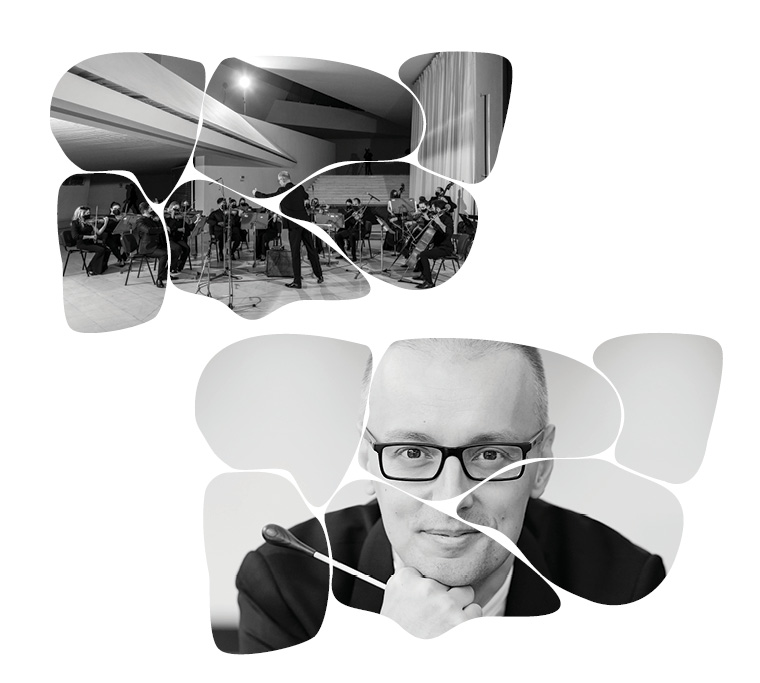 Jeunesses Musicales Macedonia
Concert of the JMM Chamber orchestra "Sasha Nikolovski-Gjumar"
Conductor: Borjan Canev
Chamber orchestra of JMM "Sasha Nikolovski-Gjumar"
The Chamber orchestra of Jeunesses Musicales Macedonia was established over 35 years ago as the main segment of JMM Summer music camp in Ohrid in 1986. It is the only ensemble of its kind in South-East Europe. To this date the orchestra has welcomed more than 400 young musicians mostly from Macedonia but also guest musicians from other countries.  Artistic directors and conductors of the orchestra include F. Muratovski, G. Korunovski, S. Nikolovski-Gjumar, V. Nikolovski-Gjumar, M. Spasov, B. Canev, A. Remereit, B. Chadlovska, O. Kondratenko, Misha Katz, Gianluca Martinenghi, Elena Mitrevska. In 1995 recognizing the orchestra's qualities and impact the ensemble was invited and featured in the celebrations of the 50 years Anniversary of the International Federation of Jeunesses Musicales in Budapest. For 35 years the final concert of the summer session of the orchestra is part of the official programme of the Ohrid Summer Festival, and for 12 years the young musicians also perform at the Skopje Summer Festival and Bitola Summer Festival. Since 2018 the orchestra is named aftetr the Macedonian conductor Sasha Nikolovski-Gjumar..
Borjan Canev- conductor
Winner of the prestigious Virtuosi award for "Best music performer" in 2013, conductor Borjan Canev is one of Macedonia's finest musicians.  A graduate of the Faculty of Music in Skopje, Canev earned his Master's degree at the State Academy of Music in Sofia  and following his studies, he was immediately appointed conductor of the Macedonian Philharmonic Orchestra. Canev earned his Postgraduate Diploma in Performance -Conducting at Royal College of Music working with such renowned conductors as Sir Simon Rattle, Danielle Gatti, Janos Fürst and Sir Colin Davis. In the following years, Canev conducts numerous concerts with the Macedonian Philharmonic and its Chamber orchestra in Macedonia and abroad. Since 2002 he is a professor at the Faculty of music in Skopje. His successful debut with the Sofia Philharmonic Orchestra in 2004 was followed by consecutive engagements with this highly acclaimed Bulgarian orchestra and in 2006 he is appointed as their Permanent guest conductor. Apart from the Macedonian and Sofia Philharmonic orchestras and the London Symphony Orchestra, Borjan Canev has conducted such orchestras as: Montenegrin Symphony Orchestra, Arad Philharmonic Orchestra, Wagner Society Orchestra Tokyo, Vojvodina Symphony Orchestra, Macedonian Radio Symphony Orchestra, Sinfonietta – Sofia, Orchestra of the Macedonian Opera and Ballet, ensemble "Alea", Croatian Chamber Orchestra, Zadar Chamber Orchestra, etc.  He performed with renowned soloists such as: Ivo Pogorelich, David Garrett, Johannes Moser, Stefan Dohr, Gautier Capucon, Simon Trpceski, Ana Durlovski, Blagoj Nacoski etc. Canev has conducted in the USA, Great Britain, Japan, Italy, France, Czech Republic, Poland, Croatia, Serbia, Bulgaria, Montenegro, Turkey, Romania, Bosnia and Herzegovina, Kazakhstan and has recorded music for the Macedonian radio and television, Bulgarian national radio as well as for the F.A.M.E.S. Macedonia. In 2010, the Composers association of Macedonia awarded him the "Georgi Bozhikov" prize for best performance of works by Macedonian composers in 2009.
In October 2015 he conducted the Macedonian philharmonic orchestra on the orchestra's first tour in the USA, including two concerts in New York at the famous venues like Carnegie Hall and Kaufman music center.
Programme:
J. S. Bach: Air from Orchestral suite no.3
W. A. Mozart: Divertimento 137 B flat major
Andante
Allegro di molto
Allegro assai
E. Elgar: Serenade for Strings op.20
Allegro piacevole
Larghetto
Allegretto
A.Spirovski: V-root-OKK
J. Massenet: Thais meditation
Solo violin:Darko Grozdanovski
P. Warlock: Capriol suite
Basse-Danse
Pavane
Tordion
Pieds-en-l'air
Mattachins