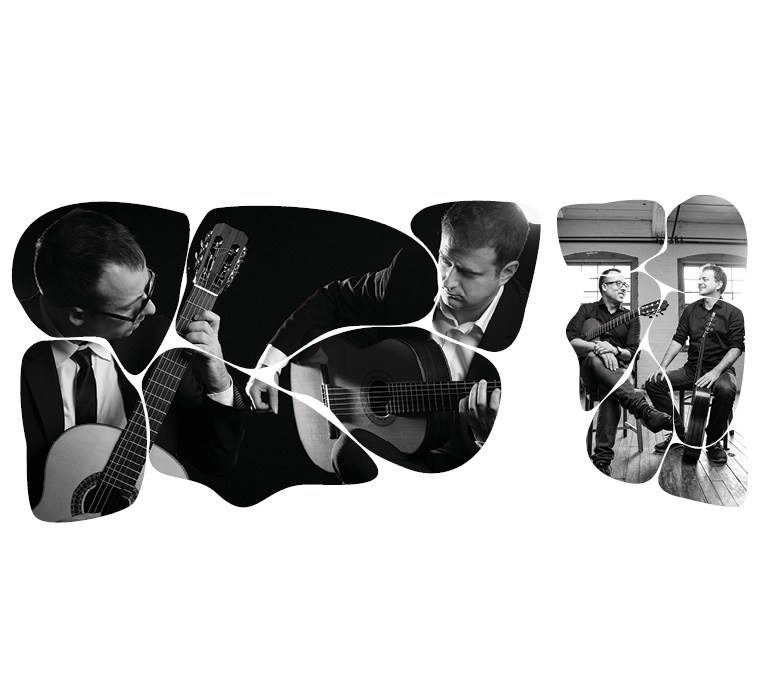 Montenegrin guitar duo
Goran Krivokapic
Daniel Cerovic
Danijel Cerovic-guitar
The Montenegrin Guitar Duo consists of two founded by Goran Krivokapić and Danijel Cerović is frequently invited to prestigious international venues around the world, such as Saint Petersburg Philharmonia Hall in Russia, Manuel de Falla Hall in Madrid and Concertgebouw in Amsterdam. Presenters including Koblenz Guitar Festival, Festival Internacional de Musica y Danza de Granada, KotorArt Festival, A Tempo Music Festival, Qinling Mountains International Guitar Festival, Shenyang International Guitar Festival and Daejeon International Guitar Festival regularly engage the Montenegrin Guitar Duo to give recitals, deliver lectures and master classes, and adjudicate important competitions.
The Montenegrin Guitar Duo has a large repertoire, comprising transcriptions of ancient music and original compositions written in the 19th, 20th and 21st century, with a special emphasis on contemporary music written for two guitars. Their education work has taken them to Toronto University and Montreal Conservatoire in Canada, to Chapman and Metropolitan universities in the USA, Maastrich Conservatoire in the Netherlands and Tianjin University in China. Their debut CD comprising of pieces by C. Domeniconi, A. Piazzolla and D. Bogdanović was published by the Montenegrin Music Centre in 2013.
In 2015, Naxos released the first of two volumes of J. S. Bach's English Suites, transcribed by the duo for two guitars. Completing this unique project to transcribe and record the entire set of English Suites, Volume 2 was released in June 2018. Their historically informed performances of their own arrangements for two guitars of J. S. Bach's English Suites have received particular praise from the critics.
Guitar virtuoso Goran Krivokapić has been lauded as "showing an astounding virtuosic and interpretative artistic maturity" (Akustik Gitarre) and "in total control of his huge talent, a fully- fledged artist" (Classical Guitar Magazine).
Overall winner of nineteen international competitions,  Krivokapic has performed across Europe, North and South America, Asia, Africa and Russia, appearing at major festivals and concert halls. Passionate about teaching, he has given masterclasses and lectures at universities and festivals worldwide. Having taught previously at the Koblenz International Guitar Academy, The Lemmens Institute and Prince Claus Conservatoire, he now teaches at Detmold University of Music and is professor of guitar at The Cologne University of Music.
Danijel Cerović is an internationally acclaimed recording artist, touring musician and pedagogue from Montenegro. A versatile solo and chamber musician, he also gives frequent masterclasses, lectures on Bach transcriptions, and has adjudicated at Universities, festivals and competitions in Europe, USA, Canada, China and South Korea.
Since 2003, Danijel Cerović has lectured guitar and chamber music at the Music Academy in Cetinje, University of Montenegro, and is also a guest professor at Sarajevo Music Academy. He was co-founder and artistic director of the International Nikšić Guitar Festival and Competition and is a member of the artistic board of the Montenegrin Music Centre and the Montenegrin Symphony Orchestra.
Programme:
S. Bach arr. Montenegrin Guitar Duo: English Suite no. 6 in D minor, BWV 811
                         Prelude
                         Allemande
                         Courante
                         Sarabande
                         Double
                         Gavotte I
                         Gavotte II
                         Gigue
Piazzolla arr. Sergio Assad: Suite Troileana
                         Bandoneon
                         Whisky
                         Zita
                         Escolaso
De Falla : Danza del Molinero
                        Danza Ritual del Fuego