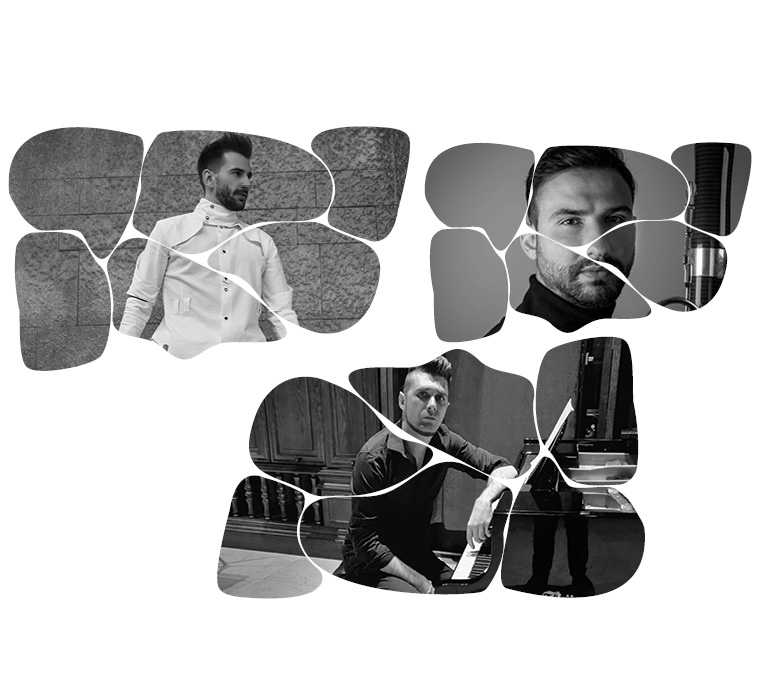 Music timeline
Music timeline with  Andrija Mincic- clarinet
and Tadija Mincic – bassoon
in collaboration with
Nikola Cvetkovic- piano
Serbia
Andrija Mincic- clarinet
Andrija Minčić has graduated in the class of prof. Ante Grgin, then specialized at Department of Chamber Music at the Faculty of Arts-University of Nis. As a concert soloist, he has played at over 200 concerts in the country and abroad – Spain, Greece, Bulgaria, Switzerland, UK, Netherlands, France, Turkey, Qatar, Portugal, Canada… He performed at the most prominent concert halls in Europe, such as: Concertgebouw (Amsterdam), Palau de la Musica, Grand Teatro de Liceu, L'Audotorio (Barcelona), L'Auditorio, (Madrid), etc. He held the scholarship by the city of Niš and won several prizes awarded by the city. In March 2013 he has started his pedagogical activity as a Docent at Department of wind instruments of the Faculty of Arts in Niš, teaching several subjects. As saxophone player he performs various genres, from Big Band formation (lead alto saxophone and soloist in Nis Big Band), to contemporary, jazz, funk, pop, electronic, and fusion bands. His project Saxtime found its path to worldwide audience through social media and YouTube channels. He shared stage on Nisville jazz Festival with Candy Dulfer, Mike Stern, Kenny Garrett, Chris Potter, John Newman… He recorded for various TV Stations (Serbian national recording label PGP – RTS), Turkish National Television (TRT), Qatar State Broadcast Network, and did many collaborate recordings on for other musicians.
Tadija Mincic- bassoon
Tadija Mincic was born in 1990 in Niš and began playing the bassoon with Prof. Mirko Isaeski (FMU Belgrade), continuing to graduate from the class of Prof. Eberhard Marschall (solo-bassoonist of the Bavarian Radio Symphony Orchestra) at the University of Music and Performing Arts in Munich.
During his studies he won twelve First prizes (six Laureates) at various national and international competitions and was a soloist with the Nis Symphony Orchestra and the Thessaloniki Chamber Orchestra. As a member of the European Youth Orchestra (CEI-YO), he played first bassoon in 2007, 2008, and 2009 and was involved in multiple concerts throughout Europe. In 2013, he became a member of the No Borders Orchestra, which comprises of musicians from former Yugoslavia.
He is a permanent member of the "Münchner Holzbläserquintett" woodwind quintet, as well as of the new music ensembles "Undercoverfiction" and "Index Ensemble". Since 2014, he has been a member of the "Bach Collegium München","Münchner Kammerorchester", "Münchner Rundfunkorchester", "Georgisches Kammerorchester Ingolstadt", and "Philharmonie Salzburg" orchestras. He held a recital and a masterclass for the students of Istanbul State University in 2015 and another masterclass for the students of Tokio State University in 2019.
As of 2021, he plays solo bassoon for the RTS Symphony Orchestra (Radio Television of Serbia), as well as for the Dortmund Philharmonic Orchestra.
Nikola Cvetkovic-piano
Nikola Cvetkovic, born in 1990 is a classically trained pianist from Serbia. He graduated from Faculty of Arts in Nis in 2013, receiving a Master's degree in piano performance. During his studies he has participated in many music competitions around the country.
Nikola has performed both as a solo artist and a chamber musician in Montenegro, Bosnia and Herzegovina, North Macedonia, Belgium, Poland, Czech Republic, Slovenia, Portugal, Russia, Canada, Qatar, Ukraine and Latvia.
Nikola has a great passion for contemporary music such as Rock, Pop, Jazz.. In 2008 he started uploading piano covers of various rock and metal bands on his active YouTube channel.
In 2017, with an agreement with the well-known Swedish band Katatonia and after getting their approval, he released a full album titled ''Nikola Cvetkovic Plays Katatonia (a collection of solo piano renditions)'', and gained a big and positive feedback from around the world.
He's been employed at the Faculty of Arts in Nis since 2015 as an artistic associate of the wind instruments department.
Programme:
Saint-Saëns: Bassoon Sonata in G Major, Op. 168
     Allegro moderato
      Allegro scherzando
     Molto adagio – Allegro moderato
Kolarovski: Piano Sonata, III – Toccata
Grgin: Concertino for clarinet
V. Beethoven: Trio B flat Major for Clarinet, Bassoon and Piano, op. 11 "Gassenhauer-Trio"
Allegretto con brio
Adagio
Tema con variazioni: "Pria ch'io l'impegno": Allegretto