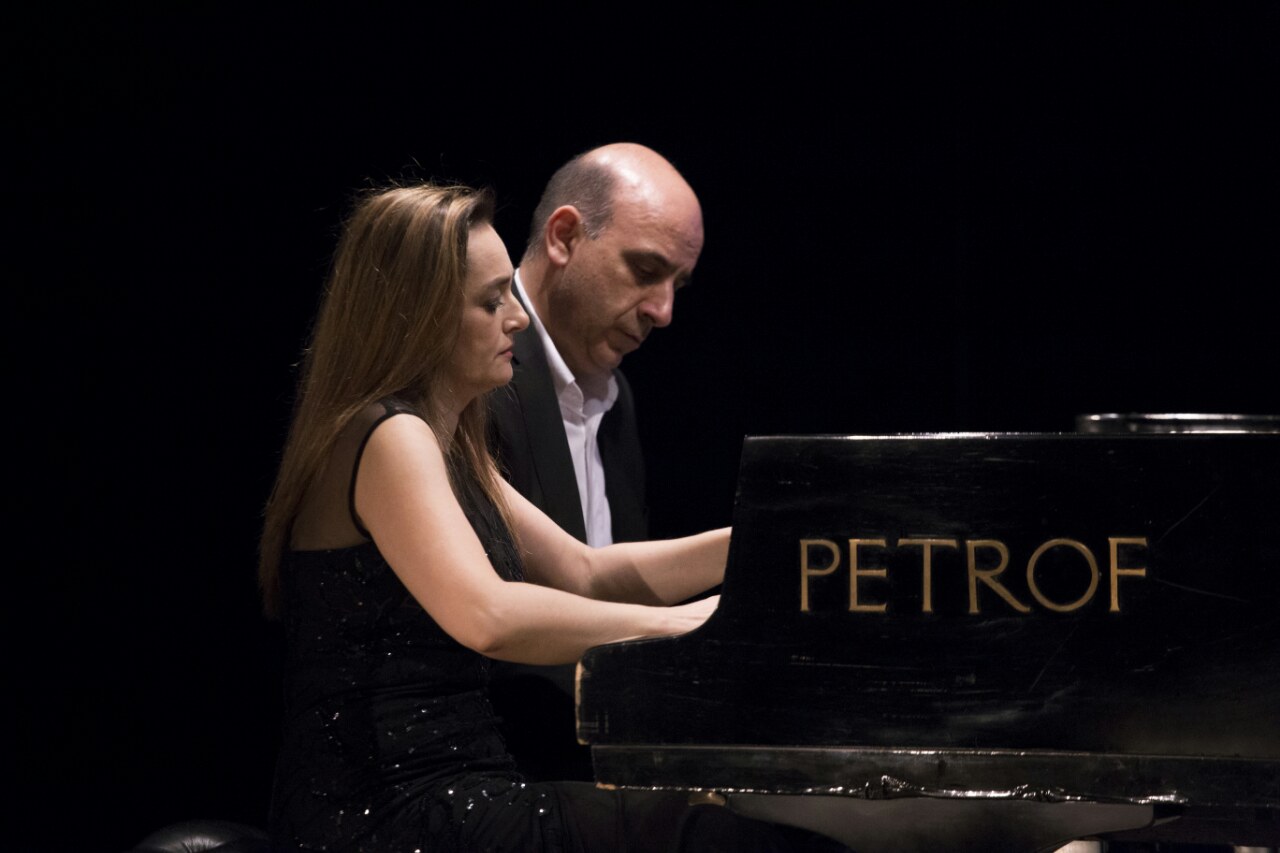 Piano Duo Gelebesevi
Piano duo "Gelebeshevi"
In the realm of chamber music since its formation in 2001, the piano duo "Gelebeshevi" has profiled themselves as a duo ensemble of the highest artistic qualities which has enabled them to have an active concert career in Macedonia and at concert podiums across the world.
The duo comprises of two acclaimed Macedonian pianists- Katerina Kostadinovska-Gelebesheva and Gligor Gelebeshev. Their unique personal sensibilities unite in a harmonic wholesome artistic expression in this duo, which makes their performances instantly recognizable and with a specific capacity to please even the most selective and knowledgeable audiences.
The repertoire of the Duo "Gelebeshevi" is a colourful selection of works with diverse styles and genres that reflects the personal affinities of each artist. They perform everything from the classical period and Mozart Sonatas to original woks written for piano four-hands or works for two pianos with a special accent on the romantic period and composer such as Schubert, Chopin, Rossini, Brahms, Dvorak, Chabrier, Liszt as well as the works of 20th century composers Debussy, Ravel, Rachmaninoff, Khachaturian, Bartok, Barber, and current contemporary composers. The duo is especially committed to presenting works of Macedonian composers abroad, and in addition they perform transcriptions of orchestral and chamber works prepared by Gligor Gelebeshev himself.
The Duo "Gelebeshevi" is an established chamber ensemble in Macedonia having continuously performed in all cities in the country and at all important festivals including the Ohrid Summer Festival, "Golden lyre", "Days of Macedonian music", "Herakleja Evenings", "Interfest", Skopje summer festivlal, Prilep and Stip summer festivals etc. Since their appearance in Paris at the World music days in 2005, the duo has started its international career having to date performed in Italy, the Netherlands, Romania, Poland, Serbia, Bulgaria, USA, Turkey. For their rich concert activity, the duo is the recipient of the "Golden lyre" award by the Association of music artists of Macedonia in 2012. They have recorded two CD's and have received excellent reviews for their concerts. Critics praise "their delicate precision, charm and impressive sonority with precisely formed melodies"- Julijana Papazova, as well as "clarity and flexibility of the piano technique as well as precise articulation and phrasing which leads to the piano sounding like a vocal in Rossini's aria transcriptions" -Vikica Kostoska Peneva.
Programme:
Debussy: Petite Suite L 71a
                En bateau
                Cortège
                Menuet
                Ballet
Schubert: Fantasie f-moll, op. 104 D 940
-Intermission-
Rachmaninoff: Suite op. 5
                Barcarolle
                La nuit… L'amour…
                Les Larmes
                Pâques
Shostakovich: Concertino op. 94