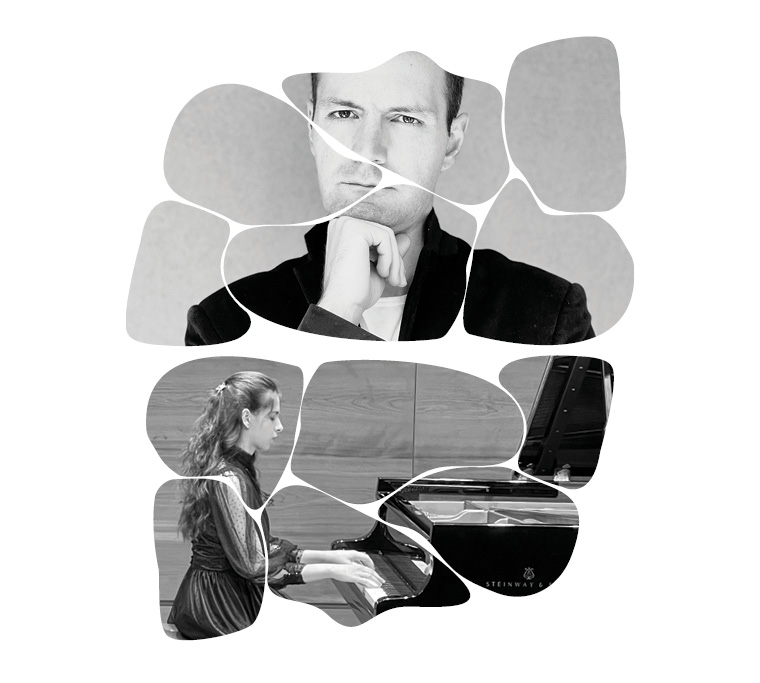 Piano duo
Kristijan Karovski and Mimi Ducheva,
R.N. Macedonia
Kristijan Karovski-piano
Kristijan Karovski is born in Skopje in a family of musicians and pianists. From an early age he displays a great an unusual talent for music and starts his music education in the class of prof. Ljudimla Romanova, to continue to earn the graduate and master's diploma with honours and "cum laude" in the class of prof. Boris Romanov at the Faculty for music in Skopje.
He started performing as early as 9 years old and his repertoire even then comprised of serious works for piano. He has gone on to wind numerous awards and prize at state and international competitions.
Karovski has grown to be a pianist with exceptional performance and strong artistic personality. He performs regularly in recital, and with orchestra, playing the key concertos of the piano literature (Mozat, Tchaikovsky, Grieg, Saint-Saens, Prokofiev, Gershwin). In parallel he also has been dedicated to pedagogy and his students have achieved high results at competitions and have been selected to perform as soloists with the Macedonian philharmonic. Kristijan Karovski is a professor of piano at the Faculty of music in Skopje.
Mimi Ducheva-piano
Mimi Ducheva was born in Gevgelija in 2000. Her strong affinity for the arts (music, painting) was noticed by her parents at an early age and she started piano lessons at an early age. After her first performances at age 8, her teacher Ljubica Ulisheva pursued her to continue thus enrolling her in numerous competitions and performances.  Mimi Ducheva first started working with Kristijan Karovski at the end of her primary piano studies, continuing to study with him in the music high school.  During their lessons they put special accent on chamber music, thus performing together works for duo piano, 4 or 8 hands.  Ducheva has her first solo recital at 18 years old and continues to study with Karovski at the Faculty of music in Skopje. Inspired by their previous duo performances, they decide to continue this practice and the duo had their first performance at the "DAM" festival in Prishtina, and this will be followed by several other concerts this year.
Mimi Ducheva is currently a student of piano at the Faculty of music in Skopje and teaches piano in the private music school "Pianoforte".
Programme:
F. Schubert- Fantasie f minor D.940
-Allegro molto moderato
-Largo
-Allegro vivace
-Tempo I
S. Rachmaninov- 6 morceaux op. 11
Barcarolle
Scherzo
Thème russe
Valse
Romance
Glory
M. Ravel- La Valse