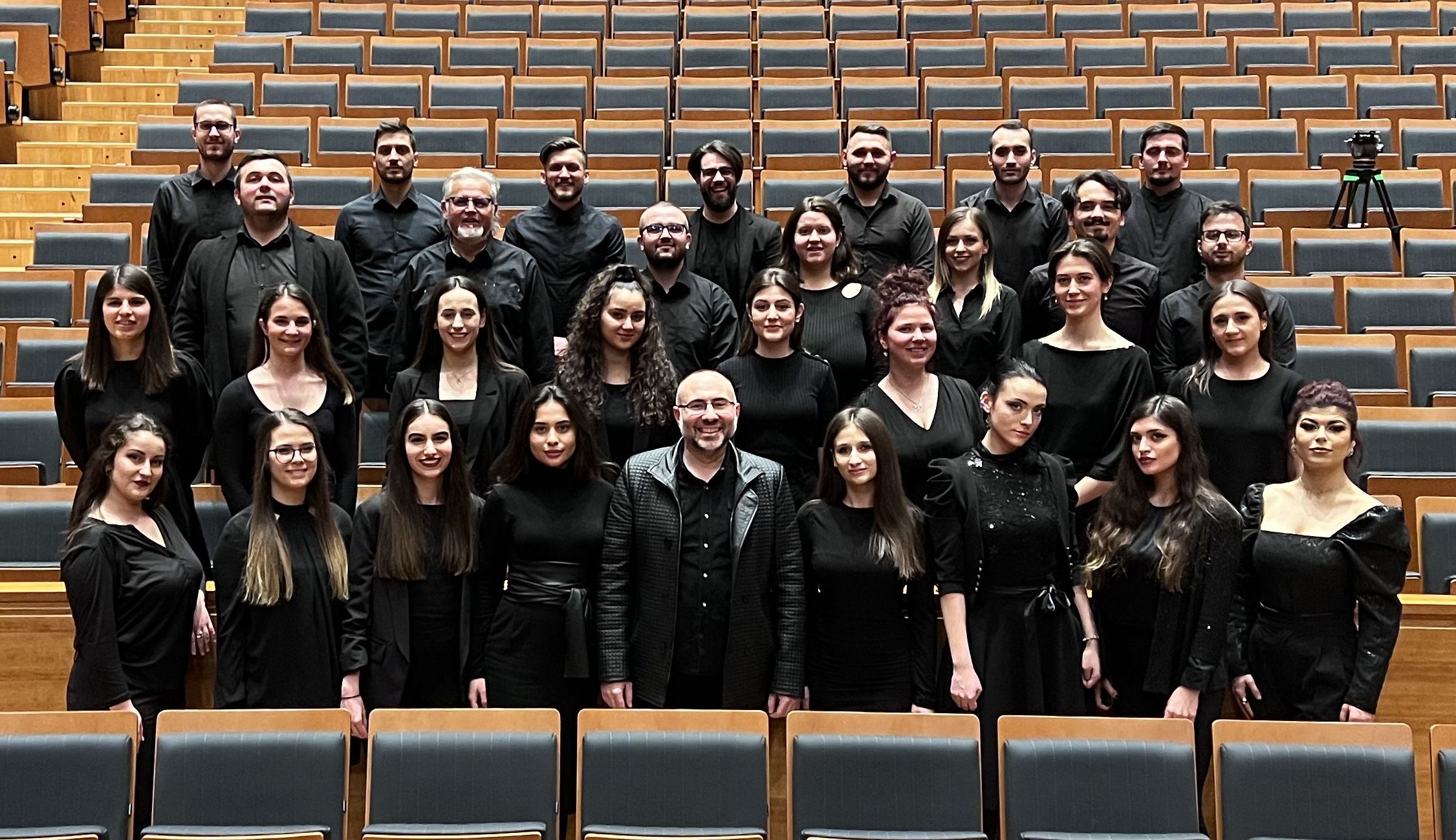 ,,Pro Ars" choir
Professional mixed choir "Pro Ars"
Founded in 2011 by conductor Sasho Tatarchevski, the professional mixed choir "Pro Ars" was conceived in order to fill the void in the Macedonian performing culture that lacked an ensemble that could perform to high professional level and performing quality thus meeting the demands of the Macedonian music scene.
The advantages of the choir became visible in the first year of its activity which presented excellence in performances of diverse repertoire as well as flexibility in terms of size and formation. A special emphasis is given to the performance of existing choral works by Macedonian composers, as well as stimulation for young composers to create new choral pieces. In its 12 years of stage presence to date, the choir has performed on numerous occasions at the Days of Macedonian music festival performing premieres of choral works by Macedonian and foreign composers, they have appeared at all important festivals including the Ohrid Summer Festival and Autumnal music festivities and have collaborated with different association and foundations being engaged to perform programmes of a variety of genres.
Since 2018 the choir regularly appears in the vocal-instrumental concerts of the Macedonian philharmonic, performing not only under the baton of maestro Tatarchevski but also with Gustav Kuhn, Emil Tabakov, Gabriel Bebeshelea, Lubnan Balbaki etc. Pro Ars is also renown for the multitude of studio recordings done for education purposes, solo albums as well as featurе recordings for high level international film productions as part of their affiliation with the FAMES Studios in Skopje.
Since 2017 the choir also performs internationally in concerts in Thessaloniki, Sofia and Vienna.
The members of Pro Ars choir are young, motivated and highly educated vocal soloists that are prepared and skilled for effective and professional choral work.
Sasho Tatarchevski- conductor
A graduate of the Faculty of music in Skopje where he also earned his Master's degree, Sasho Tatarchevski has also taken part in numerous master classes by acclaimed conductors in New York, Rome, Moscow, Berlin, Florence, Sarteano and Sankt Petersburg.
He has conducted performances of many ensembles including the Macedonian Philharmonic, the National Opera and Ballet, the Bitola Chamber orchestra, Symphonic orchestra of ICO in Rome, the "Hermitage" orchestra in Sankt Petersburg, the Symphonic orchestra of the Faculty of Music in Skopje, contemporary music ensembles "Alea" and "Con Tempora", "Soloist of the Faculty of music" ensemble etc. In Macedonia he has appeared at all stages including those of the Ohrid Summer Festival, Days of Maceodnian music festival, Interfest, Skopje Summer festival and many more, and abroad he has conducted various ensembles at festivals and competitions winning prizes and accolades. He is currently a professor at the Faculty of music in Skopje teaching a group of subjects in conducting and is the artistic leader and conductor of the professional choir "Pro Ars", the Female choir of the Youth and Culture centre in Skopje, the mixed choir "Dragan Shuplevski" of the Faculty of music as well as the chamber orchestra "Soloist of FMU". He is engaged on a regular basis to record choral and orchestral music for world renowned productions as part of his affiliation with the FAMES recording orchestra and studios. Tatarchevski is a member of the board of the World Youth Choir and is regularly invited to be a member of jury at various choir competitions. He is also the artistic leader of the International forum of choirs in Struga.
Programme:
Zhivojin Glishik- 12 Months
– Liljano mome
-Kiten, nakiten
– Zoshto mi se srdish libe
-Koce Berberot
-Po drum odam majce
-Potrchano
-Ni prela gora, ni tkala
-Dervishko mome
-Kinisa da oda
-Cvetinite ochi
-Davaj me mila mamo
-Kalajdzisko