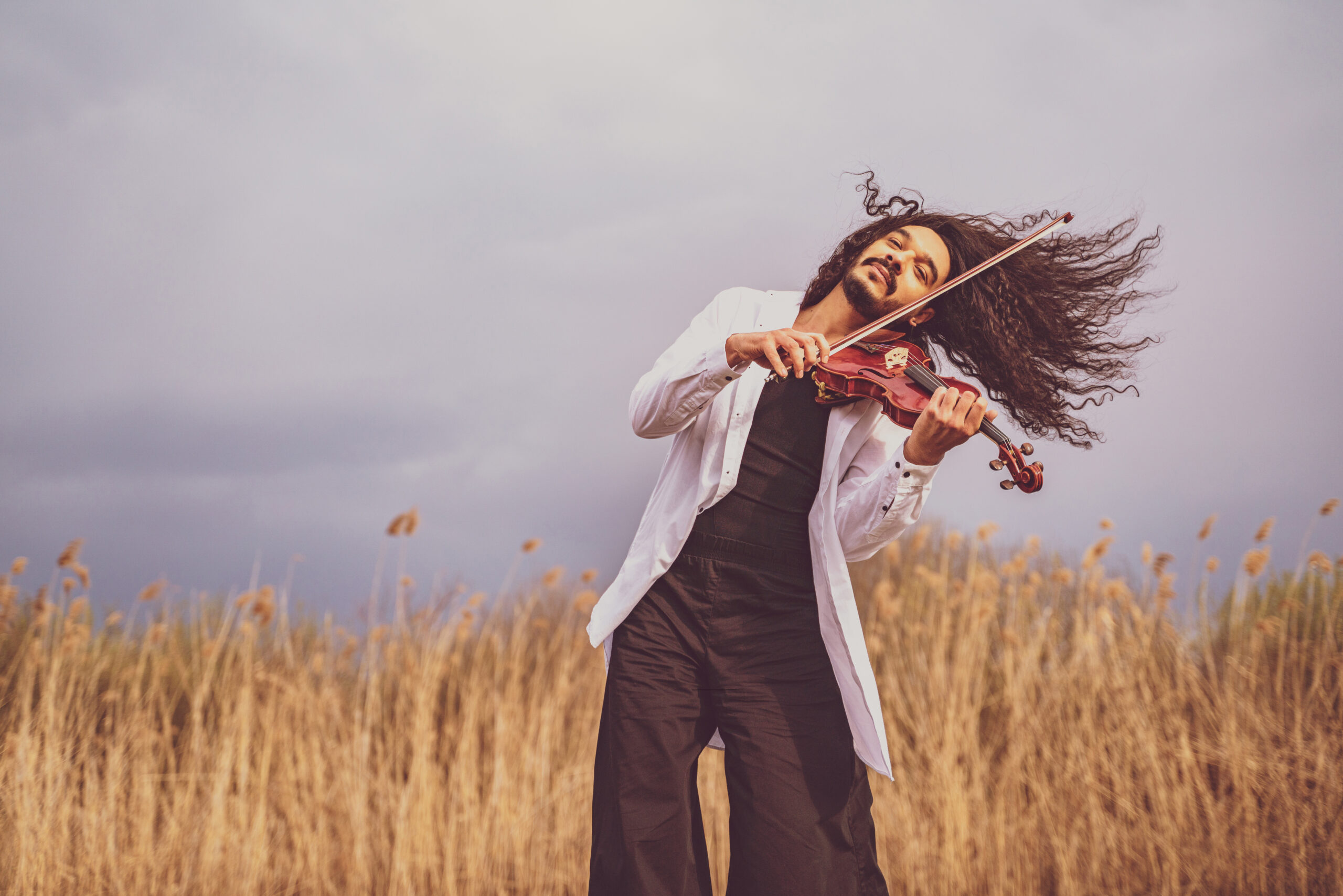 Serbian evening – "Roots"
Nemanja Radulovic – violin
Serbian-French violinist Nemanja Radulović champions the power of music to bring people together with his unique energy and candour, thrilling virtuosity, depth of expression, and adventurous programming. His hotly-anticipated BBC Proms debut in 2019 with the Bournemouth Symphony Orchestra and Kirill Karabits featured a Barber Violin Concerto played with 'lyric delicacy and last-movement super-virtuosity' (The Times).
Signed exclusively to Warner Classics in 2021, Mr Radulović's debut album on the label – Roota – represents a beguiling sonic journey evoked by his many influences and inspirations to date. His previous album, Baïka, one of a string of nine successful recordings made with Deutsche Grammophon and the Universal Music Group labels, was declared 'a fiery whirlwind of an album…' by BBC Music Magazine, which awarded it 5 stars and the coveted Critics' Choice Award. Gramophone Magazine praised Baïka's 'imaginative pairings', saying that '…Radulović dispatches [the Khachaturian Violin Concerto] with energy and firepower…' and that '…with Radulović as narrator, this is an album with entrancing tales to tell.'
Winner of the 2015 Echo Klassik Award for Newcomer of the Year, Mr Radulović is an artist who seeks to broaden the boundaries of classical music. He has amassed a legion of loyal fans around the world who have enjoyed his performances with many of the world's leading orchestras, including the Philharmonia, Munich Philharmonic, Deutsches Symphonie-Orchester Berlin, Staatskapelle Dresden, Royal Liverpool Philharmonic, Tokyo Symphony, Orchestre Symphonique de Montréal, Orquesta Nacional de España, Netherlands Radio Philharmonic etc.
Mr Radulović's recent and forthcoming highlights include engagements with the New York Philharmonic, Los Angeles Chamber Orchestra, Gothenburg Symphony, Sydney Symphony, Dusseldorf Symphony, RTE National Symphony in Dublin, and the Orchestre Philharmonique de Strasbourg; an extensive UK tour with the Gavle Symphony Orchestra and Jaime Martin; sold-out performances with his ensemble Double Sens at such celebrated festivals and in venues such as the Paris Théâtre des Champs-Elysées and Berlin Philharmonie; and the opening concert on the Jeunesse Musicale series at the Vienna Konzerthaus.
Born in Serbia in 1985, Nemanja Radulović studied at the Faculty of Arts and Music in Belgrade, the Saarlandes Hochschule für Musik und Theater in Saarbrücken, the Stauffer Academy in Cremona with Salvatore Accardo, and the Conservatoire de Paris with Patrice Fontanarosa.
For the album "Roots" which Radulovic and Double Sens are promoting on a large scale Balkans tour, he would say:
"This project was conceived during the pandemic lockdown when I had time to listen to a lot of music, mainly by Mozart and world music which brought me back to life. I took time to consider the music of today, the past, and the future. By listening to music of different genres I began to develop the idea about "Roots" and it has been a milestone for me as a musician because it is the least classical thing I have done. It is a stylistic blend of traditional songs from my part of the world, travelling to other European countries and exploring the traditional music as far as the ones of China, Japan and India. "
Double Sens
Double Sens was formed in 2008, when violinist Nemanja Radulović brought together some of his favourite French and Serbian musicians to perform together as a chamber orchestra. This unique formation is united by friendship and family, as well as a love and desire of sharing music and progressively asserts its identity on the stage, both in France and abroad.
Radulović says "My music, my friends? My France, my Serbia? My life before and now? The idea of creating Double Sens was born thanks to those questions! I wanted to gather my Serbian and French musician friends and didn't have to think about it for too long, as I personally knew each musician, and was certain that everyone's different personality would work well with the others, in order to become this ensemble where the most important thing is the happiness of sharing the music and stage together. When we performed for the first time, we all felt the desire to continue making music together and meet again as soon as possible. It has now been a few years that we play together, and this feeling is still present; we all can't wait until the next time we're all together!".
Radulović and Double Sens have recorded four albums together: The 5 Seasons (Decca, 2011), Journey East (Deutsche Grammophon, 2015), and Tchaikovsky's Rococo Variations in an original arrangement for viola (released in 2017 by Deutsche Grammophon) as well as Rimsky-Korsakov's Scheherazade for Radulović's last album Baika (2018). This last album was also released as a visual album entitled Unique, which takes the ensemble to Carnac and features other pieces by Bach, Vivaldi, as well as some traditional and world music pieces. This release was featured in cinemas all across France. In 2022, Radulović and Double Sens record their first album for Warner. Entitled Roots, the album presents arrangements of traditional and modern musics, in a journey around the world.
The ensemble actively performs across the world, with recent and forthcoming highlights at Paris' Théâtre des Champs Elysées, Vienna's Konzerthaus, the Düsseldorf Tonhalle, the Théâtre de l'Archipel, Opéra de Marseille, Kolarac Hall, Kyoto Concert Hall, as well as the Berlin Philharmonie.
Programme:
Ireland, Quebec, Scotland: Hommage à Jean Carignan by Jean Carignan (arr. Aleksandar Sedlar)
China: The Butterfly Lovers by He Zhan-Hao & Chen Gang (arr. Aleksandar Sedlar)
Argentina, Austria, Italy, Greece: Por Una Cabeza by Carlos Gardel (arr. Aleksandar Sedlar)
Soloist: Tijana Milošević
Brasil:  Manha de Carnaval by Luiz Bonfa (arr. Aleksandar Sedlar) Soloist: Aleksandar Sedlar
Russia: Podmoskovnye vechera by Vasily Solovyov-Sedoi (arr. Aleksandar Sedlar & Nemanja Radulović)
Vlachs: Mndra Mja – Traditional (arr. Aleksandar Sedlar) Soloist: Ksenija Milošević
Moldova: Gypsies are found near heaven by Eugen Doga (arr. Aleksandar Sedlar) Soloist: Ksenija Milosević
Bosnia: Što te nema – Music by Jadranka Stojaković, Lyrics by Aleksa Šantić (arr. Aleksandar Sedlar & Nemanja Radulović) Soloist: Ksenija Milošević
– intermission–
Serbia: "Hommage à Šišić" by Aleksandar Šišić (arr. Aleksandar Sedlar)
France: Indifférence by Tony Muréna (arr. Aleksandar Sedlar & Nemanja Radulović)
Spain: Spanish Dance from "La Vida Breve" by Manuel de Falla (arr. Aleksandar Sedlar, Violin part by Fritz Kreisler/Nemanja Radulović)
Rajasthani (India): Katchur Kahn Traditional (arr. Aleksandar Sedlar & Nemanja Radulović)
Israel: King David by Eliyahu Gamliel & Matityahu Shelem (arr. Aleksandar Sedlar)
N. Macedonia: Makedonsko devojče by Jonče Hristovski (arr. Aleksandar Sedlar & Nemanja Radulović)
Soloist: Kristina Atanasova Radulović
Japan: Lullaby of Takeda – Traditional (arr. Aleksandar Sedlar & Nemanja Radulović)
Roma: Gelem, Gelem by Žarko Jovanović (arr. Aleksandar Sedlar) Soloist: Ksenija Milošević
Cuba: Mambo by Perez Prado (arr. Aleksandar Sedlar)