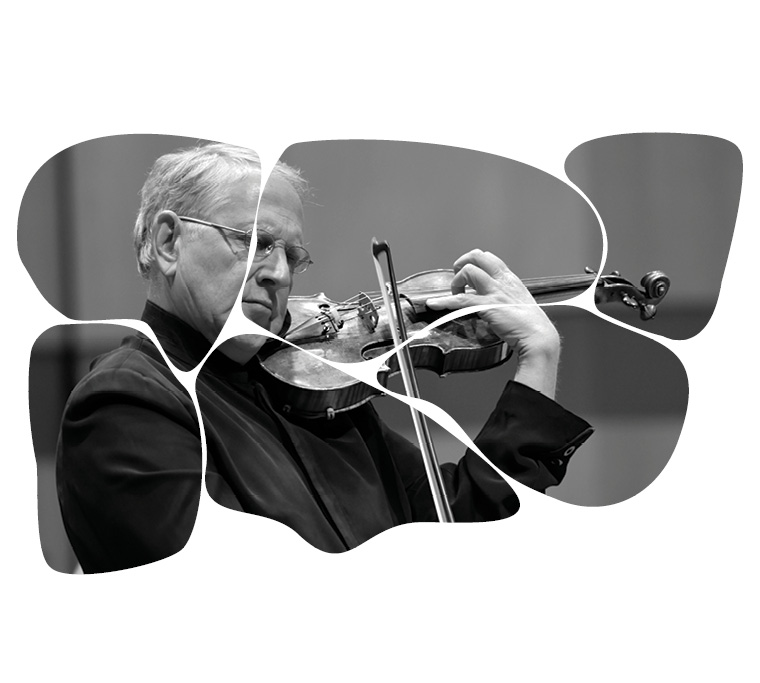 American evening
Shlomo Mintz-solo violin, Israel/ USA
Shlomo Mintz is considered by colleagues, audiences, and critics one of the foremost violinists of our time, esteemed for his impeccable musicianship, stylistic versatility, and commanding technique. Awarded with many prestigious international prizes including the Premio Internazionale Accademia Musicale Chigiana, the Diapason D'Or, the Grand Prix du Disque, the Gramophone Award, the Edison Award and the Cremona Music Award, in 2006 he received an Honorary Degree from the Ben-Gurion University in Beersheba (Israel). Born in Moscow and immigrated when he was 2 to Israel, he studied with Ilona Feher who introduced Mintz to Isaac Stern who became his mentor. He was also a student of Dorothy DeLay in New York. On stage from an early age and along his career, he has collaborated with such a famous artists like Isaac Stern, Mstislav Rostropovich, Zukerman, Itzhak Perlman, Zubin Mehta, Claudio Abbado, Carlo Maria Giulini, Riccardo Muti, Yuri Temirkanov, Ida Haendel and Ivry Gitlis, among many others, and played with the best orchestras in the world as the Berlin, Vienna, Concertgebouw, Chicago, Los Angeles, Philadelphia and New York Philharmonic.
At 18 years old, Mintz launched a parallel career as a conductor, and has since led acclaimed orchestras worldwide including the Royal Philharmonic (United Kingdom), the NHK Symphony (Japan), and the Israel Philharmonic. He was one of the founders of the Keshet Eilon International Violin Master course in Israel and served as a patron there for eighteen years (1992-2010) and is one of the main actors/co-founders of the "Violins of Hope" project: forty-five violins whose owners lost their lives in ghettos and concentration camps during World War II, restored and displayed internationally.
Regularly invited by the most prestigious international competitions, Mintz has served as a jury member of the Tchaikovsky Competition in Moscow, the Queen Elisabeth International Music Competition in Brussels, and the International Henryk Wieniawski Competition in Poznań, Poland. He was also invited to be jury president of the Munetsugu Angel Violin Competition in Japan, for several years. From 2002 to 2011, he was jury president of the Sion Valais-International Violin Competition in Switzerland and from 2012 to 2018, the Artistic Director of Crans-Montana Classics, a high-level violin Master course and Festival, also in Switzerland. Currently, he is the Mentor and President of the Jury of the International Violin Competition Buenos Aires in Argentina, President of Jury and Artistic Director of Tucuman Festival and National Violin Competition (Argentina), as well as the president of the Ilona Fehér Budapest Violin Competition in Hungary. In 2019, with the label DECCA, he released the Ysaÿe Six Violin Sonatas Op. 27 and a CD with the Mendelssohn Concertos.
Programme:
W. Ernst: 6 Polyphonic Études
Rondino scherzo. Con spirito
Allegretto
Terzetto. Allegro moderato e tranquilo
Allegro risoluto
Air de Ballet. Allegretto con giusto
Variations on "The Last Rose of Summer"
-intermission
Paganini: Selection from 24 Capricies
13           Allegro 
14           Moderato          
15           Posato 
16           Presto  
17           Sostenuto/Andante       
18           Corrente /Allegro            
19           Lento/Allegro assai         
20           Allegretto           
21           Amoroso/Presto             
22           Marcato              
23           Posato/Minore/Posato
24           Tema: Quasi presto/variazioni I–XI/Finale