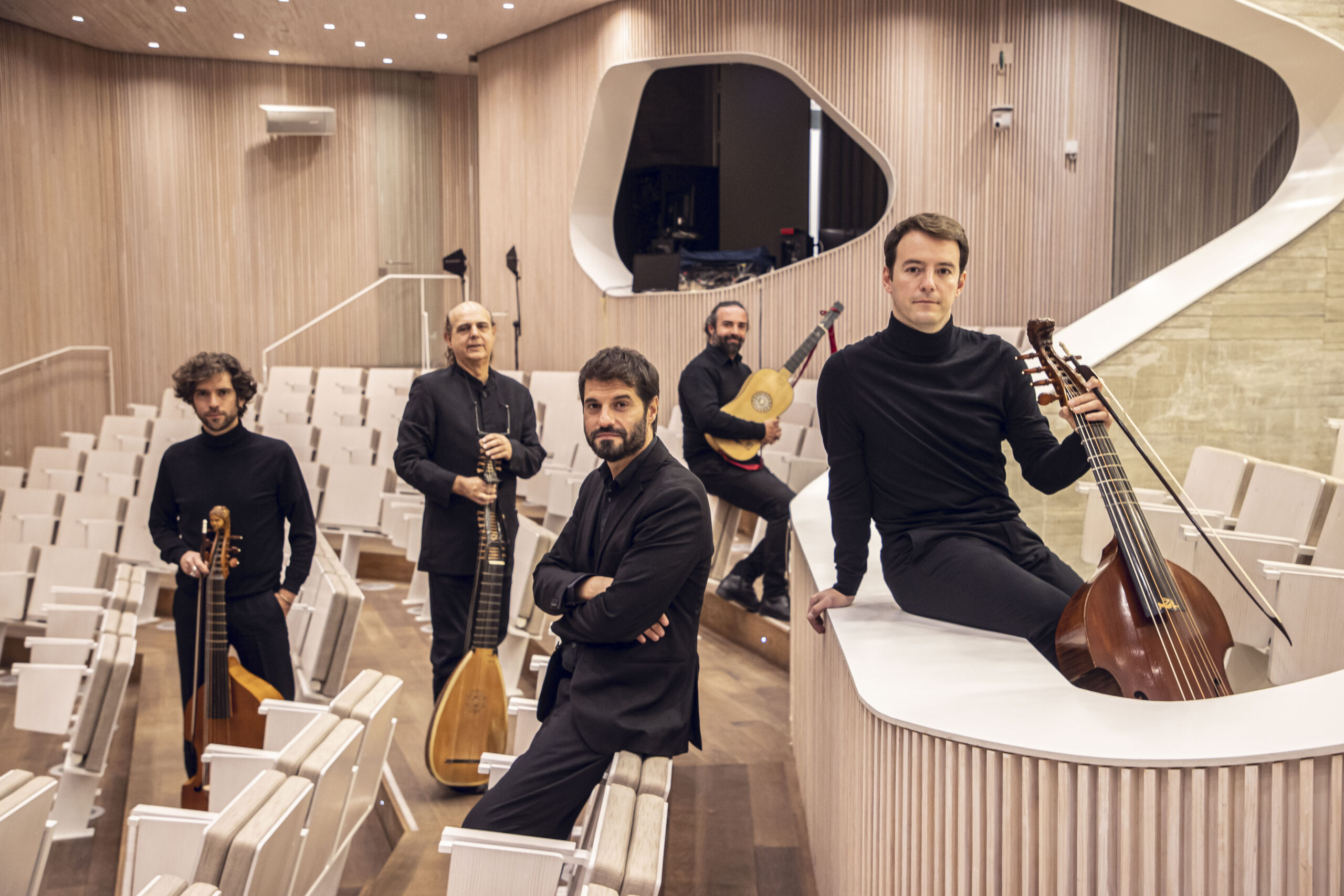 Spanish evening; La Spagna chamber ensemble
Alejandro Marías – viola da gamba and director
Ramiro Morales – archlute and baroque guitar
Juan Carlos de Mulder – archlute
Jorge López – Escribano – harpsichord and organ
Pablo Garrido – viola da gamba
La Spagna ensemble
La Spagna ensemble, which takes its name from one of the most famous melodies of the Renaissance, was founded by Alejandro Marías in 2009 by bringing together some of the best historically informed musicians of his generation. With a very flexible format, it has two aspects,
as a chamber group and as a baroque orchestra, with which it performs opera and oratorio together with guest soloists and conductors. The styles tackled by La Spagna range from the Renaissance to the early Romanticism —with some foray into 21st century music—, although most of its activity focuses on the Baroque. This diversity always revolves around the same principle: to offer a passionate, trustworthy, and sincere interpretation that respects the historical and social perspective of each repertoire.
Alejandro Marias-viola da gamba/artistic leader
Born in Madrid into a family of artists and intellectuals, Alejandro Marias knew at an early age that his vocation was to be a musician. He began his studies with Enrique Correa and Maria de Macedo and obtained the Advanced Degrees in Cello and Viola da gamba at the Real Conservatorio Superior de Musica de Madrid. He moved to France to specialize in the historicist interpretation of classical and romantic repertoires and later to Switzerland, where he studied, at the Haute Ecole de Musique de Geneve, for a performance Masters in Baroque Cello and Viola da gamba. Alejandro Marias is a teacher of viola da gamba and baroque cello at the Conservatorio Superior de Musica de Sevilla, artistic director of the La Spagna ensemble, a member of the Francisco de Goya Quartet and a collaborator with groups such as Zarabanda, Forma Antiqva or Accademia del Piacere. He has performed in a score of countries with various chamber ensembles; as a soloist, he often performs recitals and concerts, and his interpretations of the solos for viola da gamba of Bach's passions have been particularly acclaimed. In orchestras, he has worked with conductors such as Philippe Herreweghe, Marc Minkowski, Ton Koopman, Herve Niquet and Enrico Onofri. His recordings include quartets by Manuel Canales and quintets by Boccherini with the Goya Quartet, as well as the album A Tribute to Telemann leading La Spagna, of which Norman Lebrecht wrote: La Spagna plays this music as brilliantly as one could wish for under the leadership of the virtuoso Alejandro Marias." In 2019 Brilliant Classics published their recording of Jacques Morel's complete works for viola da gamba, which no one had recorded until that year. This work has been unanimously praised by international critics.
Programme:
Juan del Enzina  (1468 – 1529): Triste España sin ventura   Cancionero de Palacio, ss. XV-XVI)
Vincenzo Capirola (1474 – after 1548): Spagna seconda (The Capirola Lute Book, c. 1517)
Guglielmo Ebreo da Pesaro (c.1420 – after 1484): Falla con misuras  (Perugia, MS 431)
Francesco da Milano (1497 – 1543): Spagna (Cavalcanti Lute Book, 1590)
Antonio de Cabezón (1510 – 1566): Tres sobre la Alta (Obras de música tecla, arpa y vihuela, 1578)
Heinrich Isaac (c.1450 – 1517): Agnus Dei (Missa La Spagna)
Francisco de la Torre (c.1460 – c.1504): Alta (Cancionero de Palacio, ss. XV-XVI)
Alejandro Marías & Ramiro Morales: Recercada sobre La Spagna (2020)
Diego Ortiz (c.1510 – c.1576): 6 Recercadas sobre La Spagna
La Spagna: Españoletas (2020)
Francis Pilkington (c.1570 – 1638): The Spanish Pavane (John Welde Manuscript, ca. 1600)
Tobías Hume (c.1569 – 1645): A Spanish Humor – The Lord Hayes Favoret
Antoine Forqueray (1672 – 1745): La Portugaise (Pièces de viole, 1747)
Marin Marais (1656 – 1728): Sarabande à l'Espagnol (Deuxième livre de pièces de viole, 1701)
Les Folies d'Espagne (Deuxième livre de pièces de viole, 1701)