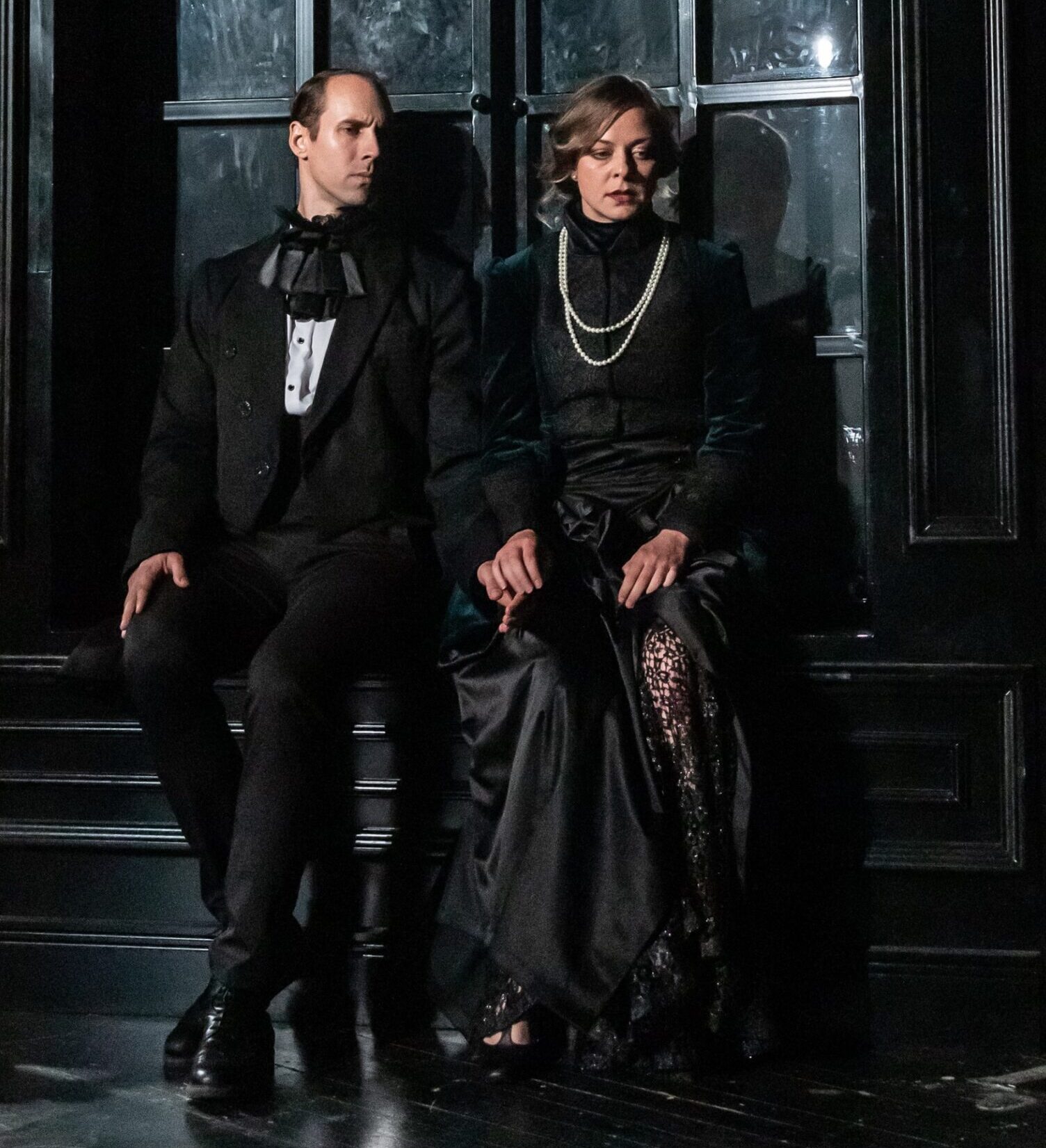 Theatre play ANNA KARENINA "There is no more or less in love" After Lev Nikolayevich Tolstoy
Theatre play
ANNA KARENINA
"There is no more or less in love"
After Lev Nikolayevich Tolstoy
Directed by Dejan Projkovski
Theatre "Ujvideki Szinhaz", Novi Sad, Serbia
Anna is truthful, Ana is a good mother, good wife. Ana is in love, but not with her husband. Ana loves two things more than anything in the world, and she dies for them- for her lover and for her son. She knows that one eliminates the other… The trains leaves Sankt Petersburg and speeds towards the station.
"Our Anna Karenina is a women, although it is not really important if she is a woman or a man- she is a human being longing for happiness. Through her character we open numerous doors as we explore what love means, how much we are ready to sacrifice, and how much can we overcome ourselves, our fears in the attempt of finding the raison d'etre.  In this sense, Anna Karenina is a very complex system in this play, she and all other protagonists- Karenin, Vronsky, Levin, Kitty they all have their stories, their own personal struggles. This play aims to show that black is not always completely black, white is not white, that there are many nuances in all of this that actually make our lives."
Dejan Projkovski, director
Born in Bitola in 1979, Dejan Projkovski is one of Macedonia's most prolific stage directors. He graduated and earned his master's degree in theatre direction at the National academy for theatre and film "Kr. Sarafov" in Sofia. He works as a professor of theatre direction and acting at the University for audio-visual arts ESRA Paris-Skopje-New York. His directing work is recognized in Macedonia and across the region. He also served as general manager of the Macedonian National theatre.
Projkovski's directing work includes the interpretation of the world classics to which he adds his specific and aesthetically innovative stage visualisations. He has directed plays in Serbia, Bulgaria, Russia, Turkey, Montenegro, Croatia, Bosnia and Herzegovina as well as taking part in co-productions of German, Italian and Slovenian theatres and festivals.
Cast:
ANNA KARENINA: Bereš Marta
ALEXEI KARENIN: NÉMET Attila
ALEXEI VRONSKY: MÉSZÁROS Arpad
STEPAN OBLONSKY: SIRMER Zoltán
DARYA DOLLY OBLONSKAYA: CRNKOVIC Gabrijela
KONSTANTIN DMITRIEVICH LEVIN: PONGÓ Gábor
EKATRINA KITTY ALEXANDROVNA: DEDOVIC TOMIC Dina
BETSY TVERSKAYA: FERENC Ágota
SERPUKHOVSKOY: OZSVÁR Róbert
LIDIA IVANOVNA: BANKA Lívia
AGAFIA: FIGURA Terézia
SERYOZHA: BAJI Ádám
OTHERS: Fanni DUPÁK, Lea GRESÁK, Annabella HODIK, Dániel HUSZTA, Csaba KŐMŰVES, Ádám ÁGYAS, Lehel SOLTIS, Regina SZABÓ, Bence SZALAI, Benjamin VARGA
Choreography: Olga Pango
Set design: Valentin Svetozarev
Costume design: Marija Pupuchevska
Total running time: 2hr 30min with intermission
Not suitable for audience under 16 years of age