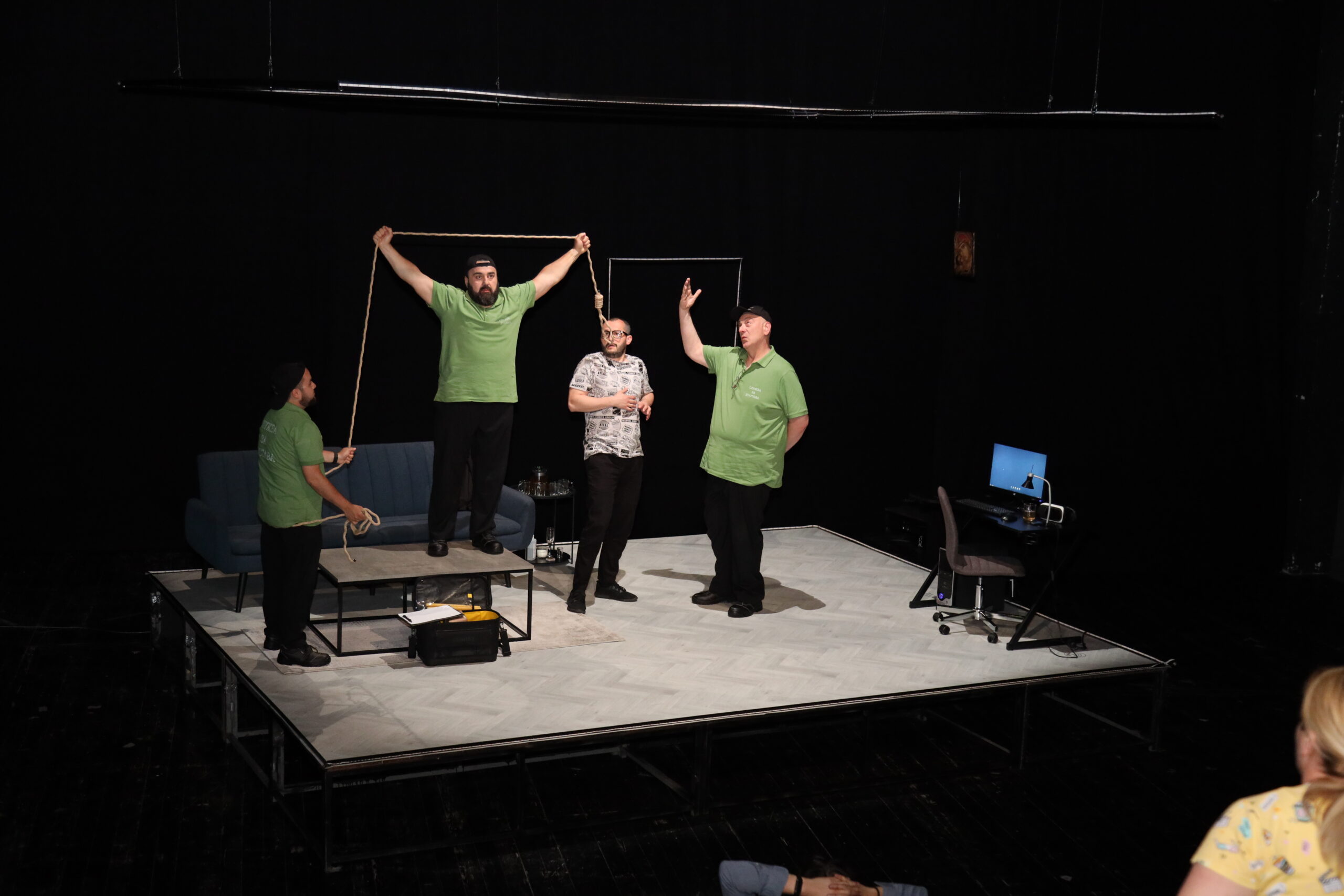 Theatre play "Sergey is very stupid"
"Sergey is very stupid"
By ©Dmitri Danilov
Directed by Dejana Nikolovska
NI Centre for culture – National theatre Ohrid
The theatre play "Sergey is very stupid" revolves around situations that breach reality and fiction in the life of a man of our time- a computer programmer when his life is abruptly and interrupted by the absurd. It is expected from Sergey to quickly and skilfully know how to communicate with this new phenomenon, something for which he has not already produced a code for.
In the play, the simplest of life situations is all of a sudden turned into an existential situation. Couriers, delivery boys suddenly start coming to the programmer's home and from the doorstep they communicate to him that they plan to spend an hour with Sergey following which time they will deliver him a package with unknown contents.  From that moment on a surreal show begins that sucks the audience into a dynamic act in which dialogues and heroes are breaking all traditional theatre stereotypes and thus making the end for the spectator completely unpredictable. The fear of meeting the unknown, the capacity to look at things from a new, different angle, all of this shakes Sergej's life routine. Nothing makes sense anymore. Life as he knew it has turned into an absurd.
In other words, we are all "Sergeys" of our time.
This satire which is staged for the first time in Macedonia gives us an insight into the author's authentic poetics, his deep knowledge of Russian literature and theory and the ability to implicitly reveal information layer by layer through the actor's replicas: from his name, surname, street address, at the beginning of the piece he presents the characteristics of Russian urban poetry, through dialogues, carnivalization, and polysemantics typical for Mikhail Bakhtin, to the lucid and successful flirtation with the language of Chekhov, Dostoyevsky, Bulgakov, Harms, as well as with Russian literary folklore.  This drama is certainly a legate of the Russian avant-garde in the 21 century.
Dejana Nikolovska
Dejana Nikolovska is the second Macedonian graduate of the Russian Accademy for Theatre (GITIS) in Moscow, following in the footsteps of Ivan Popovski. Born in Skopje in 1981 she enrols at GITIS in Moscow in 2000 in the class of professor Leonid Heifetz. During the third year of her studies in 2003 she stages the play "Family stories" by Biljana Srbljanovic which wins her the prize for best director in the category of student plays in Russia. In the period 2005-2009 she is the teaching assistant at the department for theatre direction for the professors Oleg Kudryashov and Leonid Haifetz.  She is currently finishing her master's degree and is a freelance artist. Although primarily interested in theatre, Dejana NIkolovska also works in film. Her most important film project to date is the TV series "Tatijana's nameday" (220 episodes) for the Russian National Television. She is also a director for RosArt Group Production company in Moscow.
Cast:
Sergey- Nikola Todoroski
First courier-Strezo Stamatovski
Second courier- Goran Stojanoski
Third courier- Filip Kiprovski
Masha- Leonida Gulevska
Stage and costume design: Enes Deari
Composer: Sashko Kostov
Inspicient: Filip Angelichin-Zhura
Total running time 90 mins
The performance is suitable for all ages