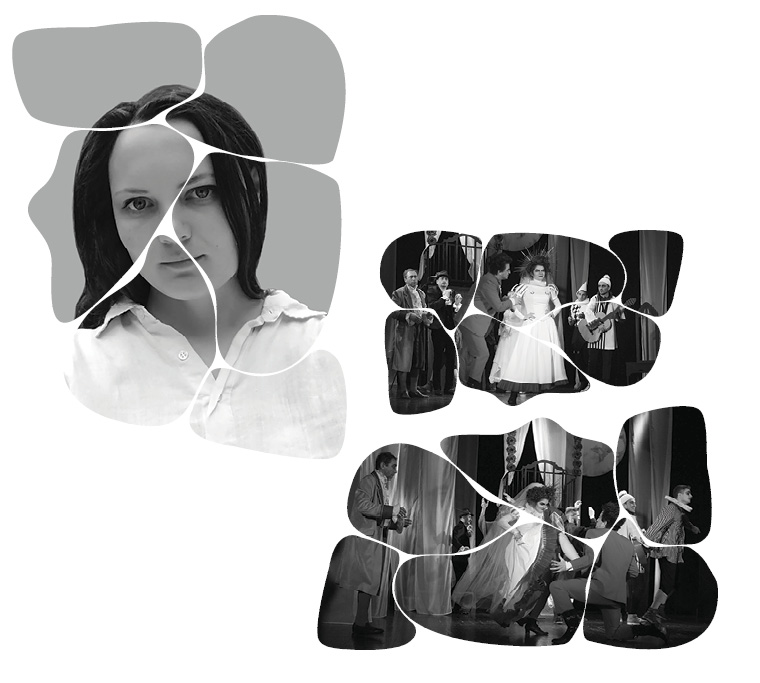 Theatre play "The Taming of the Shrew" by William Shakespeare
Directed by Viktoria Shevchenko
Performed by  Kyiv Academic Regional Music and Drama Theater P.K. Saksaganski, Kyiv, Ukraine
The Kyiv Academic Regional Music and Drama Theater named after P.K. Saksagansky, the biggest and oldest theatre in the Kyiv Region was founded in 1934. Despite its rather academic name the Academic Theatre of Music and Drama is a very innovative and young establishment and continues to pleasantly surprise with exciting performances. The theater's repertoire includes many productions  of foreign and domestic classics playwrights (Shakespeare, Oscar Wilde, M. Kulish,  I. Franko etc.) as well as various works by modern writers and composers. The repertoire includes around 75 performances and concerts. One of the most popular is "The Taming of the Shrew" by William Shakespeare staged by the talented young director Viktoriia Shevchenko. The director added  a new more colourful outlook on the staging, thus making it brighter and more intense emotionally. The bright costumes and extraordinary  theatrical makeup convey the character of the entire production accurately. The premiere took place in June 2019 and has since been very popular with the audience.
The action revolves around Katherine (Kate), the daughter of Baptista and her sister – Bianca. Katherine has no suitors because she is not conventionally attractive but she is more serious, notoriously shrewish, and seems to hate men, which makes it difficult for any man to deal with her. Bianca is sweet natured and beautiful but can't marry until her older sister does. Petruchio is a gentleman from Verona who agrees to marry  Katherine because of her large dowry. The action of the play concerned with his efforts to tame her.
"The Taming of the Shrew" is one of the most popular plays all over the world, largely because of the themes addressed (marriage, duty, identity, family), the play has experienced great popularity through the years.
Born in 1992, Victoria Shevchenko is a Ukrainian theatre director and curator. After studying theatre and cinema at the Kyiv National University "I. K. Karpenko-Kary" she starts her directing career.  In 2013 she organized and managed the drama play called "Let him not love the two at once" according to M. Staritsky's play "Oh,do not go,Gritsa" as her graduate project. The play received recognition and was performed at various stages for several years. In 2016 she began to work as artistic director of the Kyiv Palace of Children and Youth. In 2016 Victoria also began to teach acting in Kyiv Academic Studio Theatre. In 2018 she began working as a director at the "Kyiv Academic Regional Music and Drama Theater named after P.K.Saksagansky. In 2019 she works in the "Ukrainian music and drama theatre named after M. Kropyvnytsk". Among her acclaimed works are the plays "Romeo and Juliette", "Alice in Wonderland", "They" after M. Stefanyk, "Natalka Poltavka" after Ivan Kotlyarevsky, and Chekhov's "Uncle Vanya"
Roles:
Vincentio- Shekita Vsevolod
Baptista Minola- Vdovyka Roman
Tranio- Dubinin Vladyslav
Widow- Lanovenko Svitlana
Petruchio- Krasikov Vladyslav
Katharine Minola- Ovcharova Marharyta
Hortenzio- Ponomarenko Borys
Lucentio- Taran Ruslan
Bianca Minola- Kharabuha Anastasiia
Hremio- Todorakin Yevhen
Servants- Almaz Oleksii
Holovchak Mykola
Voitov Valerii
Samoilenko Oleksandr
Kupreichuk Dmytro
Production director- Viktoriia Shevchenko
Set designer- Sliesarchuk Oleksii
Costume designer- Ripenko Valentyna
Running time – 2 hours 30 minutes.