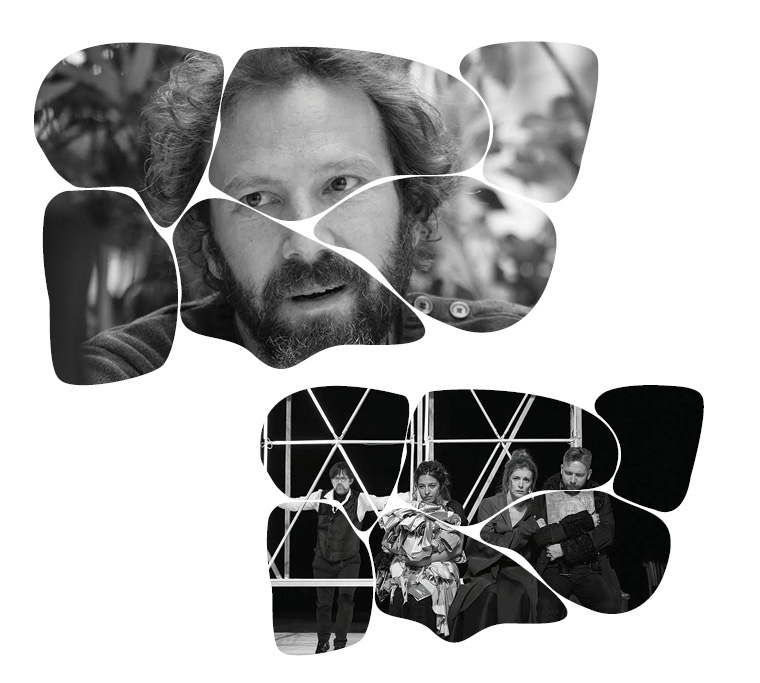 Theatre play "War and Peace" by L. N. Tolstoy
Directed by Boris Lijeshevic
Performed by National teatre Belgrade, Serbia
Leo Nikolayevich Tolstoy's "War and peace" is one of the worlds' most important literary works. For the National theatre in Belgrade the new dramatization of this work was done by writer and dramaturg Fedor Shili in collaboration with the director Boris Lijeshevic. The long presence of Lijeshevic on the theatre stage has produced a vast number of successful and awarded plays, but the production of "War and peace" for the Belgrade National theatre is his most fascinating work to date. The acting credits go to renowned actors but also feature young talented actors that make their stage debuts. The artistic team is consisting of some of Lijeshevic's long term collaborators. In Lijeshevic's words: "It is difficult to single out things from a novel like this. There are so many things…the thoughts of the characters about God, eternity, about love as an outlook on the world, about love as a way of life. There are many things about the key moments in life when one sees and touches the essence of life, that has been there, in front of one's eyes. This essence is in principle the peace that we can not see because of the war. Humans are constantly at war with themselves, with the surrounding, with life, with God…Peace is the world. War and peace as principles of life are something we can fully grasp. They are like a map we follow, a wheel in which we run like circus mice. War and peace together make the entirety of our lives.
Born in 1976 in Belgrade, Boris Lijeshevic grew up in Budva, where he finished elementary school and grammar school. He graduated from the Department of Serbian Literature and Language at the Faculty of Philosophy in Novi Sad. In 2004, he graduated from the Directing Department at the Academy of Arts in Novi Sad, where he still teaches acting as an associate professor. He was a triple scholarship holder of the Goethe Institute in Belgrade and he is an associate of the Zagreb Acting Studio. A significant part of his work is dedicated to documentary theatre, where projects are created by recording topical conversations with selected anonymous interlocutors who reveal their authentic experiences. The classic works of dramatic literature that he directed include "The Servant of Two Masters", a comedy by Carlo Goldoni, Euripides' "Alcestis", "Lorenzaccio" by Alfred de Musset.
A large and growing part of his director's oeuvre consists of plays based on dramatisations of the novels: "Municipal Child" by Branislav Nušić, "A Goat in Milk" by Yuri Polyakov, "Elijah's Chair" by Igor Štiks and many more.For his work he has been awarded many national and regional awards, He lives and works between Belgrade, Novi Sad and Budva.
Roles:
Prince Nikolai Andreyevich Bolkonsky: MIODRAG KRIVOKAPIĆ
Pierre Bezukhov: HADŽI NENAD MARIČIĆ
Andrei Bolkonsky: DANILO LONČAREVIĆ
Natasha Rostova: TEODORA DRAGIĆEVIĆ
Marya Bolkonskaya: ZLATIJA OCOKOLJIĆ IVANOVIĆ
Nikolai Rostov: NEMANJA STAMATOVIĆ
Sonya Rostova: NINA NEŠKOVIĆ
Count Ilya Rostov: DUŠAN MATEJIĆ
Countess Natalya Rostova: BOJANA STEFANOVIĆ
Prince Vassily Kuragin: SLOBODAN BEŠTIĆ
Hélène, his daughter: KALINA KOVAČEVIĆ
Anatole Kuragin: PETAR STRUGAR
Boris Drubetskoy: VUČIĆ PEROVIĆ
Lise Bolkonskaya: ZORANA BEĆIĆ ĐORĐEVIĆ
Napoleon Bonaparte: NEDIM NEZIROVIĆ
 
Set designer: Jana Valjarevic
Costume designer: Bojana Nikitovic
Total running time 3 hrs with intermission
The performance is not suitable for persons younger than 12