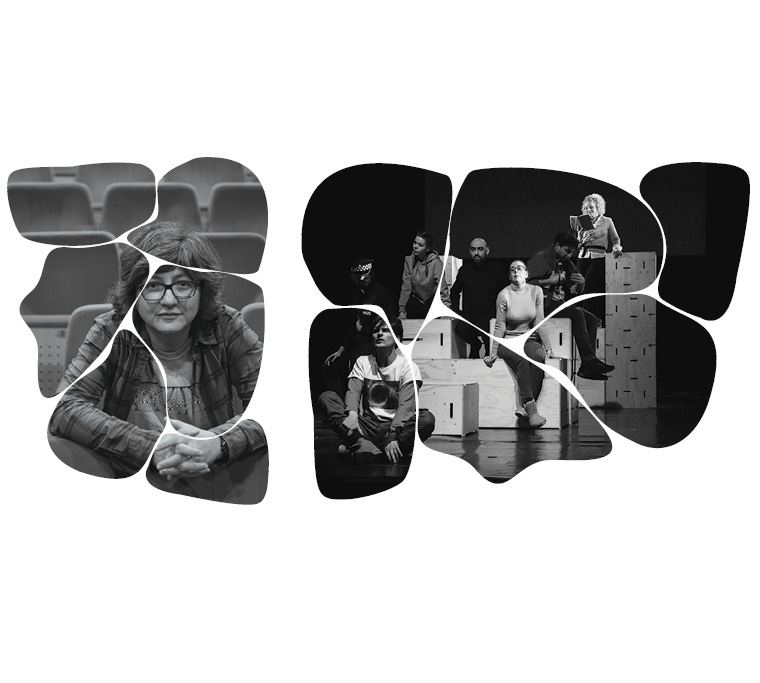 Theatre play "The Curious Incident of the dog in the Night-Time" by Simon Stephens
Directed by Zoja Buzalkovska
NI Drama Theatre-Skopje
The drama text "The Curious Incident of the Dog in the Night-Time" by Simon Stevens is an adaptation of the novel with the same name by Mark Haddon from 2003 which has won 17 prestigious awards including the Whitbread Award. The adaptation is written in 2012 and successfully premiered at the National Theatre in London. The story takes place in Swindon and London, and it revolves round the 15-year-old Christopher John Francis Boone, a mathematics genius with behavioural issues on the autistic spectrum. Christopher needs to solve a mystery. Someone has killed the neighbour's dog and Christopher was initially arrested but later released. In his attempt to find the killer, and going against his father's advice, Christopher starts his own investigation asking questions and writing the answers in a notebook. Christopher has Asperger's syndrome (an autistic disorder), and he has never been anywhere alone, but the detective work takes him on a dangerous journey that destroys the image of the world as he knows it. His own "cosmos" – one of truth as he is unable to lie, is now crushed as he goes to find out that he has been the victim of lies- those of his parents, his family and friends that have been his only source of trust and security.
The play works with the original material in depth. Instead of telling the story in first person, the dramatic text brings a combination of relationships and different angles of the story seen both from Christopher's point of view, but also from the point of view of all those who come in contact with his book or are part of it- his teacher, his father, his mother. The result is a drama within a drama.
What makes "The Curious Incident of the Dog in the Night-Time" an exciting story to work with is the subject theme of the text. It is the world of Christopher- the world of the "special", "different", "outcasted", "ridiculed", "underestimated". In a time when many societies including our own fight for inclusion of the people with special needs, to work on such actual material seems incredibly important. In that sense the performance carries an education mission and can be aimed at the teenagers as potential audience. On the other hand, the dark comedy genre, although at times cruel and sharp while at the same time being humorous, makes this an evening performance that in that sense makes the educational element somewhat less obvious.
Zoja Buzalkovska
Zoja Buzalkovska (Skopje, 1971) is a theatre director and professor of acting and theatre direction at the Faculty for dramatic arts in Skopje. In 1997 she graduates from the department of Journalism at the Faculty for Law in Skopje, following to graduate theatre directing at the Faculty for drama the next year. In 2010 she earns her masters in culture studies, and the following year she adds the master's degree in theatre direction to her name. Since 2000 she has been assisting and going on to earn further teaching titles at the Faculty for drama in Skopje in the class of prof. Kiril Ristoski. Today, Zoja Buzalkovska is a regular professor at this faculty leading a class of aspiring actors and a class of theatre directors. She has directed in all relevant theatres in North Macedonia and has also done productions for non-governmental institutions and independent theatre projects. Some of her most important works include "Oedipus Tyrranus Sophocleous" after Sophocles, "The Lover", "The lieutenant from Inishmore", "Zhdrelo" by Z. Mircevska, "How to become a king" by A. Kirjakovska, "Festen" by D. Eldridge for the Drama Theatre in Skopje. For the Macedonian national theatre, she has done "Uncle Vanya" and "Sand puzzle" and has also done productions at the theatres in Prilep, Veles and has been a long-time part of the independent theatre scene where she has directed "ART" by J. Reza and "A gentle creature" by Dostoyevski with "Proarts" and the cultural centre "Tochka". "Spinosa" was a coproduction of Small drama theatre in Bitola and the Drama theatre in Skopje, the activist "Time for fun" after Pinter with the theatre troupe "Gnev" and "System error" by Stevanovic in the production of the Faculty of Drama in Skopje. She is a keen author of texts and dramas and has written the text "Guardian angel" and has edited the chapter "Traces" in the book about actor Nenad Stojanovski. The text "Lessons in acting, teaching and humanity" dedicated to her professor Kiril Risteski is part of his monograph book. She is one of the editors of the monograph book "50 years FDU" and in 2018 her book "Talks with UNKOvski" was published by the Theatre of navigator Cvetko in Skopje
Roles:
Christopher Boone: Damjan Cvetanovski
Siobhan: Trajanka Ilieva Veljic- Taci
Ed: Aleksandar Stepanuleski
Judy: Emilija Micevska Trajkovic
Ms. Alexander/Posh woman/ Voice Six- Sonja Stambodzioska
Mrs. Shears/Mrs. Gascoyne/Woman on Train/Shopkeeper/Voice One: Jasmina Vasileva
Roger Shears/Duty Sergeant/Mr. Wise/Man behind Counter/Drunk One/Voice Two:
Filip Trajkovic
Mr. Thompson/Policeman 1/Drunk Two/Man with Socks/London Policeman/Voice Three:
Stefan Vujisic
Reverend Peters/Uncle Terry/Station Policeman/Station Guard/Voice Four:
Zlatko Mitreski
No. 40/Lady in Street/Information/Punk Girl/Voice Five: Nela Pavlovska
Set design: Konstantin Trpenoski
Costume design: Elena Vangelovska and Rade Vasilev
Choreography and free running technique: Simon Simonovski
Total running time: 2 hrs 45 mins with intermisson
The performance is not suitable for persons under 12 years of age