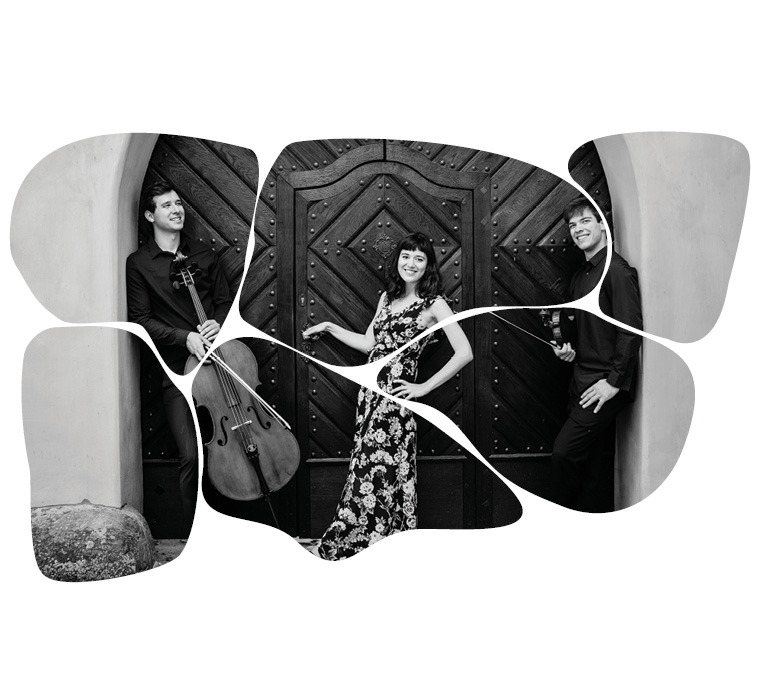 Trio "Incendio", Czech Republic
Karolina Frantishova-piano
Filip Zaykov-violin
Vilem Petras-cello
Trio Incendio was founded in 2016 in Prague by pianist Karolína Františová, violinist Filip Zaykov and cellist Vilém Petras.  The trio has won several national and international competitions, for example Gianni Bergamo Classic Music Award in Lugano, Coop Music Awards in Cremona, Concorso Musicale "Marcello Pontillo" in Firenze, Kiejstut Bacewicz Competition in Lodz, Concorso "Massimiliano Antonelli" in Latina and Bohuslav Martinů Competition in Prague, where they also gained the Special Prize for the best interpretation of the work by Martinů. Recently, Trio Incendio took 2nd prize at the International Joseph Joachim Chamber Music Competition in Weimar while the 1st prize was not awarded.
The trio is a member ensemble of the European Chamber Music Academy, which gives young ensembles an opportunity of working regularly with distinguished artists and professors such as Hatto Beyerle, Johannes Meissl, members of the Artis Quartet, Julius Berger, Alexander Lonquich and many more. The trio also took part in a masterclass with Rainer Schmidt (Hagen Quartet) and had two sessions of a public masterclass with Alfred Brendel on Piano Trios by Schubert in Rudolfinum in Prague. One of the masterclasses on the Trio No. 1 has already been released on a DVD by the Supraphon label.
The trio regularly participates in the International Summer Academy in Reichenau, organised by the University of Music in Vienna. At the academy, they were awarded the Wiener Klassik Prize, Bohuslav Martinů Prize and AHUV Prize for the best interpretation of Czech contemporary music. The trio also got the Chamber Music Prize for the best ensemble of the academy and the Audience Award.
Trio Incendio performs both in the Czech Republic and abroad. The young ensemble has already given concerts in some of the most important European venues such as Philharmonie Berlin, Wigmore Hall or Rudolfinum in Prague and has been invited to festivals like Ticino Musica, the chamber music season of the Prague Spring Festival or the Davos Festival. Their concerts are appreciated for their passion, stylistic clarity, and the beauty of the sound.
Programme:
Liszt: Tristia (La Vallée d'Obermann) for Piano Trio, S. 378c (S. 723)
Martinů: Piano Trio No. 3, H 332
Allegro moderato
Andante
Allegro
-intermission-
Dvořák: Piano Trio No. 2, op. 26
Allegro moderato
Largo
Scherzo. Presto
Finale. Allegro non tanto