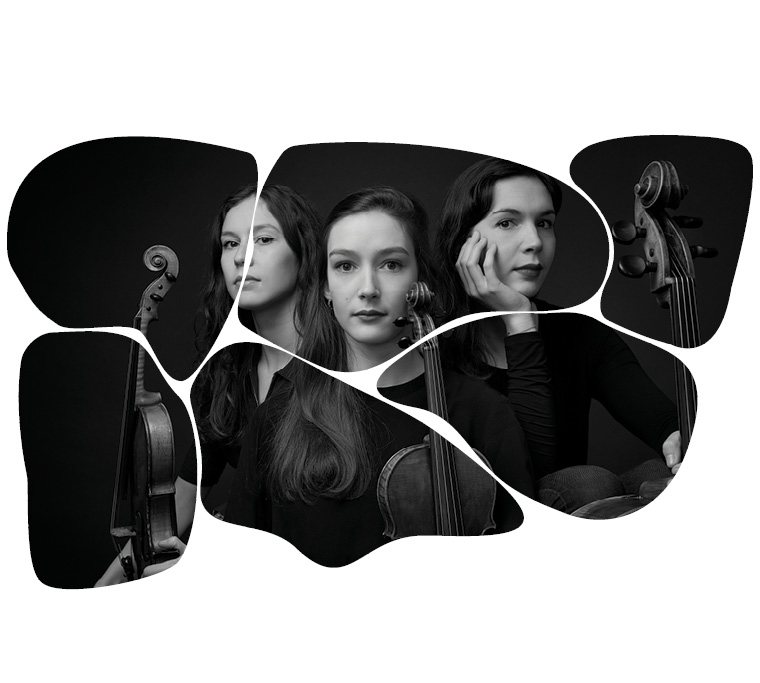 Trio Sypniewski, Poland
Caroline Sypniewski- cello
Magdalena Sypniewski- violin
Anna Sypniewski- violin
The Trio Sypniewski, composed by three sisters, was founded in 2016. Born into a family with Polish origins and where music holds a central place, Caroline, Magdalena and Anna have played together from a very early age. The Trio has studied with such internationally renowned musicians as François Salque at the Conservatoire de Paris, the Quatuor Modigliani, the Diotima quartet, Krzysztof Chorzelski, and Günter Pichler thanks to the Proquartet masterclasses. They are selected to take part in the Académie Ravel of Saint-Jean de Luz, where they received several awards.
Since their first concert in the Chapelle des Jésuites in Carcassonne, they can look back on concert performances in major French festivals such as the Festival Debussy, Musiques à Versailles and many more.
They are keen to further popularize the string trio repertoire: such as the Mozart Divertimento and Beethoven trios…but also turn their attention to some unsung composers such as Dohnanyi or Françaix. The young composer Raphaël Sévère dedicated his work Partita to them, and the trio will have the chance to record it in 2022 thanks to the Mirare label.
In their aim to explore new repertoire, they share the stage with the pianists Alexandre Kantorow, Clément Lefebvre, Adam Laloum, and Jean-Philippe Fonsalas, without forgetting the violinists Alexandre Pascal and Hugues Borsarello
Programme:
Dohnányi:  Serenade op. 10 in C major
Marcia (Allegro)
Romanza (Adagio non troppo)
Scherzo (Vivace)
Tema con variazioni (Andante con moto)
Rondo
Kodály: Intermezzo for String trio
L.V Beethoven: Serenade for string trio op. 8
Marcia
Minuet
Adagio
Allegretto alla polacca
Tema con variazioni