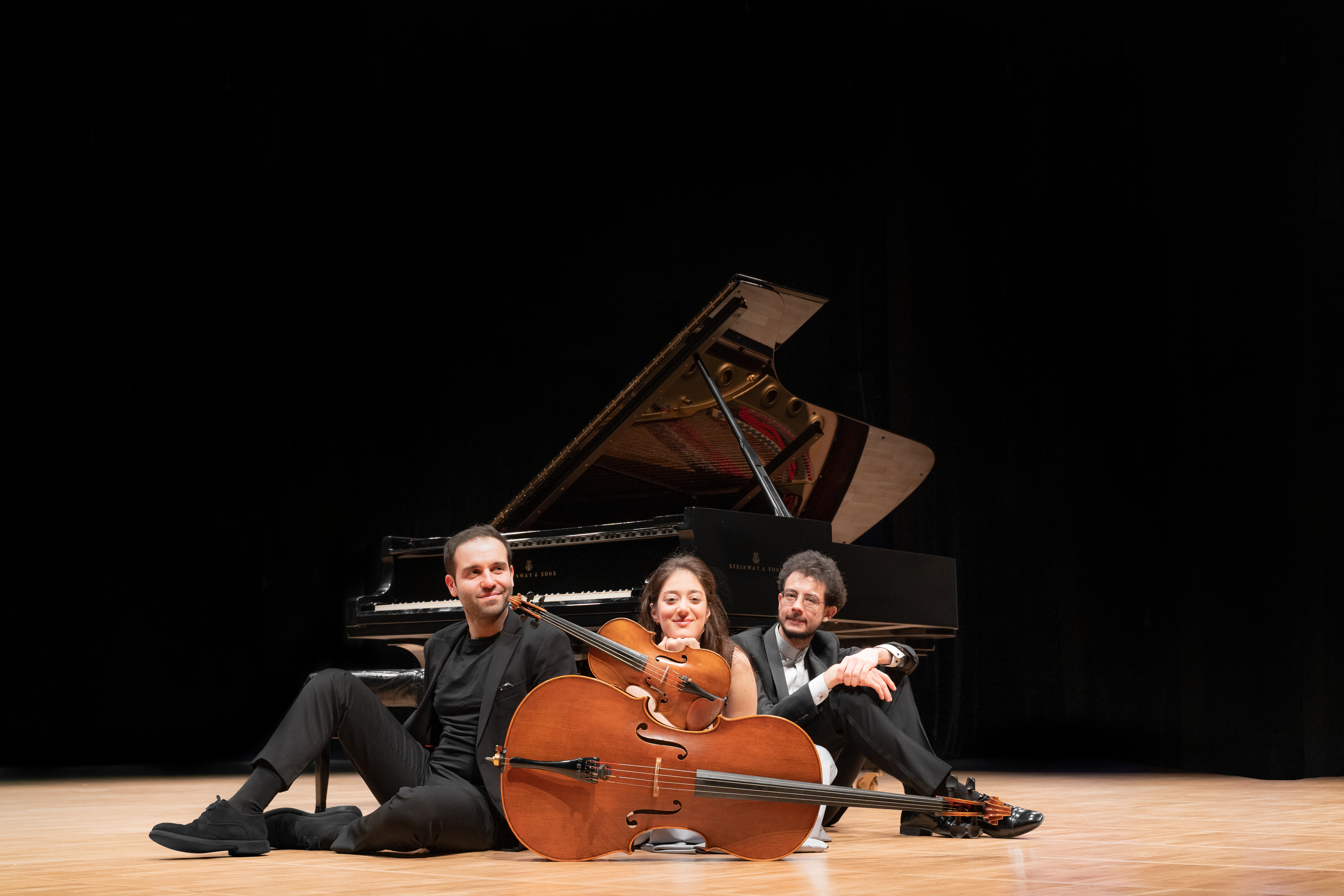 Turkish evening Trio Vecando
Trio Vecando
Veriko Tchumburidze-violin
Dorukhan Doruk-cello
Can Çakmur-piano
The trio members are all prize-winning artists, but most importantly they are young and full of hope which makes their performances unique.
Veriko Tchumburidze, a Georgian violinist, has gained recognition with her first prize at the International Henryk Wieniawski Violin Competition in 2016 at the age of 20. She has established herself as a captivating soloist, chamber musician, and recording artist, and has been praised for her imaginative approach to music. She has recorded works by Anton Wranitzky and John Williams, among others, and plays a Giambattista Guadagnini violin generously loaned by Deutsche Stiftung Musikleben.
Dorukhan Doruk is a celebrated cellist who has won prizes in various international competitions and has performed in prestigious concert halls and festivals worldwide. He received the the second prize at the X. Witold Lutoslawski International Cello Competition. He recorded his debut solo album in September 2022, which is set to release in the summer of 2023 under the label Genuin. He has performed with renowned musicians such as Fazıl Say, Yo-Yo Ma, and Gary Hoffman. He plays a Paolo Antonio Testore Cello, which is provided to him by Deutsche Stiftung Musikleben.
Can Çakmur is a rising pianist won the first prize as well as the chamber music special prize at the Hamamatsu International Piano Competition in 2018, as well as the Scottish International Piano Competition in 2017. His recordings on the BIS label have received critical acclaim and won numerous awards, including the Solo Recording of the Year and Young Artist of the Year at the ICMA Awards, Choc de Classica, and Diapason d'Or. He studied with Diane Andersen and Grigory Gruzman at the Franz Liszt University of Music Weimar.
Programme:
E. Grieg: Andante con moto EG 116
Fazıl Say: Space Jump Op. 46
                 Andantino meditativo
                Allegro maestoso
                Maestoso
Shostakovich: Piano Trio No. 1 in c minor Op. 8
-Intermission-
Ravel: Piano Trio in A minor, M. 67
                Modéré
                Pantoum. Assez vif
                Passacaille. Très large –
                Final. Animé