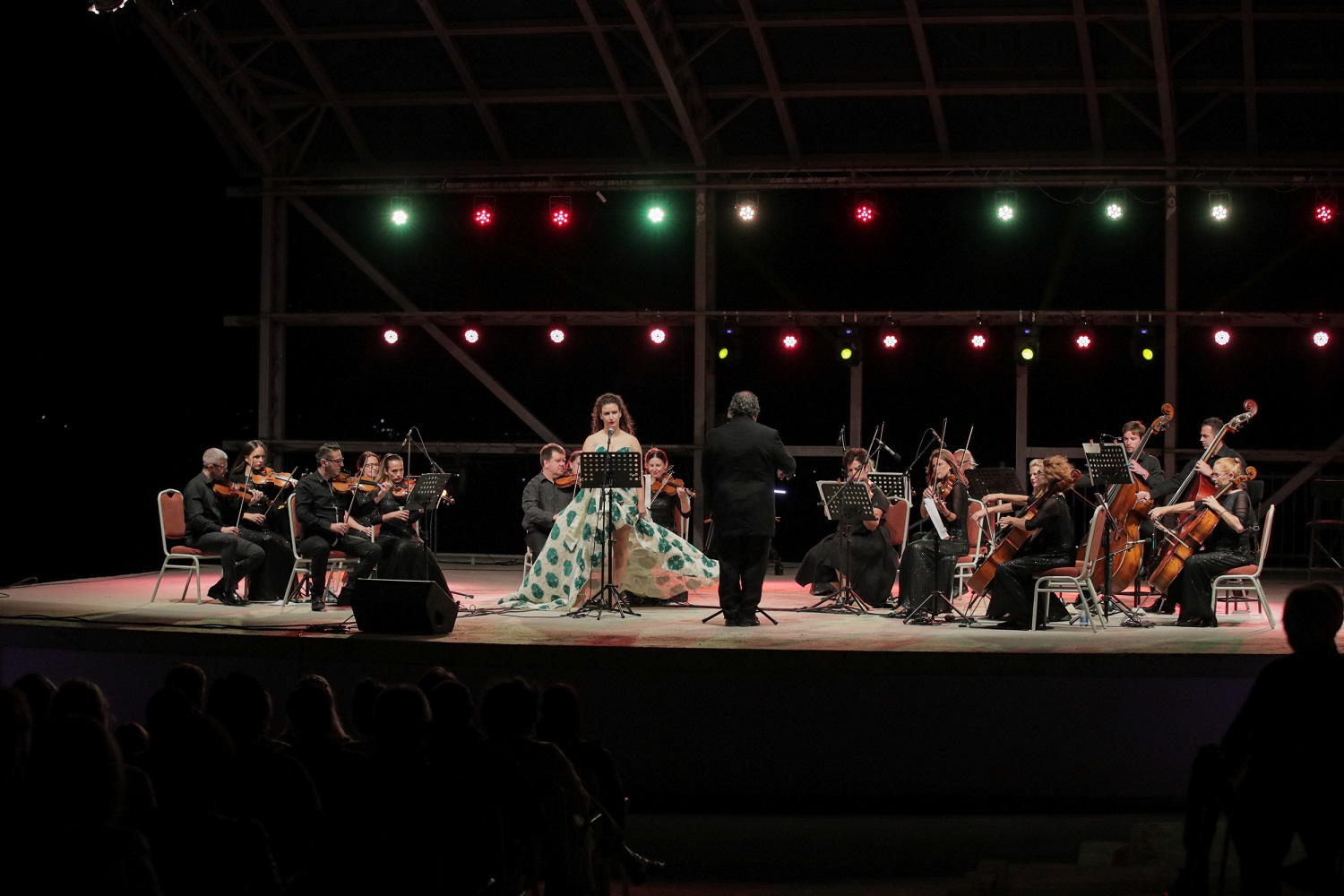 Yesterday evening the amazing voice of Marija Jelikj from Serbia echoed the scene of Dolni Saray, and the amazing atmosphere was contributed by the topmost musicians from the Orchestra of the Serbian National Theatre from Novi Sad, under the baton of the Argentinian conductor Luis Gorelik.
The soloist Marija Jelikj, who has Macedonian origins, was also part of the gala opening ceremony of Ohrid Summer Festival two years ago.
– Ohrid Summer Festival each year strives to preserve its high level of quality and it is really one of the most prestigious festivals in the region. I was part of the opening ceremony two years ago, in the middle of the pandemics when, due to the restrictions, we were accompanied only by a piano, but this time we are here in a quite different company, with the string orchestra from the Opera of the Serbia National Theatre from Novi Sad, a city this year acclaimed a European Culture Capital, meaning it keeps pace with Ohrid as a City of Culture. It is a huge pleasure to collaborate with an outstandingly good conductor and a professional orchestra, says the soprano Jelikj, who, besides on national stages, often performs on international festival stages.
The Orchestra of the Serbian National Theatre from Novi Sad was founded on 16th November 1947 and ever since has been the chief performer at every opera performance. The high professional level of the ensemble has been reached with constant professional upgrading of its members through participation in other orchestras. Today the Orchestra has 75 members, and together with its choir and soloists performs works from the "iron" repertoire, but also musicals, operettas, choir music as well as symphonic concerts.
– This is the first time the Ensemble of the Orchestra of the Serbian National Theatre performs at Ohrid Summer Festival. However, the Theatre was part of the Festival in 2019 with the play "Who killed Janis Joplin", whereas in 2004 the Ballet of the Serbian National Theatre performed the "Greek Zorbas". Knowing the fact that this is one of the most renowned festivals in this part of Europe, it is a great honour to be invited here and I hope for future cooperations. Immediately after the year of the Pandemics, the Ballet and the Opera worked on the premiere of the ballet performance "Ohrid Legend" by Stevan Hristikj". I consider the venue of Dolni Saray an ideal ambience for performing that ballet performance and I hope that it will come true, says the director of the Serbian National Theatre from Novi Sad, Aleksandar Stankov.
The audience from Ohrid Summer Festival had the opportunity to see maestro Luis Gorelik in 2014 at the gala opening of the 54th Festival edition as a conductor at the concert with the opera diva Barbara Frittoli and the baritone Leo Nucci.