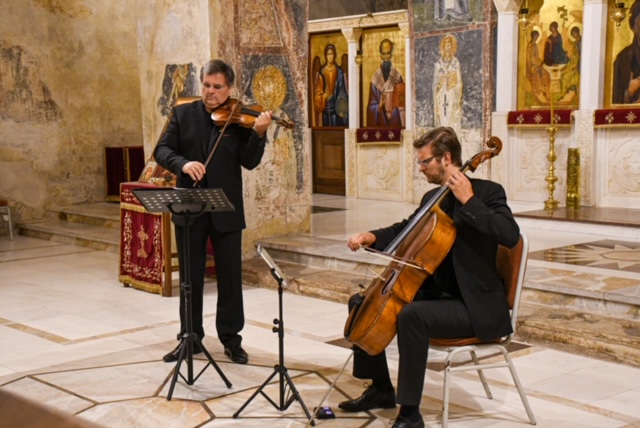 Czech artists, the violinist Leoš Čepický and the cellist Ivan Vokáč united in Duo di Prague brought the French Suite by Johan Sebastian Bach to the audience which enjoyed the concert at any moment, and they played impressively the Duos for violin and cello by Wolfgang Amadeus Mozart, by Boguslav Martinu and Reinhold Gliere. Their repertoire included the splendidly performed three etudes by Astor Piazzola.
The violinist Čepický is known to the audience of the Festival because he performed last year with the string quartet "Wihan". He is one of the founders of this quartet and is still its member.
– That's right, we performed at Ohrid Summer Festival last year with the "Wihan" quartet, but we also had a concert here 28 years ago. I am very happy to be here with Ivan. The cellist Michal Kanka, who was supposed to take part in this concert had some problems and couldn't perform tonight. Ivan Vokac is a friend from school, he was still a student and I knew that his repertoire is vast. This is a perfect stage to perform and the acoustics is unbeieveable, said the violinist Čepický.
Traditionally, the EU evening at Ohrid Summer Fesitval was opened by the EU Ambassador in our country, David Geer.
– I am very happy to be part of the event EU evening within Ohrid Summer Festival. This is a long tradition gathering at one place artists from the whole EU, Macedonian audience and Macedonian artists, as well as artists from the Western Balkan. I am glad to celebrate culture in this historical moment, at the beginning of the negotiations with the EU. I think this is a proof of what EU and North Macedonia can contribute to the membership in the EU, said the EU Ambassador Geer.
The delegation of EU in the Republic of North Macedonia have supported the organization of the EU evening at Ohrid Summer Festival for sixteen years. They help the participation of numerous European artists at the Festival, which encourages intercultural collaboration and exchange.The concert of the impressive European artists was attended by Julian Vassallo, Deputy Head of EU Delegation to North Macedonia, the Ambassador of the Czech Republic in North Macedonia, Jaroslav Ludva, as well as the Ambassador Clemens Koja from Austria, Chief of the OBSE Mission in Skopje.