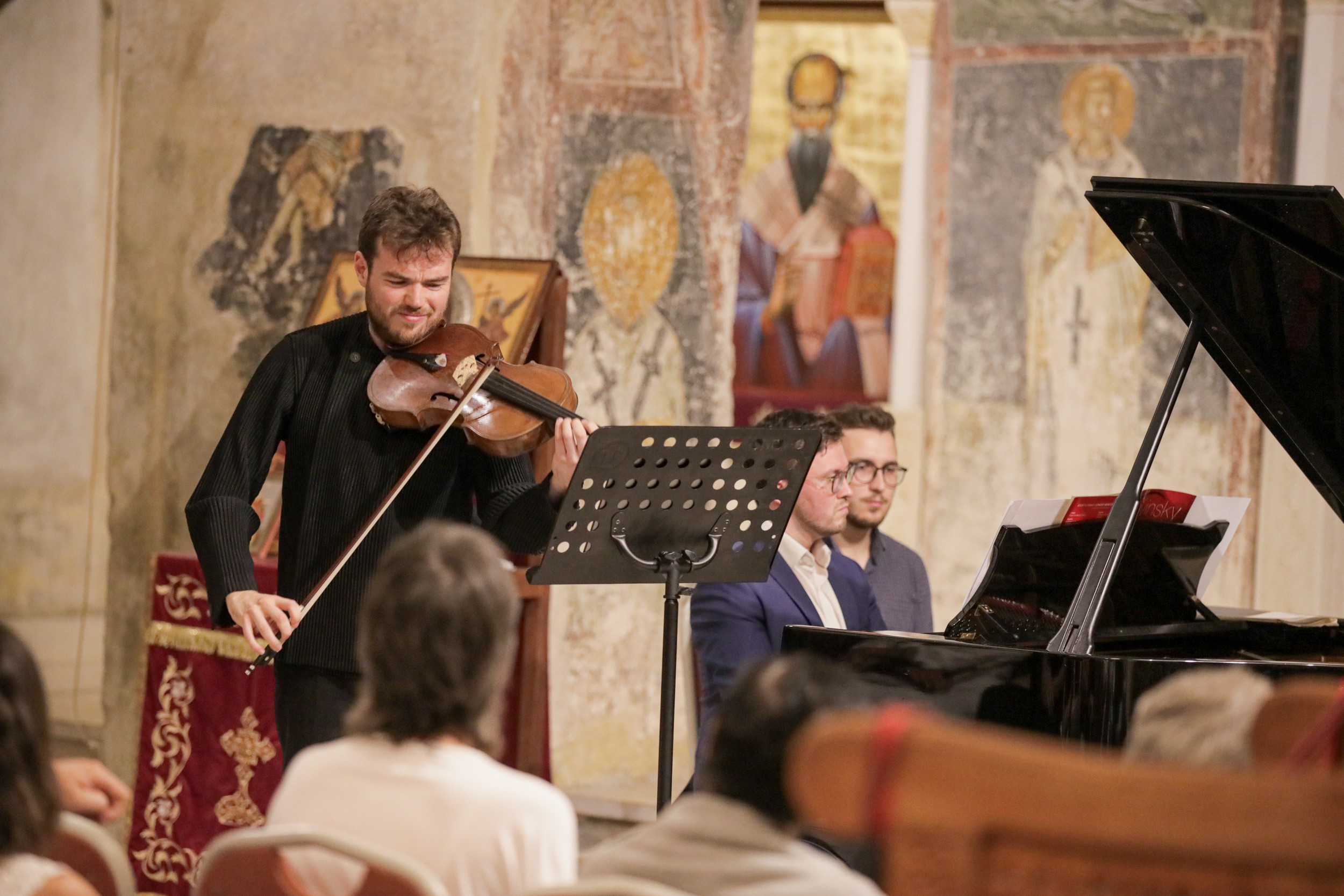 The young and outstandingly talented pianists, the violist Timothy Ridaut and pianist Frank Dupree were a true surprise for the audience at Ohrid Summer Festival with the concert they gave yesterday evening at St Sophia church. Timothy Ridaut is one of the leading young soloists in Europe. He is part of the BBC programme "New Generation Artists" from 2019 and part of the art programme of the Lincoln Centre in New York from 2021. At Ohrid Summer Festival he confirmed once again that he is a young artist of world class.
– The acoustics is amazing in this church. In such a magical ambience we played pieces by composers having lived mainly in the time of the Soviet Union, the Italian Suite for viola and piano by Stravinski, then the Sonata for viola and piano by Kapustin, inspired by jazz. Kapustin was a piano virtuoso who composed in jazz style and wrote this quite difficult sonata for viola. We played the two movements from the Suite from Shostakovich's "Ovod", which is different from his other works because it was written in the period when he made film music. We finished the evening with a Suite from "Romeo and Julliet" for viola and piano op. 64 by Prokofyev, said the British violist Timothy Ridaut.
The German pianist Frank Dupree, although young, impresses juries with his music maturity, refined technique and ability to create a wide spectrum of colours on the piano.
-Timothy and I have played together for seven years now, we have successfully collaborated and it is fun to travel together, said Dupree.
After the amazing evening with these young, but world renowned artists, the music programme of Ohrid Summer Festival continues tonight at 5 p.m. with the concert of the participants in the international music master class held in Ohrid these days under the mentorship of the violinist Emilio Percan and the pianist Tamara Guliyeva, as well as a concert at 9 p.m. with the young artists from Serbia, the cellist Irena Josifova and pianist Aleksandar Dzermanovic.