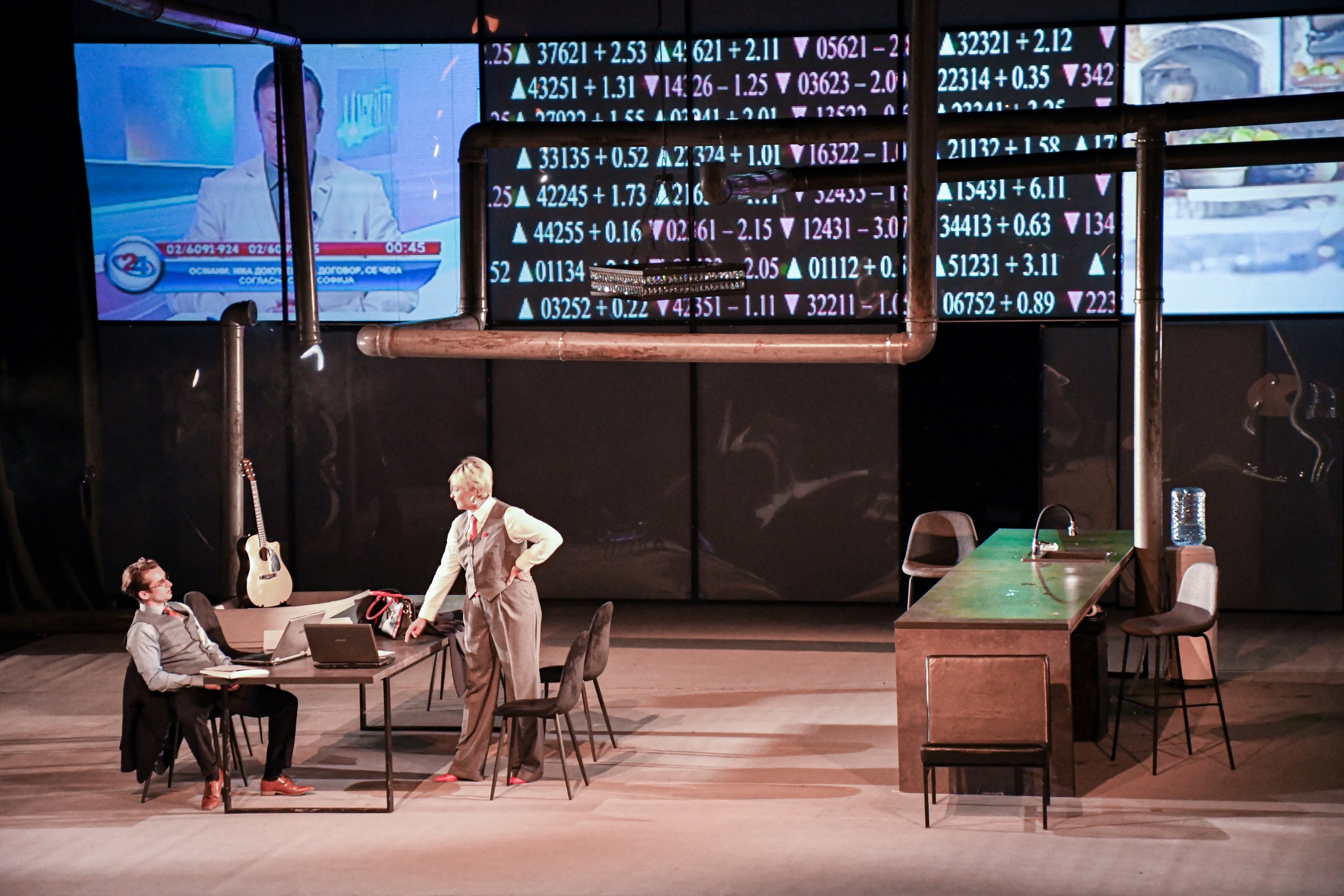 The actors from NI Macedonian National Theatre – Skopje yesterday in the Centre of Culture "Grigor Prlichev", within the 62nd Ohrid Summer Festival performed the theatre play "Enemy of the People" by Henrik Ibsen, directed by Nina Nikolic.
Although initially released 140 years ago, the play perfectly corresponds the crisis our society faces anew – through excluding Dr Stockman (Nikola Ristanovski) from the community, Ibsen skilfully reveals the social conformism and political hypocrisy, shows a mechanism used by every individual who tries to talk about system injustice, automatically characterized as treacherous and conspiratorial.
Doctor Stockmann is a paradigm of the modern man, but he is at the same time an idealist who believes in change and that the sacrifice, as painful as it might be, is necessary. In the beginning he may not be completely aware about the consequences he is about to face due to his unscrupulous stance, despite the tough blows he receives from the governing politicians and the unstable journalists- through a series of challenges Dr. Stockmann matures and comes out stronger.
– The process of creating the play itself went patiently and systematically. We had enough time to analyse this important story by this significant author. I won't go into the matter of whether we have done a good or bad job, but I reckon that we have done the right thing. That is my main feeling, and that happens always when one works with a creative, patient and gifted team. This is the second project I have finished with almost the same team members. Each director dedicating enough time and showing enough analytical traits, patience and consequence, always deserves attention. I think this is true this time again, said the actor Nikola Ristanovski.
Besides Ristanovski, the audience had the opportunity to enjoy the amazing acting by Zvezdana Angelovska, Darja Rizova, Jana Veljanovska, Ana Arsovska, Blagoj Veselinov, Sashka Dimitrovska, Aleksandar Mihajlovski, Nino Levi and Martin Gjorgoski.
The play opened an important dilemma and the current ecological struggles- how to treat something being a source of contamination and contagion, and from the other side (often only) the only source of income for the majority of the inhabitants.
"Enemy of the People" is one of the most performed plays by this author which is considered "father of the modern drama". So far it has had over 1880 premieres on various stages worldwide: Europe, Asia, Africa, Australia, North and South America.