Closing ceremony of the Ohrid Summer Festival 2020; God of Carnage By Yasmina Reza; Directed by: Bilge Emin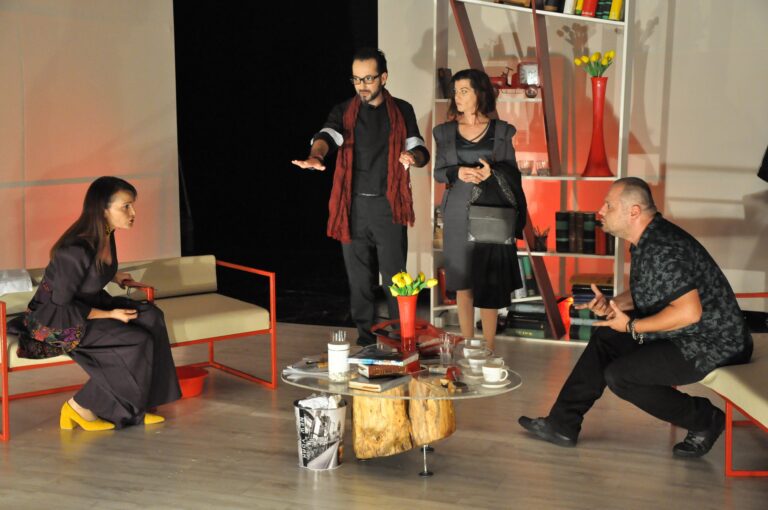 70 years jubilee of NI Turkish theatre, Skopje
NI TURKISH THEATRE, Skopje
The play starts with the thought "Regardless of everything, there is something called the art of cohabitation", but as the play progresses the vital life values such as marriage, children, profession, social state etc. are questioned. During these analyses it is obvious that violence exists within us and savage brutality is part of human nature. During the dramatic development, the audience faced with a multitude of questions: is this brutality something that we are born with or is it something we learn, do we manage the marriage or the marriage as an institution governs us…The ego leads the man to extinction. No matter how hard the individual tries to exit from the system, the system attracts him back in.  You can't fight the system. The moment you resist your "God of carnage" it will be destroyed by his God of carnage.  Is it important to keep in line with the system or not. Is the solution to the problem important? Everything is decided for and chosen by the individual. Written by Bilge Emin
Bilge Emin-stage director
Born in 1976 in Skopje, Bilge Emin graduates from the Ankara University- Faculty of Communication at the department of Journalism in 2000.  In 2003 she earns her Master's Degree at the Institute for Social Sciences with the thesis "A dramaturgical analysis of the Woman in the films of Halit Refig". In 2014 she earns her second MA degree at the University "Ss. Cyril and Methodius" Faculty of dramatic arts in Skopje at the in the class of Professor Slobodan Unkovski. In the period 2003-2010 she works at the Istanbul City Theatres leading the department for International affairs, and is the programme selector for the International theatrical festival "Istanbul-Stage-Space".  Her translations in Turkish of dramas by Balkan authors have been performed at numerous stages in Turkey. She is a recipient of numerous awards.
Roles:
Suzan Akbelge
Dzenap Samet
Filiz Ahmet
Selpin Kerim
Set design: Tatjana Blazhevska Hristoska
Costumes: Marija Pupuchevska
Assistant director: Dzenap Samet
Intended for an entire audience
Duration time: 1h 15 mins.