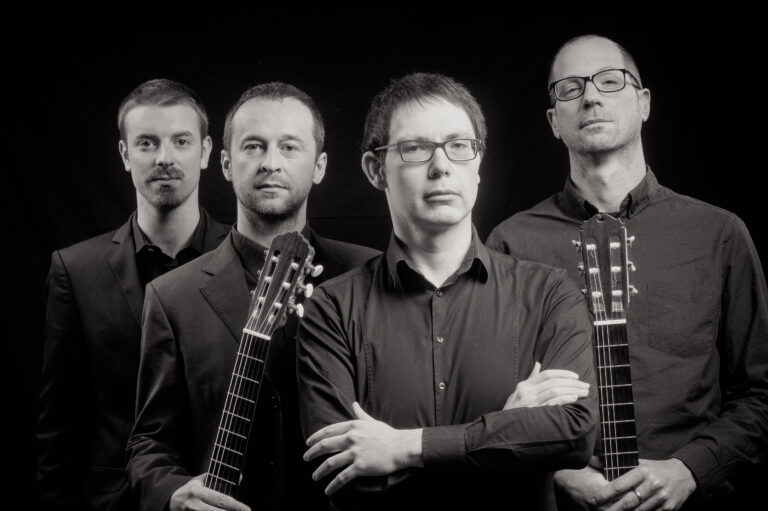 Michele Ambrosi, Vlatko Bocevski, Vjekoslav Crnobori, Raffaele Pisano
Present on the music scene for more than fifteen years, the
 Ápeiron Guitar Quartet 
conducts its concert activity aimed at the discovery and disclosure of the original repertoire for four guitars, inspiring and motivating the composers to write specially for this ensemble. In taking this project forward,
Ápeiron has established several notable collaborations including the work with Ivan Šuran, Marcos Vinicius, David Dossett, Desmond Clarke and Paul Mortilla. In 2013, they participated at the XXVI Guitar Congress in Sanremo, Italy. The following 2014 and 2015, as quartet-in-residence, they performed the premiere of numerous music fragments at the Highscore Music Festival in Pavia, where the guests of honour were Steven Mackey and Helmut Lachenmann. The quartet has performed both in Italy (Villa Manin in Passariano; International Festival "Nei suoni dei luoghi"; Miramare Castle in Trieste;  Mauro Giuliani association concert season "Enrico Mercatalli", Pavia, Festival "Nuovi Spazi Musicali" in Ascoli) and abroad (Czech Republic, 
Romania
, 
Croatia
, 
Slovenia
 and 
Zambia
). In 2006, they produced their first album
"Ápeiron" with music composed by York, Duarte, Brouwer, Laurent, Miletic, Rak and Bellinati. In 2010, the quartet took part in making of the CD "Playing Marcos Vinicius", published by Sonitus. Some of their concert recordings have been broadcasted by various radio stations such as Rai 3 (Italy), Radio Belgrade (Serbia) and the Czech National Radio.