SOFIA SOLOISTS CHAMBER ORCHESTRA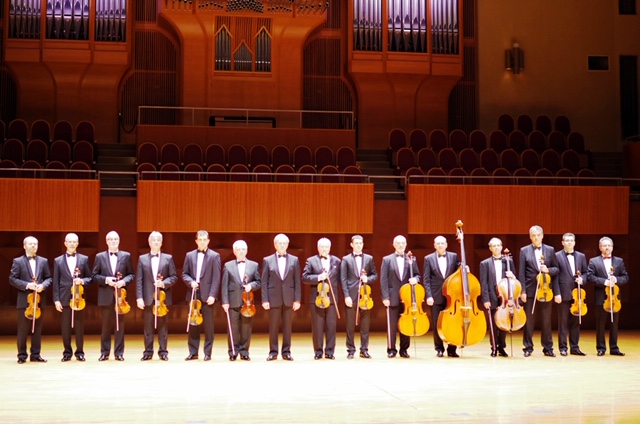 The Sofia Soloists Chamber Orchestra was established in 1962 by a group of young musicians from Sofia Opera in Bulgaria. Their first concert in March 1962, conducted by Michail Angelov, attracted the immediate interest and was warmly welcomed by the Sofia audience. Three conductors have played an important part in the orchestra's development and in the creation of their very special sound: Vassil Kazandjiev (1964-1978),Emil Tabakov (1979-1988), and the current conductor Plamen Djouroff,who has directed the orchestra since 1988. These long musical relationships have been a significant factor in the orchestra's growth.  The Sofia Soloists Chamber Orchestra has performed over 3000 concerts all over the world. They began by delighting audiences at major festivals in Germany and France, and today enjoy great popularity at many other European festivals such as San Sebastian and Santander(Spain),Zagreb and Dubrovnik (Croatia), Città di Castella(Italy),Louvain(Belgium),Bergen(Norway). The ensemble has toured many countries, mainly in Europe, but also the United States which have visited ten times, 13 tours of Japan, 7 of Korea, China, Australia and South America. They have performed in many prestigious venues: New York's Carnegie Hall, London's Royal Albert Hall and the Barbican, the Leipzig Gewandhaus,the Salle GaveauParis, ConcertgebouwAmsterdam, the Sydney Opera House, and Tokyo's Suntory Hall as well as the Osaka Symphony Hall. Among the names of the internationally renowned musicians of the past who have performed with the orchestra are those of Henryk Szeryng, Daniil Shafran, David Walter and Nicanor Zabaleta. In recent times they have worked with Patrick Gallois, Heinz Holliger and Nigel Kennedy.  The orchestra has more than 600 works in its repertoire, ranging from baroque to contemporary music. They have premiered over 100 works, some of them written especially for them. Their discography comprises over 60 CDs published by various renowned labels.
GEORGI PATRIKOV-conductor
Georgi Patrikov was born in 1979 in Sofia, Bulgaria. He received his musical education at the State Music Academy "Pancho Vladigerov", where he studied Choral Conducting with Prof. Krum Maximov and Orchestral Conducting with Prof. Plamen Djouroff and Prof. Vasil Kazandjiev. Patrikov also participated in a lot of conducting masterclasses with eminent musicians such as Prof. Jorma Panula.  Georgi is a laureate of the First International Conducting Competition "Gennady Rozhdestvensky" 2006. He performs as guest conductor with leading orchestras in Bulgaria such as Sofia soloists, the Orchestra of Bulgarian National Radio, Plovdiv Philharmonic, Varna Philharmonic, State Opera Rousse, etc. Patrikov has many records of music from Bulgarian composers for the Bulgarian National Radio. In the period 2008-2010 Georgi was principal conductor of the Philharmonic Orchestras of Shumen and Pleven. Currently he is an assistant professor to the Department of Conducting at the State Music Academy Sofia. STRASHO TEMKOV-flute Strasho Temkov graduated from the Faculty of music in Skopje and earned his Master's degree from the State music academy "Pancho Vladigerov" in Sofia. From 1991 he is principal flutist of the Macedonian philharmonic orchestra performing all the demanding flute solos of the orchestral literature. His ambition for performing takes Temkov to the concert podium both as a soloist with orchestra, a recital soloist and as a member of various chamber formations including the Macedonian wind quintet. He has performed at all major Macedonian festivals, as well as festivals and venues in Serbia, Montenegro, Germany, Croatia and Bulgaria. His solo performances with orchestra take him to the philharmonic orchestra in Vietnam, as well as with the Macedonian philharmonic and other ensembles. He is one of the few Macedonian artists who have stepped on the stage of the prestigious Carnegie Hall in New York. Strasho Temkov works as a professor of flute at the Faculty of music in Skopje and is often invited to be part of juries at international competitions. He is the founder of the flute quartet "Aulos", а member of the Trio "Aura"and has released two CD's with pianist Marija Vrshkova. In 2017 he is awarded the "Golden Lyre" award by the Association of musicians of the Republic of North Macedonia for high achievements in the field of music.
https://www.kupikartizase.com/Events/kameren_orkestar_na-sofiski_solisti