Theatre play "Danton's Death" by Georg Buchner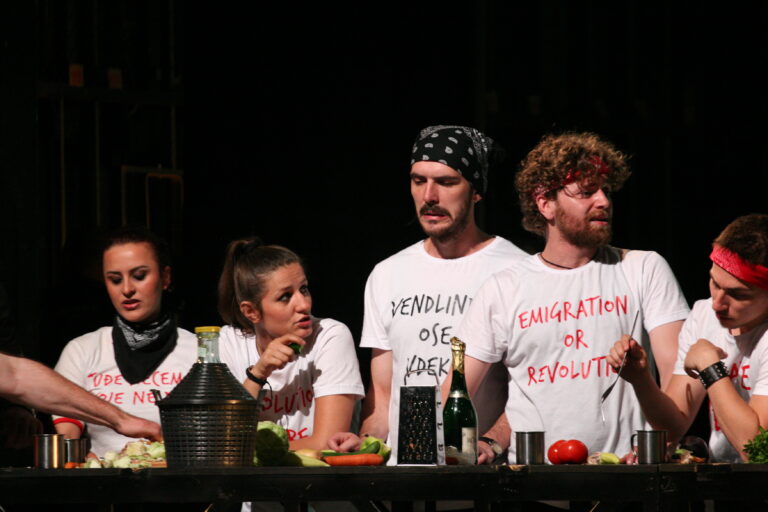 Georg Büchner (1813-1837) wrote his first piece in 1835 in the golden ages of German romanticism, at a mere 22 years of age, and only 2 years before his untimely death. This exact piece was "Danton's death". In abundance of revolutionary ideas, this drama also shows the doubt of the success of revolutionary changes. It ask the question- when does a revolution end. Hence, the drama focuses of the interpersonal relationship of the revolutionaries and the clash between Danton and Robespierre and their views on how the state should be organized after the revolution. Danton is portrayed as a decadent man, hedonistic but his political views are liberal and tolerant. Robespierre on the other hand swears on his decency and his clean conscience while killing everyone with a different opinion- justifying that decency must rule with the help of terror. Because of this existential fatalism, this "revelation" drama of a young 20 year old man makes it incredibly new and unique. "Dante's death" uses numerous documentary facts, it uses real time quotes and in the time it was written it took more than 60 years for it to see the lights on stage. Today this piece is considered to be the early predecessor of documentary theatre. Mainly due to this- it is an opportunity but also a responsibility to make this play relevant for our contemporary life. Weakened by the economic crisis, burdened by social injustice- it is the common lifestyle of the majority of people in the time of neoliberal capitalism which is merciless and leaves our  existence with no way out, the media terror guillotines the unworthy, and there is no radical social change in sight. We ask the question: is revolution at all possible today?
Zeljka Udovicic-Pleshtina
Dino Mustafic is a graduates directing at the Academy of stage arts in Sarajevo, while also reading literature at the Faculty of Philosophy in Sarajevo. His directing engagements have taken him around Europe in Paris, Sofia, Belgrade, Tirana, Ljubljana, Skopje, Prishtina, Podgorica etc. His plays are performed world-wide in many languages and have been awarded numerous prizes at domestic and international theatre festivals. His work on "Helver's night" at the Chamber theatre 55 made history in Bosnia and Hercegovina with 23 international awards. He has directed over 80 titles of classical and contemporary writers. He is a prolific author of documentaries that have been featured at the festivals for documentaries in Montreal, Amsterdam, Istanbul etc. Dramaturg: Zeljka Udovicic- Pleshtina Sets: Dragutin Broz Costumes: Ines Golja
Cast:
Georges Danton: Refet Abazi Robespierre: Luran Ahmeti St Just: G'zim Zherka Camille Desmoulins:Fisnik Zekjiri Legendre / Barere: Muzbajdin Kjamili Lecroix: Osman Ahmeti Philippeaux: Hamdi Rashidi Herault Le Sechelles:  Genci Mirzo Julie: Amernis Jovanovic-Noksici Lucile: Aida Elezi Laflotte: Mentor Kurti Mercier: Ilir Rechi Herman: Sokol Hajrulai Chaumette: Asdren Selimi Fouquier-Tinville:Besfort Idrizi Collot D' Herbua: Berat Mahmuti Ajshe Useini, Arian Ejupi, Faton Ibrahimi, Kujtime Ahmeti, Taulant Destani
Performance suitable for all ages.
https://www.karti.com.mk/etickets/TicketList.aspx?pEventID=2036