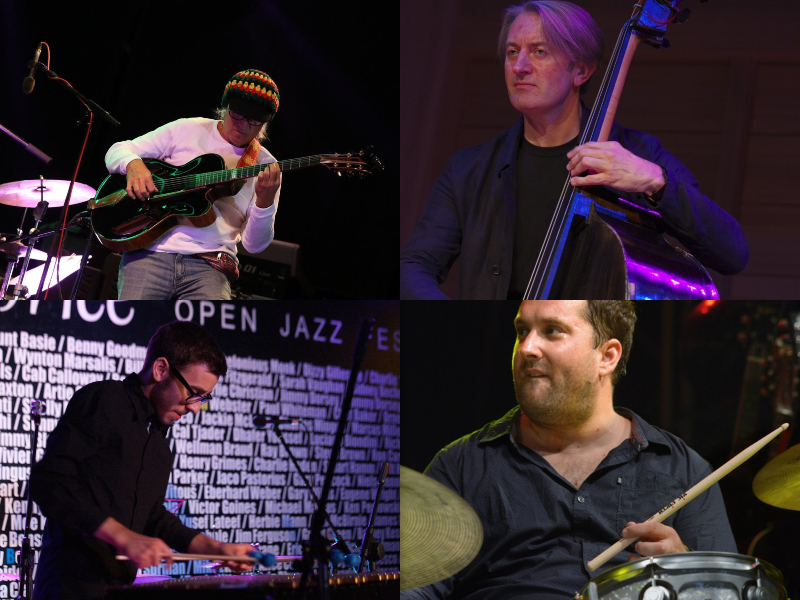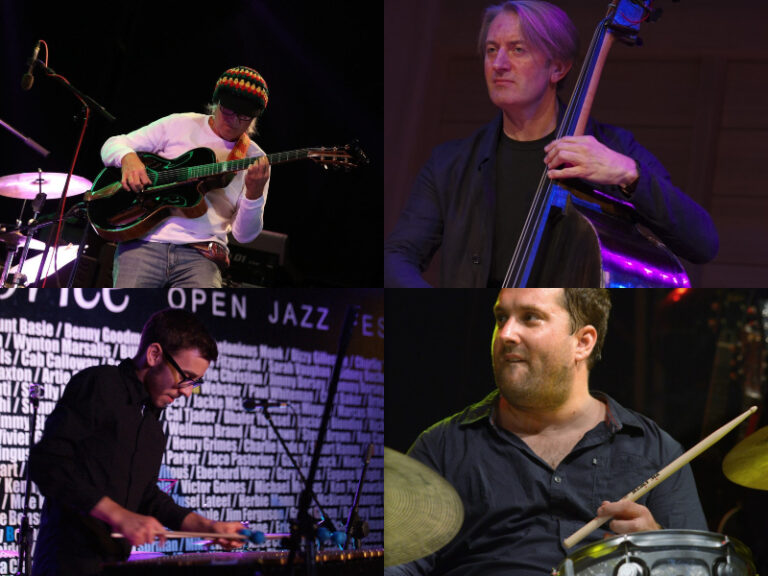 ZZ QUARTET
This group has a unique musical vision that absorbs and reflects all manner of music while retaining an enviable individualism and high-quality craftsmanship that can span from quiet intimacy to searing intensity. Diverse musical backgrounds, which include jazz, modern classical, world music, and free improvisation. They have been working on original compositions as well as crafting beautiful and haunting improvisations. Their music blurs the boundaries between notated music and free improvisation; the unique sonic landscapes that is created is grounded in history, while pushing at the boundaries of modern improvised music.
Ratko Zjaca- guitar
Ratko Zjaca – is an award-winning guitarist, composer and recording artist with many critically acclaimed recordings under his name and he has recorded and performed with some of the most influential musicians in jazz and modern improvisation music. He is an innovative musician, who is widely recognized as a technically advanced guitarist. He is known for being a relentless individualist, which is evident in his improvisational style. Ratko is a highly versatile player covering many areas of music but is best known for his work in the modern jazz and improvisation idiom and released a number of albums as leader and sideman. He has recorded numerous albums with renowned artists from the realm of jazz and world music, and has received the Award for achievement, authorship and artistic creation in jazz music from the Croatian Composer Society in 2019.
Vid Jamnik-percussions
Vid Jamnik was born in Slovenj Gradec, Slovenia in 1993 and is a graduate of  the Carinthian State Conservatory in Klagenfurt, Austria with an Artistic Diploma in Jazz Studies. In 2011/2012, he participated in a five-month Erasmus student exchange at the Jazz Institute in Berlin with professor David Friedman, and in 2014 released his debut album Last Minute! on Alessa Records. In 2018, Vid graduated as a dual-major student of Performance and Jazz Composition at Berklee College of Music in Boston. In the past couple years, he toured Taiwan three times with the Mizform Project, presenting a unique fusion of traditional Taiwanese music and jazz and is heading a pioneering project, Viva Jazz Forma, fusing sounds of outdoor metal sculptures with jazz, techno and electronic music, thus bridging the visual and musical world. Additionally, he is a leader or member of several other groups: Vid Jamnik/Ratko Zjača Duo & Quartet, You've Got That Swing (with Eddie Luis & His Jazz Passengers), Jazz Continuo and others and is a Balter Mallets Artist.
Martin Gjakonovski-acoustic bass
Born in Skopje, Macedonia in a family of jazz musicians he was influenced by his father who was the founder and conductor of the Macedonian Jazz Radio Big Band and his mother a jazz vocalist. Martin started playing classical double-bass at the age of 14, but soon his passion for jazz awoke and resulted with the founding of his first band, Trio Spato. In 1991 he moved to Cologne, Germany studying jazz bass at the Music Academy of Cologne and soon became one of the busiest and most versatile bassists in Germany playing with some of the most renowned musicians and jazz artists of our time.  He continues his career with great collaborations in Germany and abroad and has been featured on more than 150 jazz and world music CD's.
Joze Zdravec- drums
Joze Zdravec studied jazz at the Carinthian State Conservatory in Klagenfurt, Austria and has a very busy and active career performing on various international festivals and collaborating with all significant Slovenian artists.  He has performed in Switzerland, Austria, Croatia, Serbia, Germany etc, and has participated in workshops led by world-renowned musicians and tutors including Gregory Hutchinson, Willie Jones III, Billy Hart, Jimmy Cobb, Gary Bartz, Bob Mintzer, Armen Donelian, Don Menza … Since 2017, Joze teaches drums and rhythm and reading at the jazz department of the Maribor Conservatory of Music and Ballet in Slovenia.