Tonight, the Ohrid Summer Festival organizes a charity concert with the ensembles of folk dances and songs "Tanec" from the Republic of Northern Macedonia and "Lado" from Croatia. The concert will take place at the Ancient Theater starting at 22:00.
As informed by the festival directorate, the funds raised from ticket sales will be donated to the needs of the health system, as a thank you for everything that medics do in dealing with the pandemic caused by KOVID-19.
"Tanec" is the first professional folklore ensemble in the Republic of Northern Macedonia, which was formed in 1949 in order to collect and nurture the Macedonian traditional songs and dances, folk costumes and instruments, and through appropriate artistic expression, to stage and present what which is the most valuable of the rich treasury of the Macedonian people. TANEC, whose name symbolizes the Macedonian folk dance (oro), is an ambassador of the Macedonian folk art and culture wherever he appears – whether on the most remote continents or among his compatriots both abroad and at home. As a conservator of art and a living and moving museum of our cultural heritage. "Tanec" spreads the beauty of Macedonian dances and songs around the world, leaving its mark on the stages in Asia, America, Australia, Africa and everywhere in Europe. During its 72 years of existence, "TANEC" has participated in more than 5,000 concerts and festivals, in front of packed concert halls in: New York, Sydney, Melbourne, Tel Aviv, Rome, Paris, London, Montreal, Toronto, Adelaide, Melbourne. .. The ensemble recognizes neither boundaries nor distances. He feels at home everywhere and his doors are wide open wherever he goes.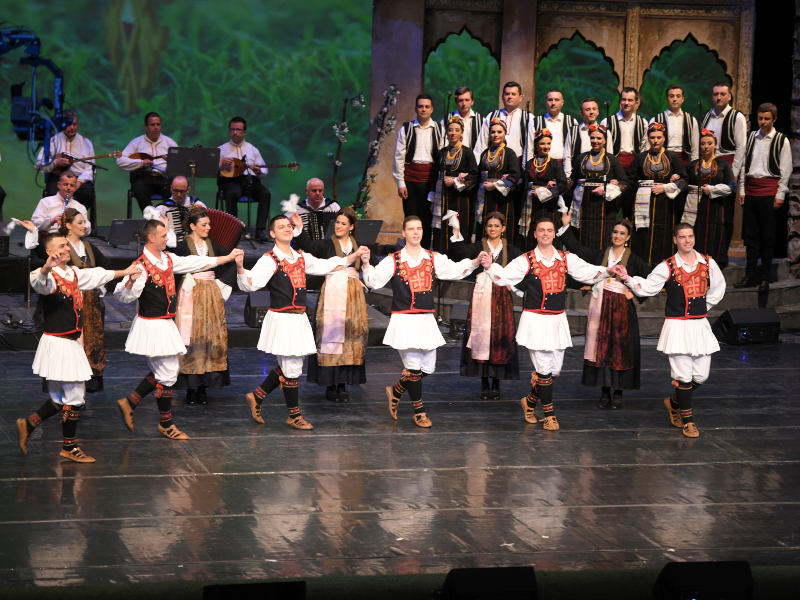 The Croatian Folk Dance and Song Ensemble "LADO" is a national professional folklore ensemble founded in 1949, with the task and goal of researching, collecting, artistically processing and staging the most beautiful examples from the rich Croatian music and dance tradition.
Through its work, "LADO" unites the most famous Croatian ethno-choreologists and choreographers, ethnomusicologists, music arrangers and folklorists, as well as composers and conductors, inspired by folk music. All this results in an impressive choreographic and musical repertoire, with more than a hundred choreographies and hundreds of vocal, instrumental and vocal-instrumental songs, in which the original, authentic folk art is primarily respected.
The group of 38 top dancers, at the same time excellent singers, easily transforms from a dance ensemble into a representative folk choir, and the 14 great musicians play about eighty traditional and classical instruments. The "LADO" ensemble has a unique collection of original folk costumes with exceptional value and beauty, so that every concert performance of the ensemble is also a kind of fashion show of original Croatian traditional clothes.