Young artists, impeccable music and carefully selected repertoire kept the attention of the audience of "Ohrid Summer" last night, through the performance of the string quintet of the Zagreb Philharmonic and the soloist Aleksandar Ivanov in the church "St. Sophia".
The Zagreb Philharmonic Orchestra is a regular guest at the Ohrid Summer Festival, but always performs with different chamber ensembles and always brings new exciting musical experiences to the festival audience.
– That is my goal, to always wear something different as a chamber ensemble and program. The intention is to play something nice for the audience, but also for artists from Croatia and the region to come. This year is also pandemic, the situation is as it is. Two of the members resigned, so fortunately, my friends from the Macedonian Philharmonic complemented their absence, said the famous Macedonian double bass player with an international career Ilin Dime Dimovski, who has been part of the Zagreb Philharmonic Orchestra for more than a decade.
The first cello in the Macedonian Philharmonic Orchestra Paskal Krapovski, who comes from a family with a long musical tradition, said that he feels the Ohrid Summer Festival as his second home.
-As far as I know, I am tied to the "Ohrid Summer", through my father, through the Macedonian Philharmonic in the past and today, as part of chamber ensembles, so the festival is my second home. We started the evening with a work by our composer Damjan Temkov "Adagio for Ana", then we continued with "Romanian dances" on bartok with soloist Aleksandar Ivanov and the second part of the concert was dedicated to Dvorak with "String Quintet G-dur no. .18 / 77, a beautiful, "grandiose music and above all for us as performers very challenging in all aspects," said Krapovski.
Last night, not only the audience enjoyed, but also the Croatian violinist Dunja Bontek who was part of the chamber ensemble that performed at the "Ohrid Summer".

– I am in Macedonia for the first time, and this is a wonderful experience for me, the city, the people, the food, the colleagues. We had intense rehearsals for three days. I enjoyed everything, said Bontek.
And for the first violin in the Macedonian Philharmonic, Vladimir Kostov, the performance of "Ohrid Summer" is always a new experience, a new impetus.
– "Ohrid Summer" for every artist is a very important part of his career. I have performed at the festival for about 15 years, as a soloist, but also within the Macedonian Philharmonic and various chamber ensembles. "Every playing here is a growing incentive and inspiration for further building our career," said Kostov.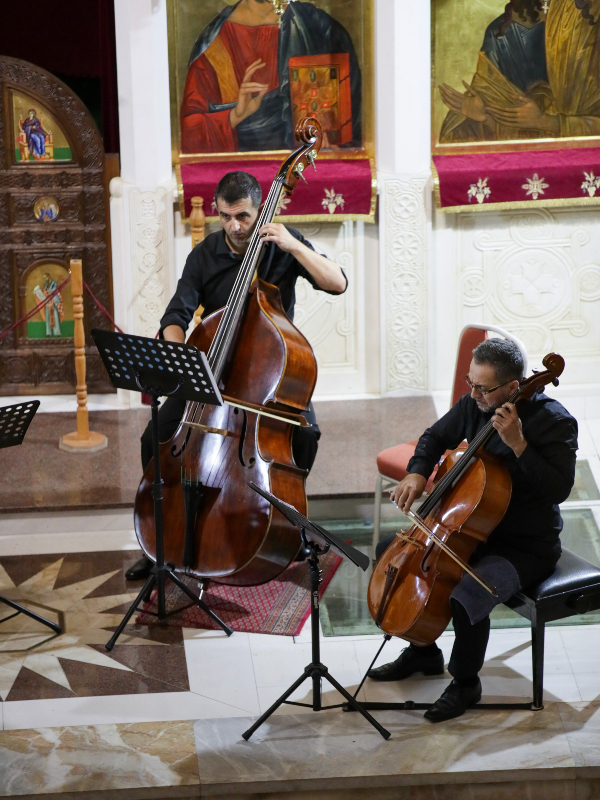 Last year, at the height of the pandemic when musicians were prevented from performing, a group of Zagreb Philharmonic members, following all measures and protocols, gathered and held rehearsals to prevent the music from stopping.