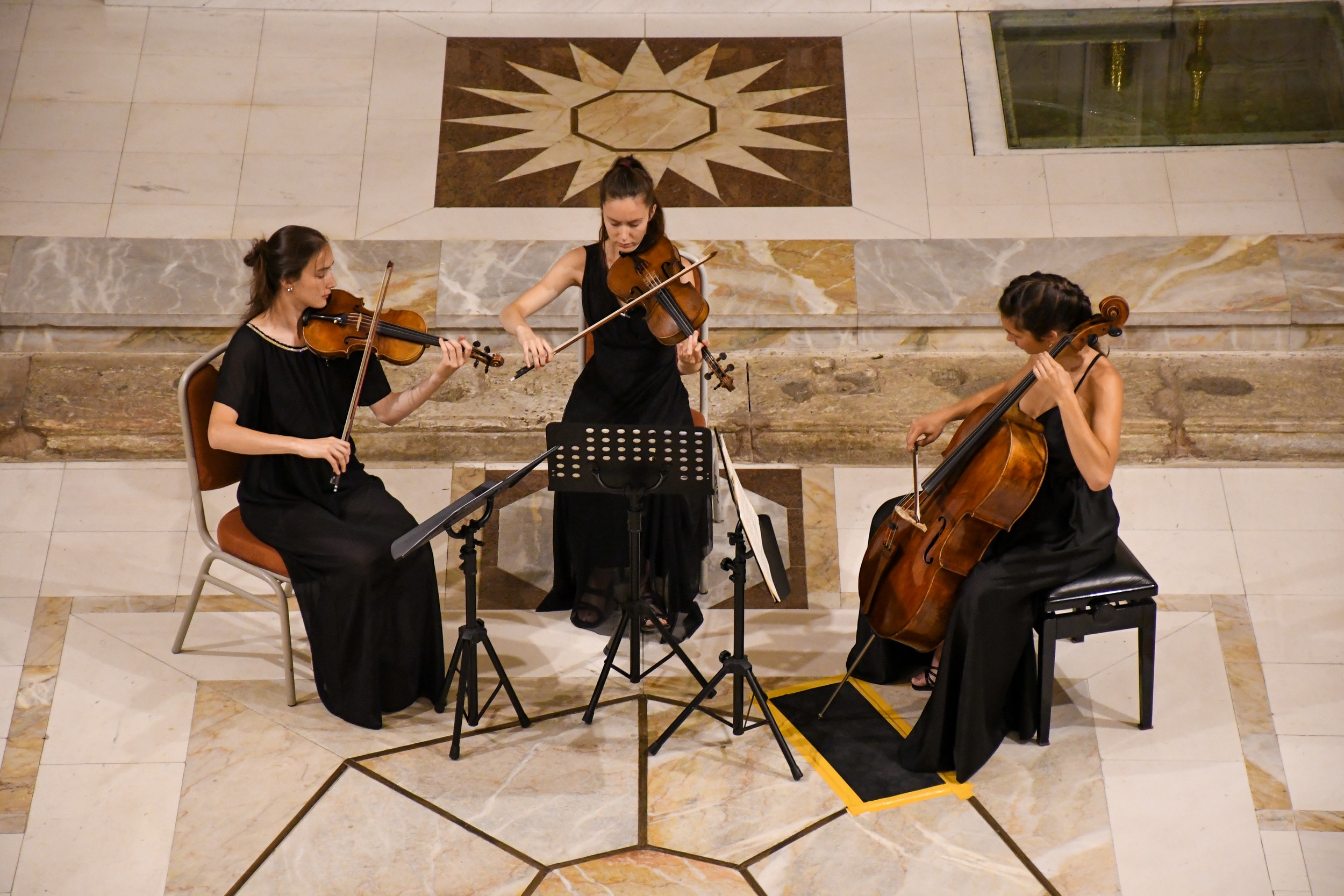 Yesterday evening the trio "Sypniewski" from Poland brought a real music experience, performing at the traditional polish evening.
The "Sypniewski" trio was founded in 2016 by the three sisters Caroline, Magdalena and Anna, grown up in a family of Polish origins, where music had had a special place. Their repertoire included Serenade op. 10 in C major by Dohnányi, Intermezzo for String trio by Kodály and Serenade for string trio op. 8 by Beethoven.
– The concert went really well, the audience and the atmosphere were amazing. We were honoured to perform here, in this city, by the lake. We felt the acoustics while playing, everything was amazing. We are very happy to play together because, as sisters, we are very close and understand each other. Sometimes we don't agree on certain things, but of course, it happens rarely, we make a balance between the private and professional life, – say the three young artists who were awarded with loud ovations and encores by the audience.
The Honorary Consul of Poland in Ohrid, Mr Kosta Kostovski, pointed out that each year within the traditional Polish evening many eminent artists perform at Ohrid Summer Festival.
The participation of the best Polish artists is thanks to Ohrid Summer Festival supported by professionals, and we, as an Honorary Consulate in Ohrid are always there to provide support. We hope we will continue to enjoy with the best Polish artists, and we will have the opportunity to open the Ohrid Summer Festival, – stated the Honorary Consul, Kostovski.The artists from the "Sypniewski" trio studied with renowned musicians like François Salque at the Conservatoire de Paris, the Quatuor Modigliani, the Diotima quartet, Krzysztof Chorzelski, and Günter Pichler thanks to the Proquartet masterclasses. They were selected to take part in the Académie Ravel of Saint-Jean de Luz, where they have received several awards.