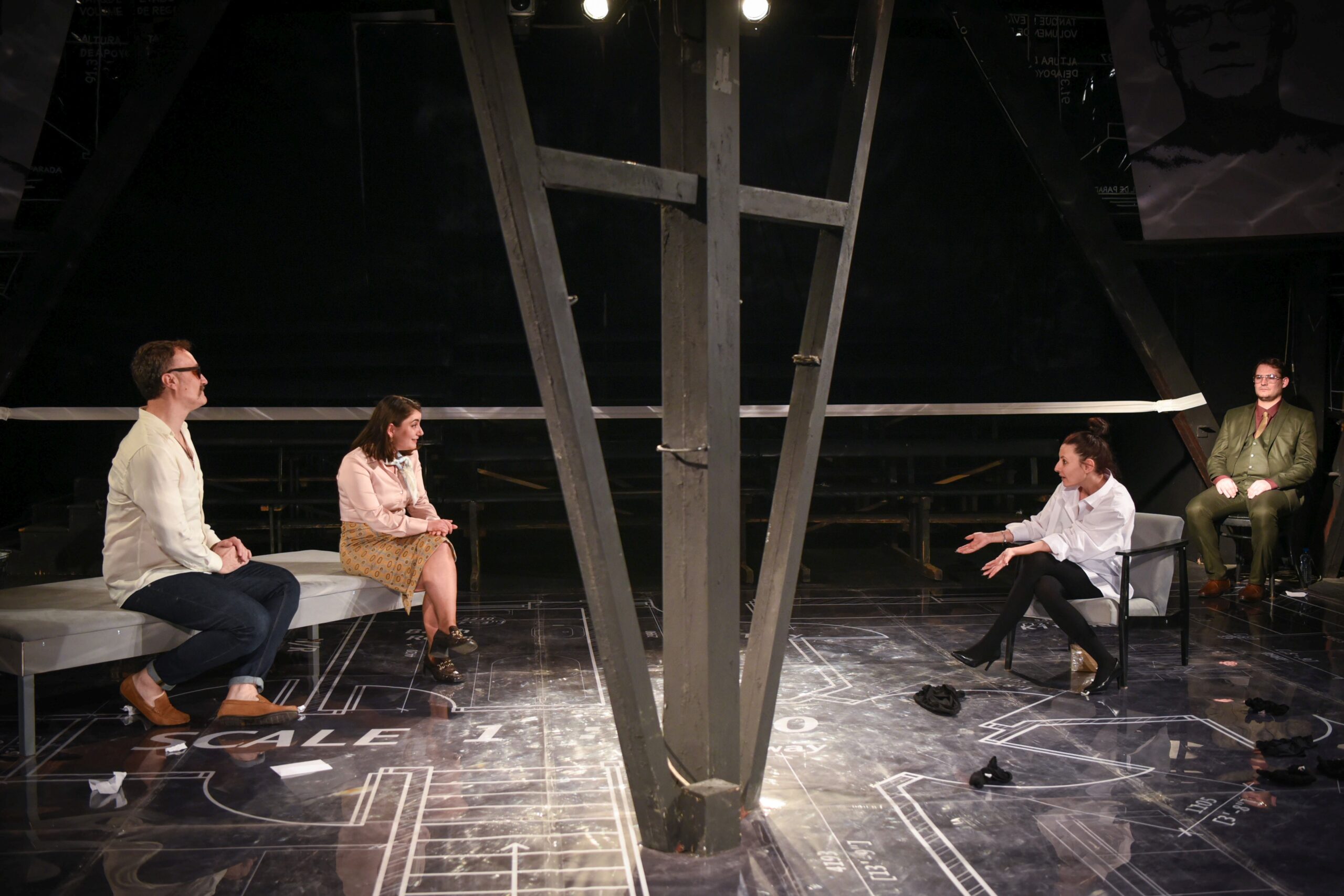 The drama programme at the Ohrid Summer Festival proceeds tonight with the theatre play "Demons" by Lars Noren, directed by Vasil Hristov, performed by the Bitola National Theatre.
The play is to take place at the Centre of Culture "Grigor Prlichev" at 9 p.m. and is suitable for all audience ages.
The cast list includes Ilina Chorevska, Ognen Drangovski, Marija Stefanovska and Zdravko Stojmirov. The scenography was done by Valentin Svetozarev, the costumes were designed by Andrej Gjorgievski.
Lars Noren wrote "Demons" in 1982 and it is a black comedy that combines humour with strong emotional/psychological impact in the search of new forms of expression. The dialogue insists on a crazy rhythm and builds an exciting musicality. Witty and cruel at the same time- "Demons" is a drama about the human virtues and flaws, about love and hate.
The story follows two married couples that live in the same building, in apartments on top of each other. It is a story about their daily encounters, the intertwining of their life stories, their secrets, doubts that bring to the surface their inner demons.
Lars Noren, Sweden's greatest author following August Strindberg has his work staged for the first time on the Macedonian stage by Vasil Hristov at the National theatre in Bitola.
Vasil Hristov is a freelance theatre, film, and television director with more than 30 years professional experience. Born in Skopje, he completes the studies in theatre and radio directing at the Faculty of Drama in Belgrade and continues to earn his master's degree in film and television at the University in Amsterdam. He specializes film directing at the "Maurits Binger" Film Institute in the Netherlands. In his career to date he has directed "Marat/Sade" by Peter Weiss, his own dramatization of "Tempered opera", "Look back in anger" by John Osborne, "Birthday" by Harold Pinter, "Days of our life" by Leonid Andreev (all for the Macedonian National Theatre), "King Ubu" after Alfred Jarry and Shakespeare at the Drama theatre -Skopje, for the Turkish drama theatre he has directed "Spring awakening" by Frank Wedekind, "Three Sisters" by Chekhov, "Tattoeed souls" by Goran Stefanovski. In the SKC Belgrade he has directed "Viktor or children in power" by Rozhe Vitrak, Bukowski's "Most beautiful girl in the world" and many more. He is one of the founders of the independent theatre company "Wonderland theatre" in Skopje for which he directs "Death and the maiden" by Ariel Dorfman and "Class Enemy" by Nigel Williams.
Vasil is the director of the feature film "Hey" as well as several short films, documentaries, commercials, and TV series. For the short film "Letter" he has won the award for best director at the "Manaki Brothers" Festival and the silver Remi prize for best film at the Worldfest in Houston. His short film "Judge" was awarded the best director prize at the Science and Technology Film Festival in Toronto. He has written several screenplays and has also been a lecturer at the SAE Institute Amsterdam and NHL Leeuwarden