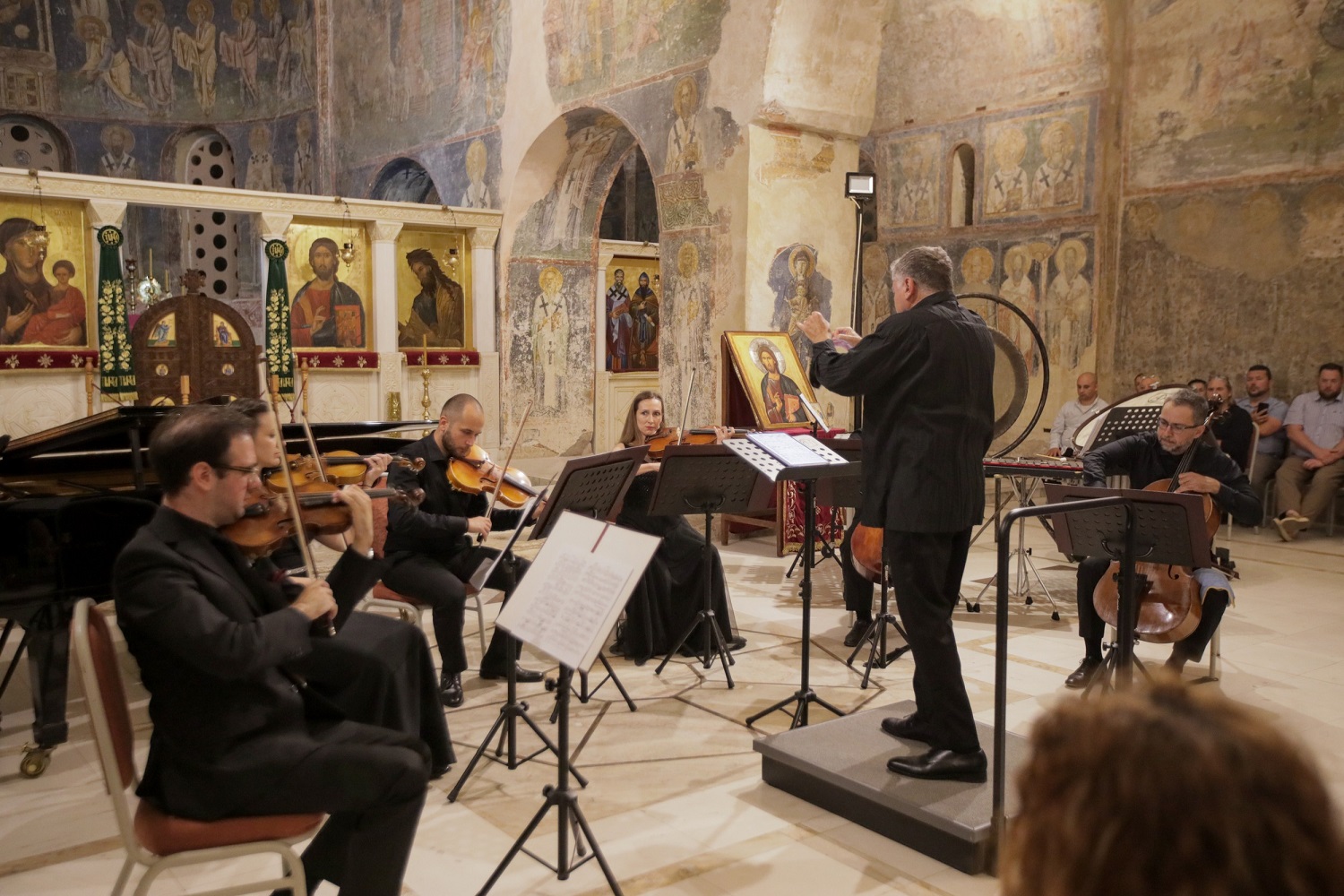 The audience of the Ohrid Summer Festival yesterday evening in the St Sophia Church had the opportunity to enjoy classical music from contemporary composers through the amazing performance of the New Breath chamber ensemble under the baton of the French conductor Pascal Gallois.
Chamber ensemble New Breath is consisted of artists from the Macedonian Philharmonic Orchestra.
There aren't many groups in the Republic of North Macedonia that are deeply dedicated to classic music composed by the recent generation of composers. This is where, according to the cellist Paskal Krapovski, we came up with the idea for starting a new ensemble for contemporary music under the leadership of maestro Gallois, which can help us establish on the European scene of modern chamber ensembles. We are open for all kinds of dedication to classical music, no matter the period it dates from, late 20th or 21st century. Of course, we also play Beethoven and Brahms, but we also leave room to express ourselves where possible. We cannot deprive Beethoven from the Germans, because he's their composer, but we can express ourselves through contemporary music, which includes Macedonian composers from younger or latest generation of renowned composers, says Krapovski.
The French conductor Pascal Gallois, who nourishes great enthusiasm towards newer music, is actively working as a conductor with many ensembles and orchestras worldwide.
– It was an honour to share with the Festival audience the outstanding composers like Schoenberg and Webern. This project included a piece by Valentina Trajanovska, which served as a bridge of its kind between the two schools of contemporary music of the 20th and 21st century. These bridges are very significant because the 19th century was marked by the Romanticism and Schoenberg is listed as the last Pomanticism composer. We are proud of the project and eager to share it with Europe, says maestro Gallois.
At the concert yesterday evening they played the piece "Omen" for solo soprano, clarinet, violin, cello and percussion by Valentina Velkovska – Trajanovska. It featured the Macedonian soprano Gonce Bogomirova-Krapovski.
– It is an honour, pleasure and privilege to be part of the podium in St Sophia and Ohrid Summer Festival together with maestro Gallois and the musicians from the Macedonian Philharmonic Orchestra. This is my first solo performance at Ohrid Summer Festival, pointed out Bogomirova – Krapovski.The Macedonian Philharmonic Orchestra, the oldest and only symphonic orchestra in North Macedonia has been the pillar of the Macedonian music scene for almost eight decades. It's known for its constant quality growth, wide repertoire from world classical music scene as well as world premieres of contemporary authors' pieces, proudly putting to life works by Macedonian composers. With the rejuvenating of the orchestra during the past decade, the Macedonian Philharmonic Orchestra is bursting with enthusiasm, giving space for conception of new chamber ensembles and formations, as well as for re-establishing of the year-long renowned chamber ensembles.