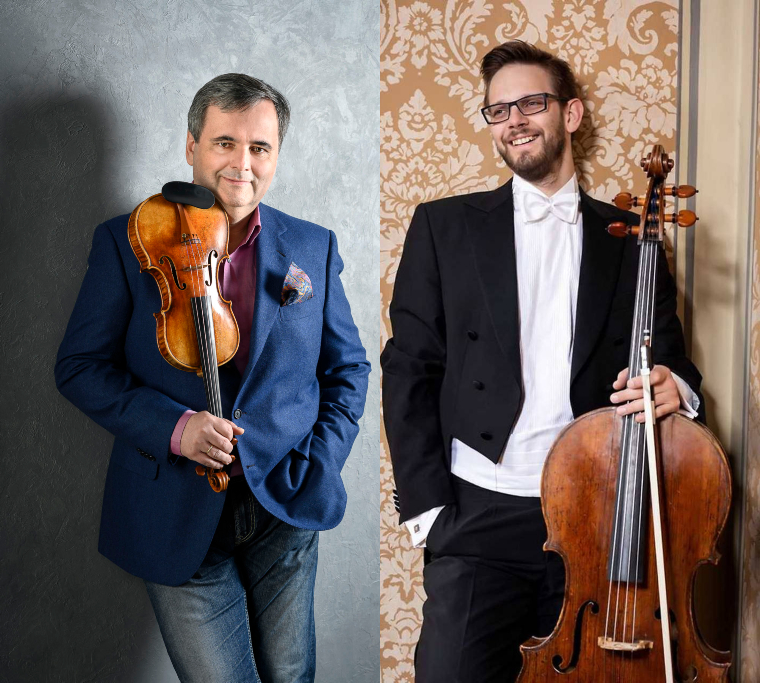 The traditional EU evening within the Ohrid Summer Festival this year brings a concert of Duo di Prague from the Czech Republic. The concert will take place tonight in the St Sophia church at 9 p.m.
The duo is made of the violinist Leoš Čepický and the cellist Ivan Vokáč.
Leoš Čepický studied violin at the Academy of Performing Arts in Prague with prof. Jiří Novák and chamber music with prof. Antonín Kohout, and during his studies he became the leader of the renowned Wihan Quartet, of which he is still a member. He has participated in both solo and quartet competitions and is a winner of several competitions in The Czech Republic as well as in Zagreb and Italy. He has also participated in performance courses with Prof. Igor Bezrodny in Weimar, Germany, and frequently performs both in solo recitals and in concerts with orchestras at home and abroad (Zagreb Philharmonic, Košice Philharmonic, Chamber Philharmonic Pardubice, Hradec Králové Philharmonic, Virtuosi Pragensis, etc.). In 2000, on the 250th anniversary of J.S. Bach's death, he performed a complete performance of Sonatas and Partitas for solo violin at the Smetana Litomyšl Festival.With the Wihan Quartet he won first prize at the Prague Spring Festival in 1988 and first prize and audience prize at the International String Quartet Competition in London in 1991. This was followed by numerous European tours to classical chamber music countries, as well as to Singapore, Jordan, Australia, New Zealand, Japan and the USA. With the quartet, Leoš Čepický has recorded numerous CD's including all 16 quartets of L. van Beethoven. In 2002 Leoš Čepický recorded a solo CD with Sonatas and Partitas for violin by J.S. Bach. Since 2007 he has been teaching violin at the Academy of Performing Arts in Prague and in September 2010, he was appointed head of the HAMU String Department.
Ivan Vokáč (1987) is one of the most distinctive Czech cellists of the present generation. He studied at the Prague Conservatory and the Academy of Performing Arts in Prague with Professor Miroslav Petráš. His many successes in international competitions include wins in Liezen (Austria, 2002), Dotzauer Competition in Dresden (Germany, 2005), Bohuslav Martinů Competition in Prague (2008) and Leoš Janáček Competition in Brno (Czech Republic, 2013). He regularly performs with top Czech orchestras (Czech Philharmonic, Brno Philharmonic, PKF – Prague Philharmonia, Plzeň Philharmonic Orchestra) and has played with conductors such as Jiří Bělohlávek, Petr Altrichter and Petr Popelkal.Since a very young age, he has been a keen chamber musician, also celebrating many competition victories in this field (he was twice winner of the Johannes Brahms International Competition in Pörtschach, Austria) . In 2011, he co-founded the Lobkowicz Trio with pianist Lukáš Klánský and violinist Jan Mráček and received the prestigious Czech Chamber Music Society Award with them in 2018. As a chamber musician, he collaborates with many exceptional players (Daniel Hope, Paul Neubauer, Josephine Knight, Václav Hudeček, Ivo Kahánek and Petr Nouzovský). He is valued for his wide artistic range and is also a member of two rather unusual ensembles, the Cello Republic and the Escualo Quintet (in which he plays the piano).He has appeared at numerous festivals in the Czech Republic (Prague Spring, Dvořák Prague) and abroad such as the Festival l'Eté Musical Bergerac in France, Music Home Alive Festival in the Netherlands). He has been the associate cello concertmaster of the Czech Philharmonic since 2017, and admits to a great passion for jazz.