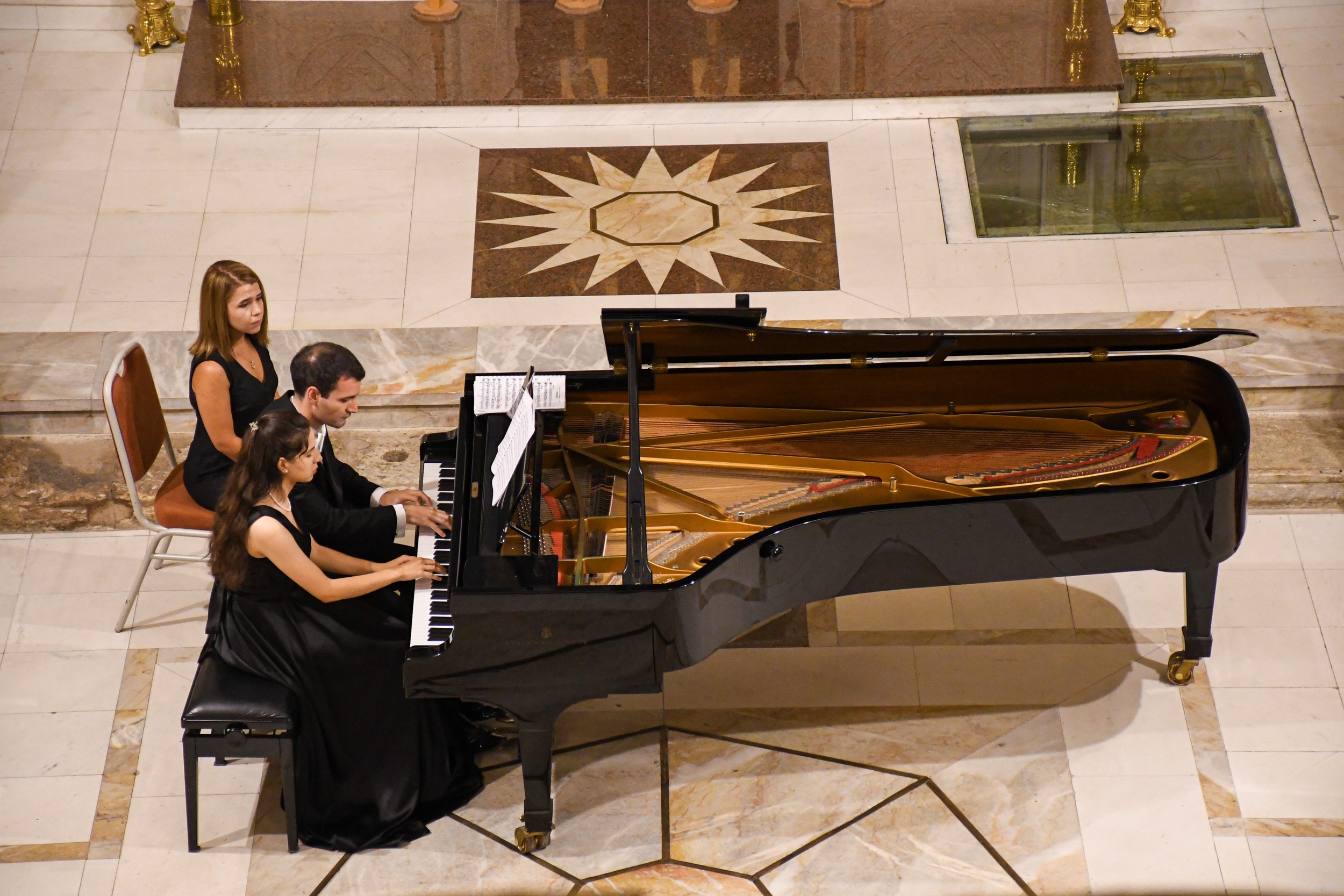 The pianist of topmost professional performances and outstanding individuality, Kristijan Karovski, yesterday evening enriched the repertoire of the 62nd Ohrid Summer Festival together with his colleague and student, Mimi Ducheva.
Both artists on four-hand piano showed their extraordinary talent performing the Schubert's "Fantasy in F minor), the "Six Pieces" by Sergey Rachmaninov and "La Waltz" by Moris Ravel. Besides the perfect sound coming from the compositions for four-hand piano, the evening under the arches of St Sophia was filled with the ovations by the audiences as a rewards for both pianists giving an amazing music experience.
Both Karovski and Ducheva have their solo careers, but they devotedly collaborate performing chamber music, sometimes for four-hand or eight-hand piano.
– Our work was full of enthusiasm, youth, joy and enjoyment, but also a lot of effort. I have once treated Mimi as a student, but she is an especially gifted person and thet is why I chose her to perform together, because our playing is equal in quality. We presented part of our repertoire suitable for the Festival. The whole organization of the concert was amazing. Many thanks to the director Natasha Popovikj, the selector Bisera Chadlovska and the whole team of Ohrid Summer Festival, said the pianist Karovski.
The young, but very talented artist Mimi Ducheva, who is a student at the Faculty of Music in the class of professor Karovski, had her first performance with her mentor at the festival DAM in Kosovo, and this year have several upcoming performances together.
– We went really well at the concert, the organization was amazing. It is an honour to be part of such a renowned and year-lasting festival. It is a huge honour and pleasure to play with professor Kristijan Karovski, said the young pianist Ducheva.In the long pedagogy career, Karovski has affirmed himself as an outstanding piano teacher. His students show great results at national and international competitions and perform at solo concerts and together with the Philharmonic orchestra of the Republic of North Macedonia.