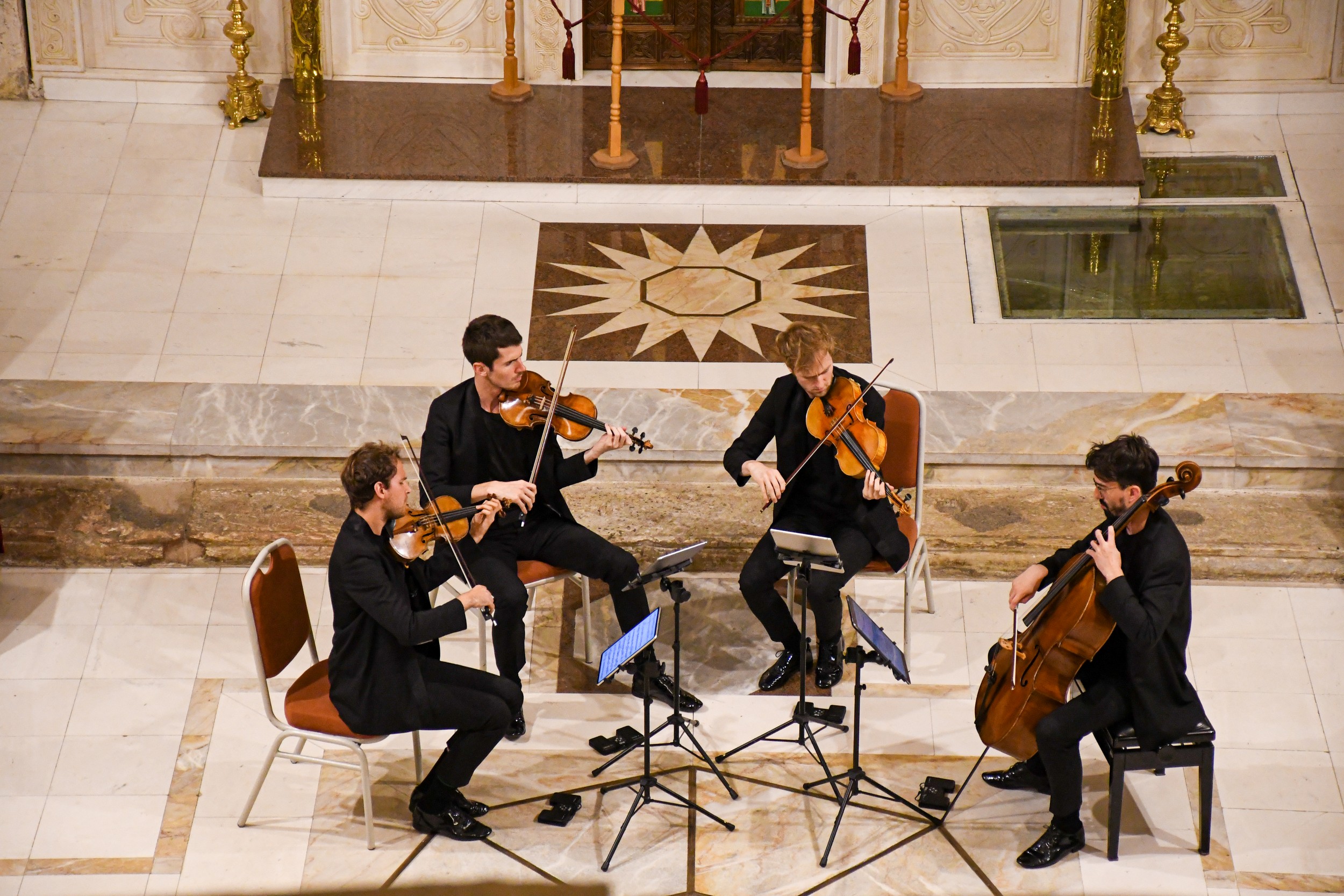 At the traditional French Evening on Ohrid Summer Festival, yesterday evening performed the young musicians from the string quartet "Agate" from France, playing at the St Sophia church.
Similar to the previously held Italian evening, on this French evening, the Ambassadors of France and Italy in North Macedonia, Cyrille Baumgartner and Andrea Silvestri, addressed the audience.
Ambassador Silvestri pointed out that France and Italy are two sister nations which share the same Latin heritage, languages with similar phonetics, deep historical connections and interwoven cultures throughout the centuries.
– In this precious temple of Byzantine art, as the St Sophia Church, I always get fascinated by the interconnections and influences feeding our two cultures throughout the centuries, in so many areas like art, music, film, theatre, literature… Numerous artists from both sides got inspired from one another, like: Caravaggio (1571-1610), that brilliant painter with frivolous life, was such a source of inspiration for Georges de la Tour (1593-1652), the great painter from the Lorraine region in France, that he was often called the French Caravaggio, to which André Malraux said: "Caravaggio and La Tour are intimately connected with their genius", said in his address the Ambassador of Italy in our country, Andrea Silvestri.
The French Ambassador Cyrille Baumgartner added that the French – Italian relationship has always been nice, subtle and complex.
-Thanks to that relationship, some misunderstandings have been easily overcome; these two Latin sisters, or Latin cousins as General De Gaulle loved to say, have always known the way of mutual understanding; something that in many perspectives can serve as an example, I am convinced, said the Ambassador Baumgartner.
The outstanding quartet "Agate" is consisted of the violinists Adrien Jurkovic and Thomas Descamps, the viola player Raphael Pagnon and the cellist Simon Iachemet. They all share the same passion for Berlin where they found a fruitful environment to stimulate their creativity.
The young brilliant musicians are in North Macedonia for the first time, and have the same enthusiasm, various experiences and performances, from chamber music to big philharmonic ensembles.