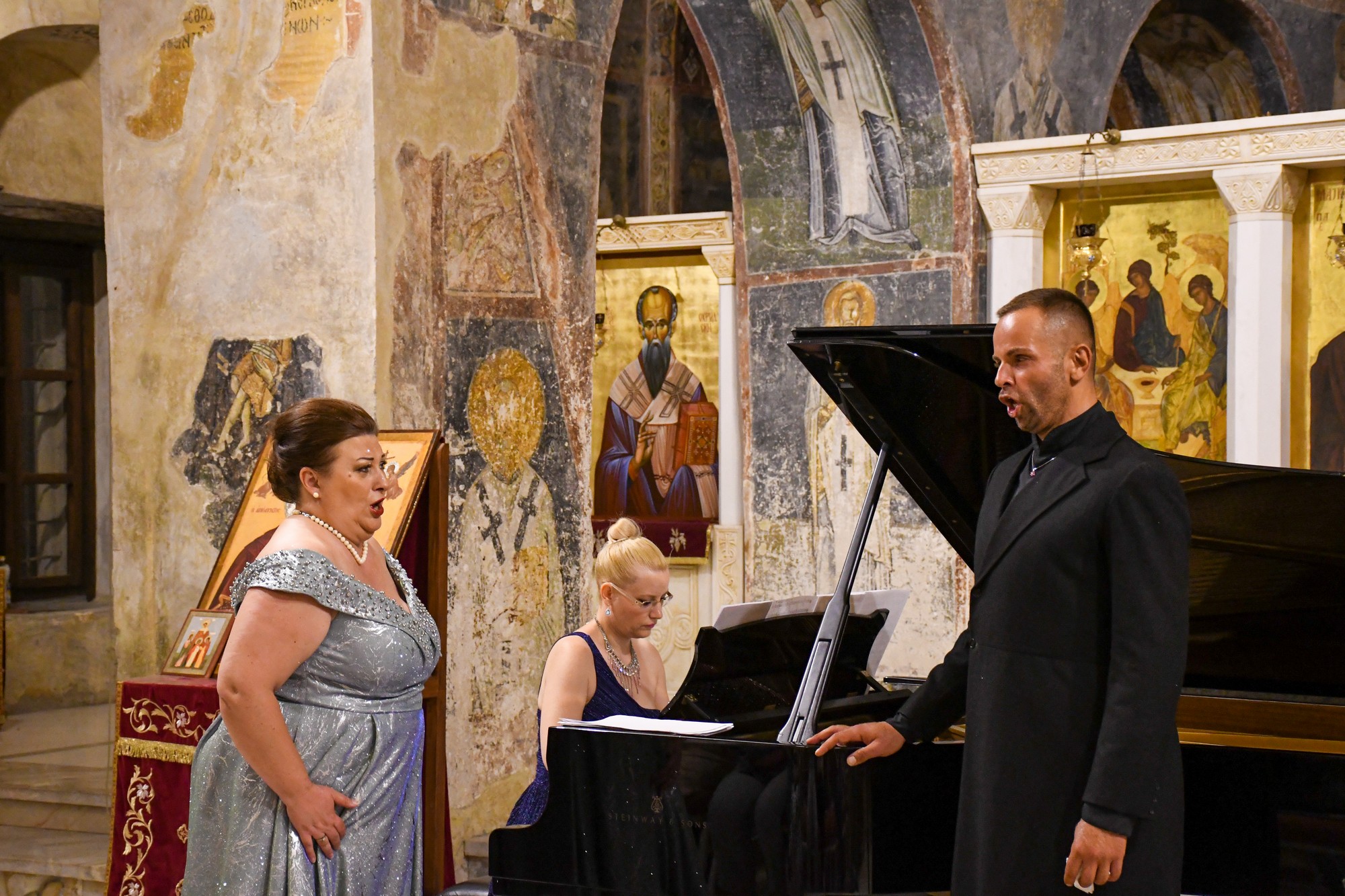 In the amazing and acoustic ambience of the St Sophia church, yesterday evening the voices of the famous opera singer Vesna Gjinovska – Ilkova and the tenor Gjorgji Cuckovski echoed in accompaniment of one of the most talented young Macedonian pianists, Kristina Svetieva.
Both outstanding opera singers with a marvellous emotional interpretation performed pieces by German, Italian, Frensh and Russian composers.
– It is about a universal programme we performed at the concert together with Kristina. Besides the scorching heat in Skopje, we managed to make it to the best in the past month and a half, and I hope the audience enjoyed. Gjorgji is an amazing colleague we have collaborated on many performances, many premieres, and this time I invited him because I consider that after the time of the pandemics, when we didn't have performances this is the chance to perform at the Festival together. We have collaborated in the theatre together, as soloists, said the opera diva Vesna Gjinovska – Ilkova who, after seven years is on the stage of Ohrid Summer Festival again with ther pianis Kristina Svetieva.
The extraordinary Macedonian tenor Gjorgji Cuckovski performed a solo piece by Rachmaninov, an opera aria, and with Gjinovska – Ilkova sang a duet from "Cavaleria Rusticana", a play of mutial pleasure and often performed together.
– I am especially honoured that I am a special guest star of our biggest opera singer Vesna Gjinovska – Ilkova. We have been colleagues for over 15 years, we have had many premieres in the Macedonia Opera and Ballet, many international guest performances and I am utterly honoured to perform together for the audience of Ohrid Summer Festival, said the tenor Cuckovski who three years ago was a guest to the world known Inva Mula.
The music programme of Ohrid Summer Festival continues tomorrom evening with the concert of the Czech trip "Incendio".