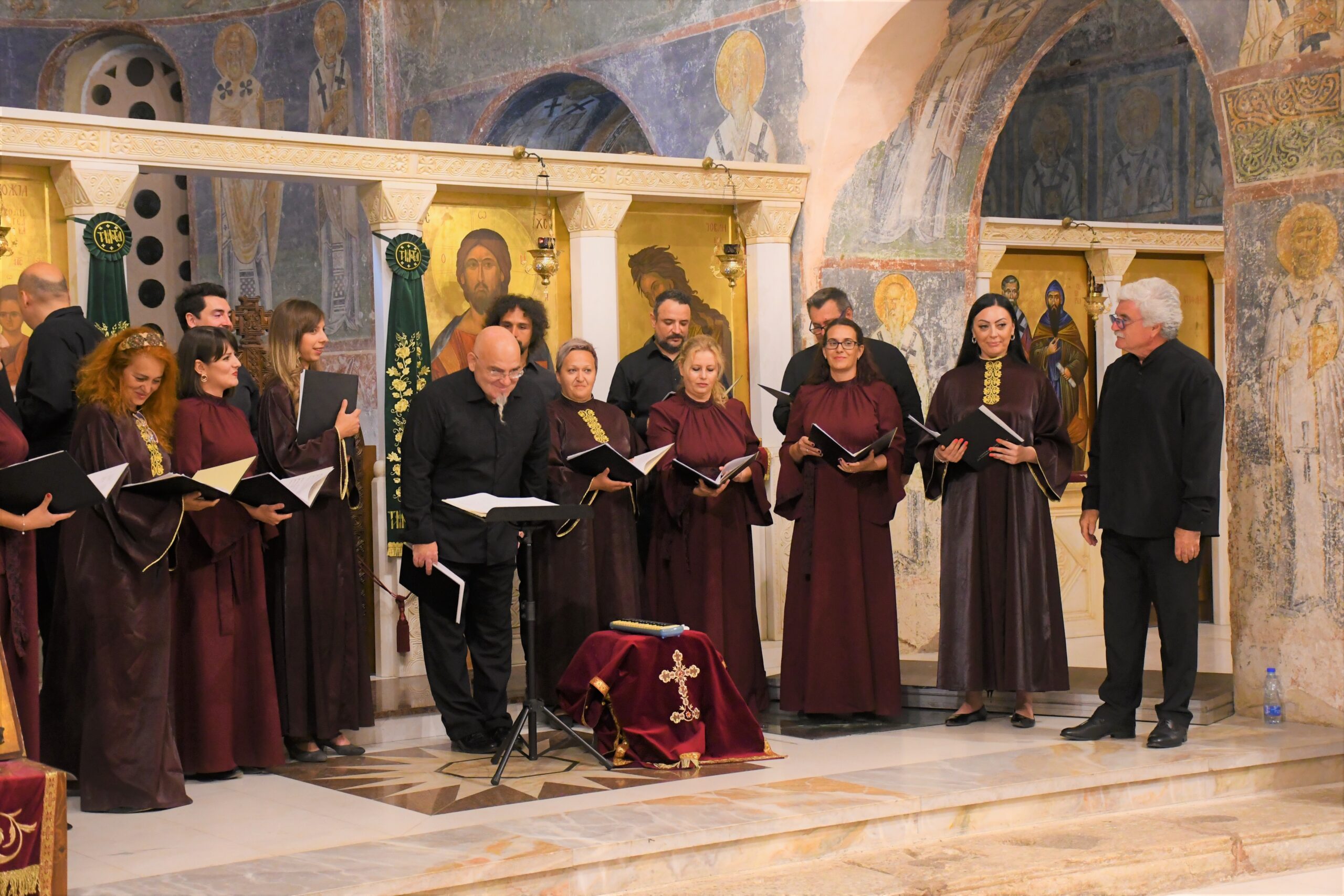 On the occasion of the big Orthodox holiday St Clement of Ohrid and St Pantheleimon, the Chamber mixed choir "St Kliment Ohridski" from the "St Kliment Ohridski" church in Skopje had their concert yesterday evening, performing spiritual music in the marvelous ambience of the St Sophia church.
This vocal ensemble, which basic activities include meeting the needs of the Macedonian Orthodox Church – Archbishopy of Ohrid, performed under the baton of maestro Panche Josifov, and soloists were the soprano Biljana Josifov, the alt Lidija Pshenko, the tenor Dejan Stoev and the bass-baritone Neven Siljanovski.
Ohrid Summer Festival, one of the most renowned events of international character, is a challenge for many national and international artists. It's a festival which always confirms its high professional criteria, with prominent participants and serious programmes. My multiple participation, as a choir performer and choir conductor, has always offered the most authoritative programmes. It is a great honour for me as a choir conductor and my amazing colleagues from the Chamber mixed choir "St Kliment Ohridski" of the Macedonian Orthodox Church, to perform tonight, for the sixth-in-a-row time, traditionally, in the Eve of the Patron of the big Orthodox holiday, especially, in the year of the independence of our Ohrid Patriarchy. We are especially inspired for the concert is to take place in St Sophia, the temple of glorious art, which, with its acoustic embraces, caresses and motivates artists, leaving permanent trace upon its endless phonetics, said maestro Panche Josifov, founder, art director and conductor of this ensemble.
The choir members, professional vocal artists, soloists, vocal pedagogists and choir artists, performed pieces by the most eminent Capella literature composers as Kiril Makedonski, Stevan Mokranjac, Arhangelski, Atanas Badev, Tomislav Zografski, Lvov, Rachmaninof, Bortanjski. As well as Sviridov.The mixed chamber choir "St. Clement of Ohrid" was established in 1992 under the auspices of the Cathedral of the Archbishopric Church of St. Clement of Ohrid in Skopje. The choir regularly performs the first Macedonian orthodox liturgy "Liturgy of St. John Chrystosom" by Atanas Badev. So far it has had 1500 Sunday liturgies, 500 special celebration liturgies as well as 18 evening concerts. The choir regularly performs in Macedonia as well as internationally.