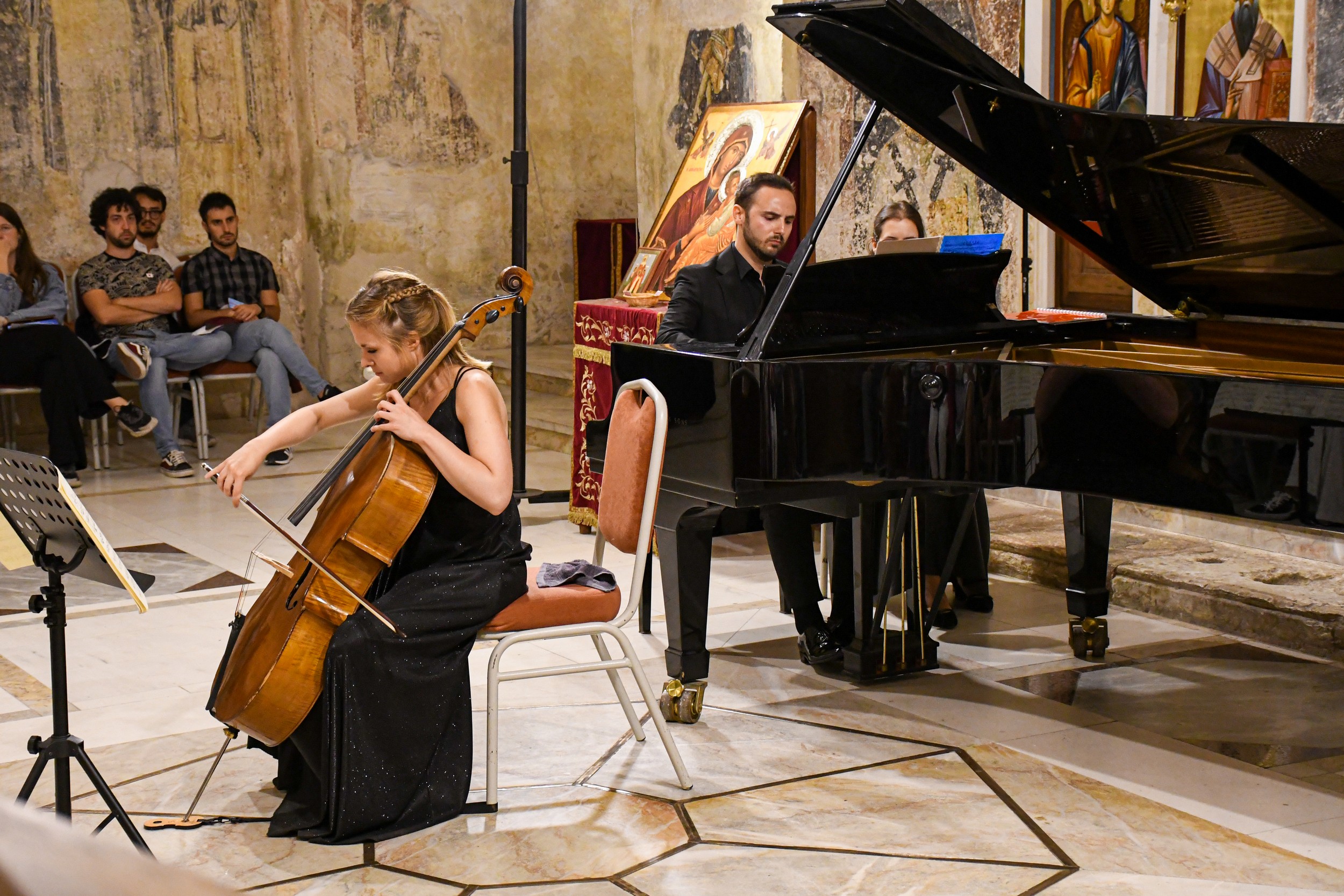 Yesterday evening the young artists from Serbia, the cellist Irena Josifoska and the pianist Aleksandar Dzermanovic performed with spiritual nobleness and prominent virtuosity at Ohrid Summer Festival.
The audience enjoyed the maestral performance of the Sonata in C major for cello and piano by Beethoven, in the fantastic pieces by Robert Schuman, in the Sonata for cello and piano by Sergey Rachmaninof, as well as the composition "Le grand Tango" by Astor Piazzola.
The podium in the St Sophia church radiated with music glory emerging from the two young artists with refined mastership in their instruments. Irena Josivoska is one of the most promising cellists in her generation. She has won many prizes in numerous national and international competitions.
-This is my first performance in Macedonia and it is strange because I have performed all around the world, Eurpe, the USA, and I have Macedonian roots. I have followed the Ohrid Summer Festival since a young age. Coming to Ohrid on holidays, I have had opportunities to attend concerts by my idols indeed the honour is great to perform on the concert podium where they once played, said the young cellist Josifoska.
The young professor and piano virtuoso, Aleksandar Dzermanovic, is a professor at the Academy of Arts in Novi Sad. He has won numerous awards for piano and chamber music.
– I have known Aleksandar since we were both very young, but we don't perform together often. So far we have had only three concerts, all of them on the Balkan. Every time I am to perform here, I immediately think of him, added Josifoska, whose next performance is in Poland at a festival.
The classical music repertoire at the 62nd Ohrid Summer Festival continues tomorrow evening with the Music time-machine with the Serbian artists Andrija Minchic on clarinet and Tadija Minchic on bassoon, in collaboration with the pianist Nikola Cvetkovic.