BENSMAN SAXOPHONE QUARTET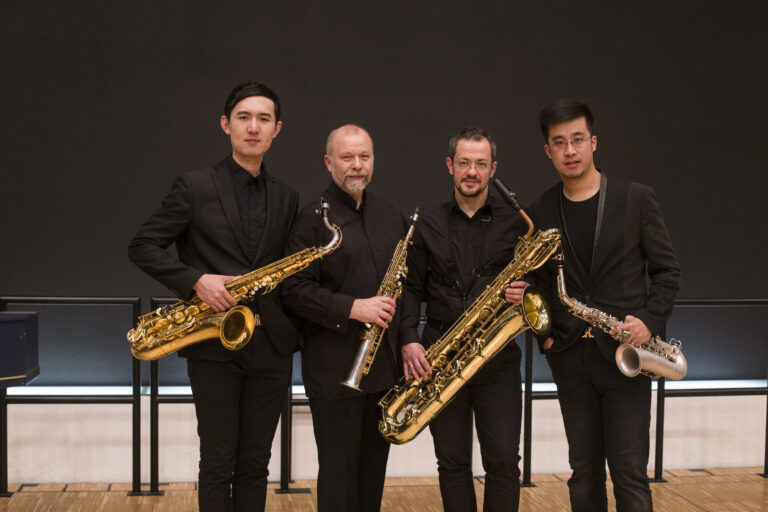 Detlef Bensmann- soprano saxophone, Liu Pai- tenor saxophone,  Tianhong Wu- alto saxophone, Ninoslav Dimov- baritone saxophone
Bensman Saxophone Quartet makes its concert debut in 2006 with the premiere performance of Brecht's "Baden-Baden Lessons" for choir, soloists, saxophone quartet, piano and percussions composed by Carlos Farinas and Itay Dvori which is followed by a production of the piece for the German Radio. Following the successful premiere of the piece and of the ensemble, Detlef Bensmann decides to finish his 20 year successful career of principal with the Berlin Saxophone Quartet and dedicate himself to his solo career and work as a conductor and composer. He also starts developing the musical image of the newly established Bensmann saxophone quartet which is made out of his students thus being able to effectively continue the already established musical ideas. In the  period since its founding the quartet has performed at various international music festivals in Germany and Europe and has also toured in the USA (2006) and China (2008, 2017).
Detlef Bensmann-soprano saxophone
Detlef Bensmann studied saxophone with Prof. Omar Lamparter and double bass with Prof. Heinz Jablonski in Berlin, Germany. After playing double bass in the orchestra of the Deutsche Oper Berlin (1979/80), he started his career as a saxophone soloist with a debut concert in the Berlin Philharmonie with the Radio Symphonie Orchestra Berlin (DSO) and a first recording of concertos for saxophone and orchestra (1980). Among Mr. Bensmann's twenty commercial recordings of important works are pieces composed for Detlef Bensmann and others composed by Detlef Bensmann.   He reguarly performs internationally with world-class orchestras and conductors of renown, such as Dmitrij Kitajenko with the Berner Symphoniker, with Radio Symphonie Orchestra Frankfurt (HR), and Kazushi Ono, Sian Edwards, Eiji Oue etc. More than 25 concertos have been composed especially for Detlef Bensmann and he has premiered more than 100 compositions for chamber ensembles or solo pieces. In 1983, Mr. Bensmann founded the Berlin Saxophone Quartet where, until July 2007, he performed as the primarius (principal) of this ensemble.  He has continued playing saxophone quartets with the "Bensmann-Saxophone-Quartet", which he founded 2006 with students of his master-class. A prolific pedagogue in 1984 Mr. Bensmann started teaching at the University of the Arts, Berlin. Since 1992, he has also been teaching at the "Hochschule für Musik Hanns Eisler Berlin" and since 2016 he is also teaching in Academy for Arts in Berlin. In 2004, Mr. Bensmann founded the BENSMANN-TRIO with violinist Waltraut Wächter and the pianist Dmitrij Befeler, a trio that is still working with different partners. In the last 20 years, Mr. Bensmann has also pursued a career as conductor and composer writing work for solo saxophone, saxophone and orchestra, and various chamber ensembles of saxophones and saxophone and other instruments. Detlef Bensmann is officially supported by the Goethe Institut.
Pai Liu-tenor saxophone
Pai Liu is born 1990 in Jinzhou, China. He started playing saxophone when he was seven years old. In 2003 Pai Liu won the First prize at the Yamaha Saxophone Competition, and studied at the Shenyang Conservatory of Music. After three years he continued his classical saxophone studies with prof. Li at the Central Conservatory of Music in Beijing and in 2008 he won the First prize at Bailin International Music Competition. From 2011, Pai Liu studied classical saxophone with Detlef Bensmann and Uwe Steinmetz at the Hochschule für Musik und Theater in Rostock, earning his Bachelor Degree in 2015. Then he continued his Saxophone Master studies with Detlef Bensmann at the Hochschule für Musik "Hanns Eisler" in Berlin.
Tianhong Wu- alto saxophone
Young Chinese saxophonist Tianhong Wu started studying his instrument as a child, and won second prize of the first YAMAHA Jiangsu wind instrument competition and first prize at the first Yangzhou City wind instrument competition. He graduated music theory and composition at the Nanjing University of Arts and is now studying classical saxophone at the Berlin University of Arts with Professor Detlef Bensmann. He is the winner of "Die HOLZ PUR" wind chamber music competition. Tianhong Wu has performed with the Cottbus City Symphony Orchestra, the Berlin College Symphony Orchestra at the Berlin Philharmonic and at the Poland Saxophone Congress.
Ninoslav Dimov– baritone saxophone
Ninoslav Dimov finishes his undergraduate studies (2004) and graduate studies (2006) in the class of prof. Stojan Dimov, at the Faculty of Music in Skopje. He continues his studies in Berlin at the University of Arts in the class of prof. Detlef Bensmann. In Berlin he finishes his undergraduate studies (2006) and continues with "Konzertexamen" specialization until 2009. During this period, he acquires many state and international competition awards, and he is a regular participant at prestigious master classes and seminars for saxophone in Slovenia, France, Germany… In addition to his numerous solo recitals, Ninoslav has many soloist appearances with Macedonian Philharmonic Orchestra, Bitola Chamber Orchestra, Kosova Philharmonic Orchestra… From the beginning of his studies, he is a leader of the "Dimov Saxophone Quartet" performing concerts in Skopje, Dubrovnik, Sarajevo, Mostar at the Ohrid Summer Festival, Skopje Summer Festival, etc. In 2006 he plays several concerts with the world renowned Berlin Saxophone Quartet, and from 2007 he is a member of the then newly founded "Bensmann Saxophone Quartett" with whom plays regullary across Germany (Berlin, Duisburg, Brandenburg, Frankfurt, Bukow …). From 2017, he is founder and artistic director of the International Saxophone and Clarinet Festival "SaxClar" in Skopje, Macedonia. At the moment Ninoslav is associate professor for saxophone at the Faculty of Music in Skopje, member of Macedonian Radio Television Big Band, ZJM Big Band, and regular on-call saxophone player for Macedonian Philharmonic Orchestra.